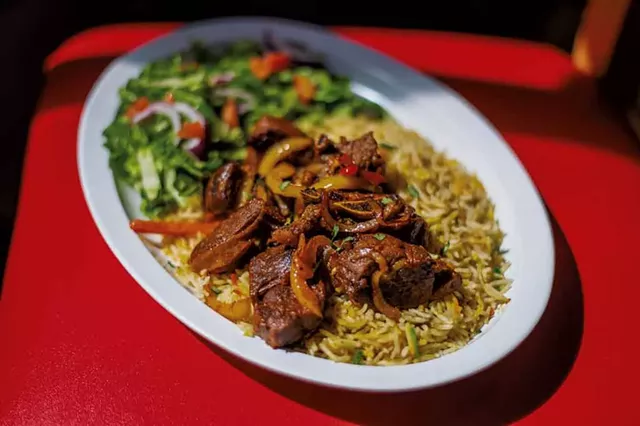 Glenn Russell
A classic Somali dish of goat and rice at Kismayo Kitchen
The jasmine rice at Kismayo Kitchen is long grain and speckled with color: glints of orange, yellow and green light up the dish. The grain is cooked with herbs and seasonings used in Somali cuisine, including cumin, cardamom, basil and pepper. The extra color is derived from bits of dried vegetable, but the chef-owner of the restaurant in Burlington's Old North End declines to reveal particulars.
"It's a secret," said Ahmed Omar, who is known familiarly as Omar, his surname.
Omar opened Kismayo Kitchen in June in the small building on Riverside Avenue that previously housed Sugarsnap and the Little Red Kitchen. The restaurant is named for the city in which Omar was born 32 years ago. The five-table eatery with counter service serves lunch and dinner daily.
Glenn Russell
A Philadelphia cheese steak at Kismayo Kitchen
The menu at Kismayo Kitchen is multicultural, to use Omar's term, and offers traditional Somali dishes, as well as Italian American and American fare. One Somali dish presents a choice of protein — beef, chicken or goat — grilled with red onion and peppers and served with rice or pasta ($11.99). Another is a rich and creamy coconut chicken stew ($7.49), studded with vegetables and prepared with a base of coconut milk and tomato.
Vegan or meat samosas ($1.99) are spiced with cumin and hot pepper; their abundant filling falls from the shell with the first bite. A Philadelphia cheesesteak ($7.49) topped with American cheese is served on a squishy grinder roll that's spread with Somali-spiced mayo; the bread soaks up the meat's juice in true Philly style.
Omar said he wants to make a top-notch cheesesteak and offer food that will appeal to many diners — wraps, potato salad, kale salad, pasta and sauce. But his desire to serve dishes from Somalia propelled him to open his restaurant.
Omar has catered events for the local Somali community for several years, and last winter he taught a Somali cooking class as part of City Market, Onion River Co-op's Mosaic of Flavors culinary series. With his restaurant, Omar can offer Somali food to a greater number of people, he said.
Kismayo Kitchen adds to the global restaurant offerings available in the Old North End, including a stretch of North Winooski Avenue where diners can find Moroccan, Vietnamese, Mexican and Thai food. But Omar thinks Kismayo Kitchen is the only Somali restaurant in Vermont.
"I want to bring the [Somali] culture to the community," he said. "They can walk in my restaurant and have a lunch, eating Somali food."
Diners are likely to be greeted by Omar himself, wearing athletic clothing and a bright smile. Customers order at the counter and take a seat; food is delivered to the table. A pot of tea in the dining room is self-serve. If it's a hot day, Omar will probably bring you a bottle of cold water. (The restaurant doesn't serve alcohol, and customers can't bring their own.)
Omar is in the restaurant 12 or more hours a day, arriving around 8 a.m. to prepare for the 11 a.m. opening and staying until after the dinner service. Omar works in the kitchen with his wife, Anisa Mohamed, with whom he lives in the New North End with their daughters, ages 4 years and 1.5 months.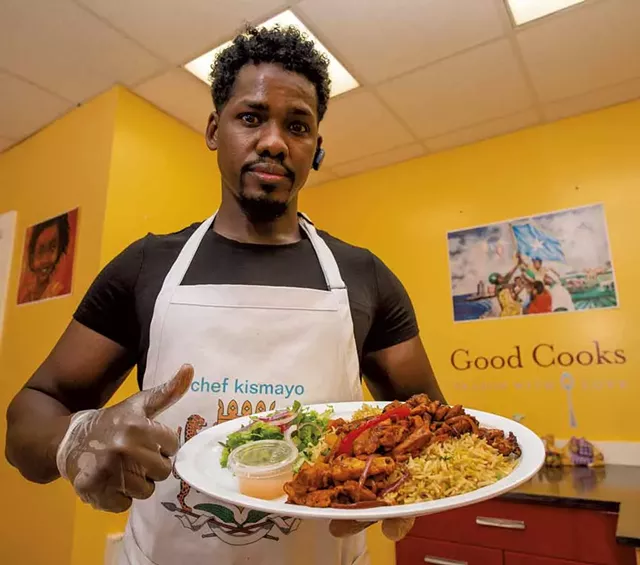 Glenn Russell
Chef Ahmed Omar with a classic Somali dish of rice and chicken
Omar's new emphasis is on vegan and vegetarian cuisine, and he plans to add Impossible Burger, a plant-based meat substitute, to the menu in the fall. He'll serve the vegan product with pasta and in samosas.
"I want everybody to walk in this restaurant and feel like they can get whatever they want," he said, "something they like."
The youngest of 14 children, Omar grew up in Kismayo until age 12, when he moved with his family to Kenya. They were war refugees who lived in a camp for five years before relocating to Vermont. He attended Burlington High School and YouthBuild, a construction-trades job training program, for his senior year, graduating from BHS in 2006.
In addition to running Kismayo Kitchen, Omar is a competitive body builder who adheres to a diet of protein and vegetables, eating primarily fish, eggs, beef, asparagus, spinach and sweet potatoes. He vowed to prepare "clean, healthy" food for diners with dietary restrictions and preferences, and he makes a point of paying attention to their requests.
"Feedback is going to take me to the next level," Omar said. "I'm a man who loves to learn. If the feedback is working, I will take it. If not, I walk away."