On a recent Wednesday, two tenants at 47 Maple Street in Burlington — aka the Karma Bird House — discovered that an online game called Foldit provided an unlikely link between their seemingly unrelated businesses.
Foldit is based on software called Rosetta, developed in part by Xavier Ambroggio. He's the 34-year-old general manager of Rosetta Design Group, which occupies a small office in the Karma Bird House.
"I totally know Foldit!" exclaimed Marguerite Dibble, 23, president of Birnam Wood Games, a video-game company whose offices are located just down the hall. "We use it as an example all the time."
Ambroggio appeared flattered, though he noted that "nobody's using [the cloud-based version of Rosetta], and I think it's because it's just not very user-friendly. I'm talking to a guy in Seattle about making user interfaces."
"That's what we do," Dibble said. "We're game designers, so [we work on] the engaging aspects and the usability."
The two neighbors, who had not previously exchanged more than a "good morning" in the lobby, made a plan to meet later and discuss their shared interests. Suddenly, these two smart young people, working in different fields, realized they had something more in common than an address.
It's precisely the kind of "karma" that this unusual, vivacious workspace was designed to foster.
Changes may be afoot at JDK, but that doesn't mean Burlington's creative economy is taking a hit. Inside the Karma Bird House, and in other offices with the address 47 Maple, there's an atmosphere of excitement and collaboration. The tenants seem happy to be working there and are making new connections all the time.
The following seven organizations embody the creative energy that makes 47 Maple Street such a dynamic place to work. Maybe "karma beehive" is a more apt metaphor.
Renegade Writers' Collective
Angela Palm (left) and Jessica Nelson)
In offices no larger than 600 square feet, the members of the Renegade Writers' Collective teach classes, manage their business, do their personal writing, host freelancers and hold readings, one of which recently attracted nearly 60 attendees. They have a major networking event planned for early 2014.
The collective's cofounders, Angela Palm and Jessica Nelson, are brimming with ideas about how to develop local writing talent and connect local writers with artists in other fields.
"One of the things we're really interested in," says Palm, "is having writing be in conversation with other artistic disciplines."
"I don't think we realized how exciting and collaborative and dynamic this building would be when we first signed the lease," Nelson says. "All different types of creative people moving into the building reaffirmed our decision to be here."
Rosetta Design Group
Rosetta Design Group's new protein-based material in "nanotube" form
In his small office, Rosetta Design Group general manager Xavier Ambroggio directs his talents toward an unusual kind of design — involving protein molecules.
Using the company's namesake open-source software, which he helped to develop, Ambroggio spends his days manipulating computer models of enormous protein molecules, applying the power of shared supercomputing to unlock the mysteries of their atomic design.
Ambroggio, a Virginia native who did his graduate work in California, could conduct his work anywhere. He chose Burlington, he says, because it jibes with his outdoorsy, progressive leanings. His initial interest in the Karma Bird House, however, was related to caffeination: "[Fellow building tenant] Maglianero is on the bike path, and it has the best coffee in Burlington," Ambroggio says.
He was also attracted to the idea of a shared space. In terms of business models, Ambroggio says he sees few differences among his company and those of his neighbors. Nearly everyone in the building, he notes, traffics in some kind of service. Rosetta Design Group just happens to offer one at the atomic level.
Birnam Wood Games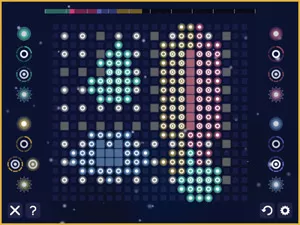 A screenshot from Pathogen
"What I've really enjoyed about the building is just running into people every day," says Marguerite Dibble, president of Birnam Wood Games. "Even if it's just a little 'hey.'" Even better, she says, are the periodic brainstorming sessions attended by many of the building's tenants.
Birnam Wood creates video games for mobile platforms. Before moving into its quarters in the Karma Bird House, the company rented space at the Chace Mill on the Winooski River. "It was fine, but there really wasn't any energy," Dibble says. Attracted by "the community and the creative energy and the spirit of entrepreneurship," she and her crew of three relocated to 47 Maple last June.
Since then, Dibble has reached out to many other tenants. Not only has she unexpectedly found common ground with Xavier Ambroggio from Rosetta, but she's been working on an online project with Paul Budnitz of Budnitz Bicycles, has "picked the brains" of graphic designers Craig Winslow and Brett Chalupa, and says she's looking forward to collaborating with the Renegade Writers' Collective.
Dave Barron Design
A Dave Barron design project
Dave Barron, creative director and sole employee of his namesake company, likes being under the same roof as a coffee shop. But he appreciates even more that the building has links to Burlington's past and to its future.
Barron, 38, works in branding, web and print design; his client list includes Middlebury College and Fletcher Allen Health Care. He has not yet collaborated with any of his neighbors, but that's on the horizon, he says. The Karma Bird House is a place "where you want to be more social and outgoing, and just introduce yourself," he adds. "I'm starting to meet people from other groups that I would never have interacted with."
Barron also appreciates the design and history of the building, which was once a major food warehouse for Burlington. "It's gutted to some degree, but you can see there's a coal chute over there," he says, pointing down the hall from his office. "I've come in and looked at the typography on some of the old stuff that's here," Barron says of the building's vestiges. "It would have been just as easy to get rid of that stuff, but it gives the building character."
Sascha Mayer and Christine Dodson, Mamava and JDK
A Mamava lactation station
At JDK, Sascha Mayer, 43, is the brand strategy director, and her colleague Christine Dodson, 46, is the senior account director. They've both been working at 47 Maple for just about as long as JDK itself has been headquartered there.
Mayer and Dodson are also the cofounders of Mamava, an enterprise that has attracted a lot of recent media attention. Mamava, which is partially owned by JDK, designs "lactation stations" — stand-alone "pods" that provide a safe, welcoming, hygienic space for lactating mothers to nurse their babies or operate their breast pumps. The first such pod was installed at the Burlington International Airport last summer.
Mamava has no physical offices per se; Mayer and Dodson work on projects within JDK's offices — though that may change soon, Mayer notes cryptically. In December, Mamava will install lactation stations at Champlain College and City Market.
Both women love the old building where they work, and not just for its architectural charms. "It feels dynamic, and it always has, even before it became the Karma Bird House," says Dodson.
Nilima Abrams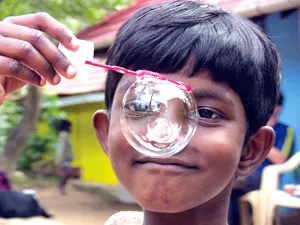 An Indian girl named Pavithra from Nilima Abrams' untitled documentary
"I wanted a place to go and really focus, but I didn't want to just be in some new South Burlington building where I'd feel alone," says Nilima Abrams, 30. So she found the Karma Bird House and rented an office space that used to be a nearby kitchen's pantry. "It's enough space for me," she says.
When Abrams isn't teaching her University of Vermont course on social-issue documentaries, she develops apps and works on her own docs. Her Reward Volunteers app offers a way to connect willing volunteers with organizations that need them, and her films explore issues of social welfare in India.
Like many others in the building, Abrams was attracted by both the easy access to hot beverages and the wealth of potential collaborators. At the Karma Bird House networking event, Abrams connected with several graphic designers, and a tenant with NGO experience approached her about collaborating on app projects.
Abrams is fairly new to 47 Maple and hasn't fully explored the building yet. "I'm still finding out what's there," she says.
Budnitz Bicycles
Ask Paul Budnitz, founder of Budnitz Bicycles, what he likes about his ground-floor quarters at 47 Maple Street, and he says this: "We're in a beautiful turn-of-the-century warehouse … We're connected to a coffee shop. There are great people in the building. We can pull open the sliding door in the summer and ride out."
Budnitz, 46, says his company's mission is "to make city bikes that are as beautiful and as well designed as a classic car." The high-end bikes are indeed beautiful, all curved titanium and comfy seats — which Budnitz purchases from Terry Bicycles, another of the building's tenants.
The bikes are pricy, ranging from $2600 to $8000, but they're super-durable and designed to last a lifetime. "It's a sustainability thing," explains Budnitz, who encourages cyclists to buy one good bike rather than a series of lower-quality ones that eventually wind up in a junkyard. In the company's 3000 square feet, employees design and assemble the bikes; the individual parts are milled off-site.
His location on the other side of a frosted-glass wall from Maglianero is a real boon for Budnitz. "I see people I know in the café all the time," he says. "It's great for making friends, great for our business. Also, ideas just happen there."
The original print version of this article was headlined "Hive Mind"