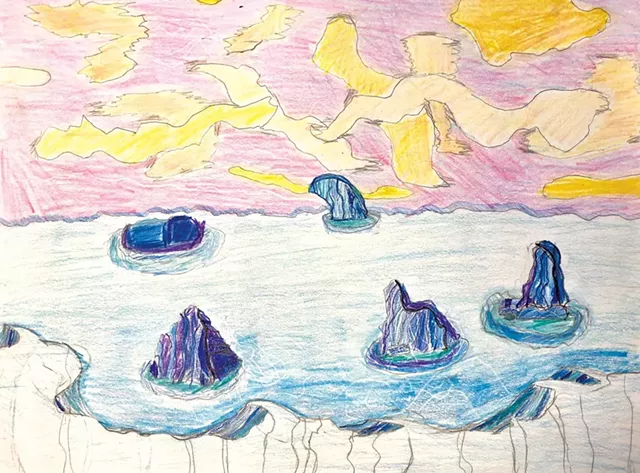 Icy Seascape by Thomas, 11, inspired by Lawren Harris
Though many applaud hyperrealist landscape artwork — with mountains and trees rendered in such exact detail that they look almost photographic — I find that some of the most beautiful and original landscape art alters nature's colors and forms in a manner totally unique to the artist.
A photograph can give us realism, but only an artist can bring vivid shades of color to a cold and steely tundra, or translate the shadows and spires of an icy peak into bold, sloping stripes of cobalt and cream. Canadian artists Lawren Harris (1885-1970) and Ted Harrison (1926-2015) brought such colors and bold forms to their northern landscape paintings.
Every winter, I use the work of these two acclaimed artists to teach my students about depth and value (varied shades from light to dark), as well as the unique ability of an artist to transform a landscape. Though very different, both Harris and Harrison painted the majestic plains and peaks of Canada in unique and original ways.
Harris used clean, curving lines and bold, abstracted forms to render the natural northern landscape. Where the textures and edges of a mountain or iceberg would, in reality, be rough and jagged, Harris smoothed them into graceful arches and neat stripes of shadow and light. His softly sloping lines and swaths of color brought calm to even the most imposing landscapes.
Harrison transformed landscapes even more radically, painting Canada's snowy, frozen vistas with brilliant purple, pink, orange and blue. In his artwork, a cloudy sky would transform into layers of lavender, violet and deep indigo. Distant hills — most likely a soft blue-gray in real life — were rendered in rolling layers of magenta, pink and coral.
Both Harris and Harrison created beautiful depth — the quality a two-dimensional painting has that makes it appear as though you could step inside and retreat far back into the space depicted.
My students have loved both artists' work — astutely comparing and contrasting the two — and have greatly enjoyed creating their own artwork inspired by each artist's style.
Project I, Inspired by Lawren Harris
Materials: paper, pencil and coloring tools (colored pencils, crayons, watercolor paints and paintbrushes)
Using a real-life landscape or a photograph of one that you find online, you will create a landscape inspired by Harris' work.
Notice what is closest to you in the landscape or closest to the "front" of the picture. This part of the pictures is called the foreground. Using your pencil, begin by drawing outlines of those closest parts of the landscape first.
Even if the outlines of things in the landscape are rough or ragged in real life, smooth them out and make the shapes simpler and "cleaner" than in real life.
After you have drawn the front parts of the landscape, look at the next layer of space — the landforms that are midway through the landscape — and draw those next. This part of the picture is called the middle ground.
Keep using smooth lines and bold shapes to draw the parts of the landscape.
Next, outline the furthest-away parts of the landscape (in Vermont, that will likely be hills or mountains, but it might also be a forest of trees). This part of the picture is called the background, because it is the furthest back.
After you have finished drawing the parts of the land, consider the sky. Lawren Harris would simplify and smooth out the shapes of clouds, just as he would landforms. Use long, skinny, horizontal ovals, or smooth, wavy shapes to create clouds in the sky of your artwork.
Now, it's time to color in your landscape art! Notice where the sunlight is coming from in your pictures and which parts of the landforms are light (because sun is hitting them) versus dark (because they are in shadow). Harris drew stripy sections or shapes on his landforms, and then colored them different shades from light to dark to show light and shadow.
In your landscape, use dark and light colors to create stripes or sections on your landforms, based on the shadows and highlights you see on them (in real life or in the photo you are using).
Project 2, Inspired by Ted Harrison
"Rocky Rainbow Road" by Claire, 8, inspired by Ted Harrison
Materials: thick/heavy-weight paper, crayon or oil pastel, and watercolor paint and paintbrush (This project can also be done with marker, colored pencil or crayon alone.)
For this project, you can look at a real landscape or a photograph of one, or simply use your imagination to create your own.
Using your crayon or oil pastel, draw outlines for landforms in the foreground (front) of your landscape first. This might include flat or hilly ground and maybe some low hills. Ted Harrison usually used bright colors for his outlines, so you may want to choose a bright color, like orange, purple, blue or pink.
Next, using the same color or a different one, draw the middle ground of your landscape by adding additional landforms higher up the page. This might include more layers of hills and maybe some trees sitting atop the hills.
Pro Tip: You can draw a river or road that looks like it is receding, or going back into your picture, by making two wavy lines that start wide apart at the bottom of your picture and get closer together as they go up the page.
Finally, draw the outlines for landforms in the background of your picture. This might include big hills or mountains and a sky full of wavy clouds, or stripy layers of color.
If any of your outlines look rough in texture or are not yet solid (with specks of the white paper still visible in the line, if you look closely), then trace over them until they are solid and smooth.
Now, you get to paint your landscape! Oil pastel and crayon are both somewhat water-resistant, so you should be able to paint easily right up to the edges of your outlines without ruining them. Use bright colors to paint your landscape, just like Harrison.
Pro Tip: Paint rows of landforms or clouds with different shades of the same color, getting lighter with each new row, to mimic Harrison's style. For example, if you have many rows of hills, paint the front row dark purple, the next row back medium purple, and the next row behind that light purple.
Learn more:
For Additional Project Ideas: