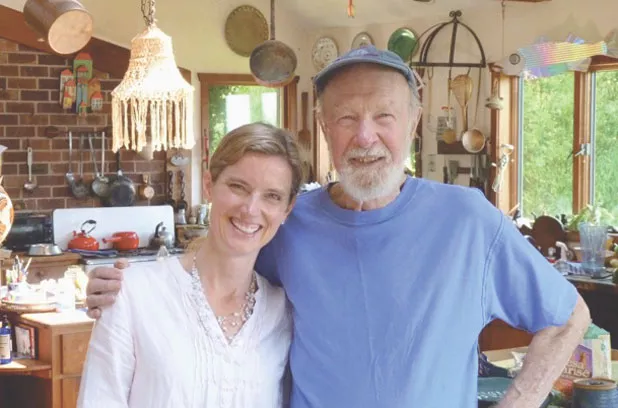 Shyla Nelson with Pete Seeger
On Earth Day in 2009, Shyla Nelson and her two young daughters happened to be in a Hilton Hotel in Los Angeles — "of all places," she says. Early in the morning, Nelson recalls, she sat bolt upright in bed, struck by an idea, albeit one that had been germinating for a while. I have to sing for the Earth, she remembers thinking. Just get friends together and sing songs in celebration of the planet. This vocal group would be called the Good Earth Singers. "Singing," says Nelson, "is what I can do."
As it turns out, the operatic soprano from Vermont can also organize. And speak her mind with the articulate passion of a TED lecturer. When she levels a sweet-but-steely gaze and says with conviction, "It's go time," you believe her.
Nelson's eureka moment quickly took on a life of its own. Right away, in fact, as she emailed her concept to a list that included friends around the world. Within the first hour, Nelson recalls, "I received responses back from people on nearly every continent — people who said, 'I love this idea, how can we get involved?' I sat in my hotel room and just sobbed."
Back home the next month, a group of about 70 singers — friends and strangers alike — gathered at the Charlotte Congregational Church to sing. Since then, the group has evolved with startling speed into what Nelson calls "a movement that's about harnessing the power of song worldwide to be an inspirational catalyst for action to heal our weary planet." No point in thinking small.
At that very first gathering, one of the songs jumped out: a Yoruban Nigerian song, "Ise Oluwa" (the title translates to "the work of the Lord"). "It just seemed to change the molecules in the air," recounts Nelson. "Something about the harmonic structure and the simplicity of the words really resonated with people. And I've seen it happen again and again and again." The Good Earth Singers soon adopted "Ise Oluwa" as their anthem. They've sung it in various venues, including a flash-mob performance at the University Mall in South Burlington last year. Once, when environmental author and 350.org founder Bill McKibben heard it, he exclaimed to Nelson, "Wow. We really need you," she says.
Now, the Good Earth Singers' reach is truly international, with "song circles" in 27 countries that formed purely through word of mouth — and, of course, social media. Nelson has the backing of American folk-music and social-activist legend Pete Seeger, 92, who gave her a list of contacts that includes Bruce Springsteen and Joan Baez. He also told her about the grassroots, organic way in which "We Shall Overcome" emerged as the anthem of the civil-rights movement, much as "Ise Oluwa" has been striking a chord with all who hear it. "What Pete and I talked about is that no movement for lasting positive change has been possible without the power of song as an inspirational catalyst — that's a term we use a lot," says Nelson.
Seeger calls the climate crisis the "cause of our time," she adds. "Coming from someone who has been on the front lines of so many struggles for human dignity, and so many movements to rehumanize us, that carries tremendous weight for me."
This week, Nelson announced a brand new partnership with Patagonia, Inc. And not for an outdoor clothing line. The environmentally conscious apparel company has an eco-focused record label where music sales provide funding for environmental initiatives around the world. Its tagline: "Buy a song, benefit the environment." The artists involved include the likes of Bonnie Raitt, Jack Johnson, Pearl Jam, Taj Mahal, Los Lobos and Esperanza Spalding. Each contributes a song for a specific cause.
The internationally known Haitian American composer and violinist Daniel Bernard Roumain, aka DBR, straddles the classical and pop worlds — his musical collaborators have included Philip Glass and Lady Gaga. For Patagonia, DBR has penned a song, titled "When It All Comes Down," that will benefit the Good Earth Singers' "One Song. One Planet. One Future." Campaign. And this is nothing less than the "largest global song project in the history of the world," Nelson explains.
The idea is to create a worldwide choir of, oh, 15 million singers who will perform "Ise Oluwa" simultaneously on December 21, 2012. That's the last date on the Mayan calendar, which many believe signals the end of the world. But Nelson is joining forces with "other organizations and thought leaders" who aim to turn it into a day of hopefulness. The massive sing-in will, she suggests, "focus global consciousness on the needs of our fragile planet." If you can get 15 million people to sing the same song on the same day, Nelson reasons, what else might become possible?
To support these efforts and escalate the pace of recruitment, Good Earth Singers, now a nonprofit organization, has established a Cornerstone Campaign with a goal of raising $417,000 by the end of this year. In part, this will fund Nelson's trip to Nigeria in the fall. There she will be the honored guest of a Yoruba tribe and a band of African organizations, which, she reports, are thrilled at the global adoption of "Ise Oluwa." In addition, a Good Earth Singers team will travel to 15 sacred sites around the world to plant "seed songs" in preparation for the worldwide sing-in.
Nelson, who has been spending a lot of time on Skype, also plans to visit refugee camps on behalf of a Good Earth program called Operation SOS (Save Our Songs). Its objective: to cultivate and record the songs of refugee cultures "before they're lost to human history," she says. "The UN says there is going to be a precipitous increase in refugee populations because of climate calamities."
Nelson says fundraising is also necessary for technological enhancements of her organization's website. As more music is shared by song circles around the globe, she envisions audio and video recordings of them on the site. After all, Nelson notes, "The songs they're singing in New Zealand are likely pretty different from the ones in Los Angeles." The common denominator, she observes, "is songs that speak to our relationship to the planet."
Meanwhile, closer to home, monthly song circles continue at the Charlotte Congregational Church. "When I'm not traveling," Nelson says, "I will always join in."