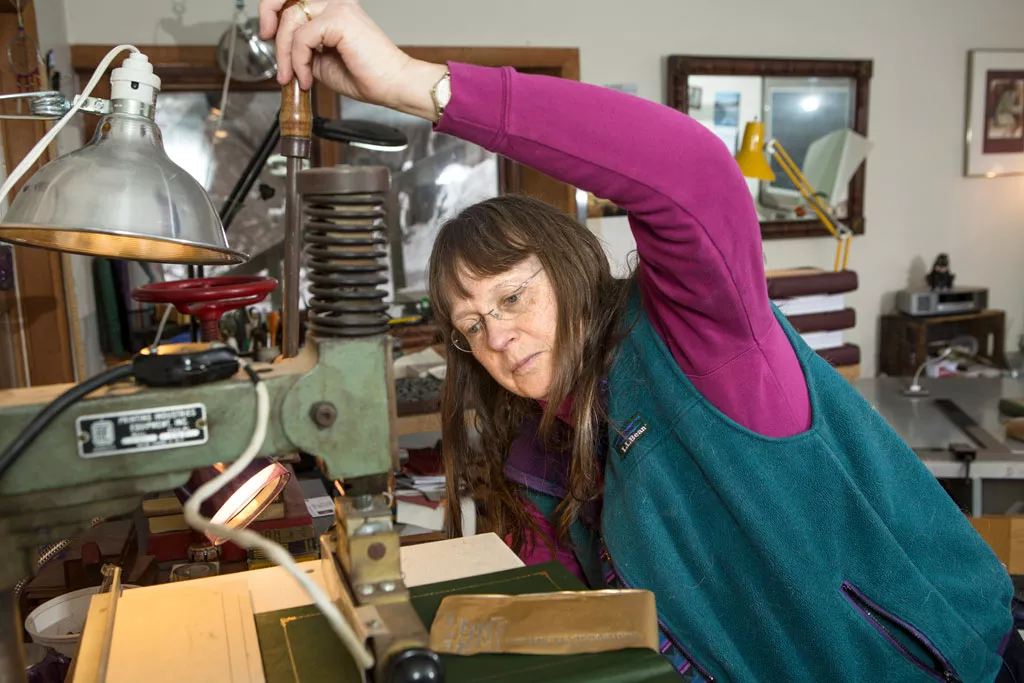 Oliver Parini
Marianna Holzer
Any author who gets a publishing deal these days knows the importance of e-books: Many readers now opt for pixels over ink. At Holzer Book Bindery in Hinesburg, though, the book's the thing. Owner Marianna Holzer, a third-generation bookbinder, appreciates books as objects.
Her love for beautiful volumes and the increasingly rare craft of making them by hand is evident in her shop, located on the ground floor of her home. The place is filled with drawers of old metal typesetting letters, rolls of buckram and leather, and hand-operated, cast-iron book presses.
Many of the hand tools that Holzer, 58, uses were inherited from her father, Albert, and grandfather, Ulrich, both of whom ran bookbinding shops in Boston. Both men were known not only for the high quality of their work, but for their personal investment in the books they repaired. Said Holzer, "My mom used to say that people would bring their books to have them bound at the Holzer Bindery, but they'd have to wait until everybody in the family had read the book before they got it back."
As a child, hanging around her father's shop, Holzer picked up many of the finer points of this specialized art. A career shift in the early 1980s brought her to Brown's River Bindery, an operation that started in Jericho, then moved to Essex. Holzer worked her way up to various supervisory positions within the company.
When Brown's was reorganized and folded into a larger bindery called Kofile, Holzer decided the time was right to set up her own business. As it happened, her mother had recently moved out of the downstairs apartment in Holzer's home. That freed up the cozy space that, in 2008, Holzer turned into her own bindery. To honor her family's craft legacy, she still uses the logo from her grandfather's shop.
Though Holzer can and does create entire bound volumes from scratch, most of her projects are repairs, often on the beloved literary heirlooms of private clients. She can fix torn pages or create new ones for old books, trimming new folios, stitching them into signatures and assembling them into custom bindings.
During Seven Days' visit to the bindery, Holzer was performing surgery on some old, careworn, hardback copies of two of L. Frank Baum's Oz novels. The client who'd brought them wanted to resuscitate the books for sentimental reasons, and they needed a great deal of attention. Nearly all of both books' pages were brittle, tattered and detached from their bindings, from which the glue had long since cracked and flaked off. Still, Holzer estimated the job would take her just a couple of days of mending, and only an hour or two to sew the pages back together.
Holzer has multiple sclerosis, which can make such detailed work difficult, so she's glad, she said, to have assistance from her husband, folk musician Rik Palieri. In between his concert tours, Palieri helps out on the larger binding orders, including the municipal records of a number of Vermont towns. (Holzer is reluctant to say which ones.)
Palieri professed admiration for the kind of beautiful, hand-bound books that Holzer Bindery produces. The couple has preserved and bound their own cherished keepsakes, such as an original program from one of Buffalo Bill's Wild West shows. Palieri's own daily journal is a huge, green, handcrafted volume that would look right at home on the shelves of a city planning office.
Repair jobs come into the bindery in what Holzer described as a "steady but not overwhelming supply." Every one is different, and, she said, without first inspecting the book, it's difficult to estimate the cost of the repairs. Prices per piece range from about $100 to more than $1,000.
"It will depend on what needs to be done, what the customer wants, if we are trying to save all the original material or make a new cover, and then that will depend on whether it is in leather or imitation leather," Holzer explained.
Demonstrating her craft to a visitor, Holzer smiled and laughed frequently. She took particular delight in the gold stamper, with which she embosses books' spines and covers with shiny letters and designs. With this device, Holzer can also turn strips of scrap leather into personalized bookmarks, mementos that she gives visitors to the bindery.
Holzer's shop — along with the handful of other small bookbinders scattered around the state — embodies the spirit of quality artisanship associated with Vermont. Case in point: Holzer mentioned a client from Houston, Texas, for whom she bound a memorial Bible. Its owner had found Holzer Bindery online and chosen the company specifically because of its Vermont location, she said; to him, this guaranteed careful craft.
Over cups of tea served beneath the cuckoo clock in her kitchen, Holzer talked with Seven Days about the fine art of fine books.
Oliver Parini
Marianna Holzer's collection of family books
SEVEN DAYS: How did you get started in the bookbinding business?
MARIANNA HOLZER: My father was 70 when I was born — 30 years older than my mother. I was pretty young when [his bindery] was still going in Boston. He closed the business in 1960, when he was 80, and moved to southern Vermont, to Putney. He passed away when I was 11, and my mom set up a little bindery later, when I was in high school, in the basement of our house. She taught me a few basic things.
I went to UVM, [where I] studied plant and soil science. I got a job at Four Seasons Garden Center [in Williston]. I kind of got sick of that, and found out that there was this small bindery [Brown's River Bindery] in Jericho, and went to see them. That's how it began.
SD: What are all these tools used for?
MH: The board shears are basically a huge paper cutter; the guillotine, which needs to be super-sharp, is for trimming the edges of a book's pages. I use a lot of mending tissue, which is a Japanese tissue used to fix rips and tears. The rounding or backing hammer — one of my father's tools — I use for rounding a book's spine. One of my favorite things to do is the gold stamping, which presses down on a thin piece of Mylar covered with 22-carat gold. That's how you decorate a binding, letter by letter.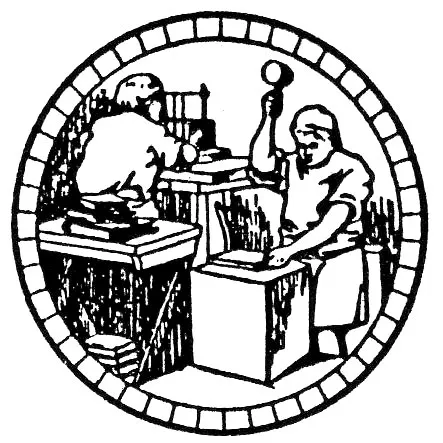 SD: What services do you offer?
MH: One thing I do here is deacidify paper. Anything before the mid-1800s was printed on rag paper, which holds up quite well. Newer paper is made with wood pulp, and we didn't know until more recently how acidic it was. It gets really brittle and cracks when you turn the pages. So we can deacidify the paper, and it'll stop the progression of [the decay] — though it won't bring it back [to its original condition].
SD: Bookbinding is such a niche field. What challenges does your business face?
MH: It seems to me, in some ways, books are becoming more precious as people realize they have certain books that they want to preserve and pass on. Bibles are one thing. It's cheaper to buy a new one, but [the owner has] written all over it. Children's books — people have grown up with a book. And cookbooks! People have written in them, or they have their mother's cookbook. The newer versions they don't like as much.
These days, newer bindings are single sheets that are just glued in. When you open them up, they sometimes crack and fall apart. And those are kind of hard to fix, because they don't have enough of the margin that's necessary to drill the holes for stitching. Older books tend to be in better shape.
SD: How does having MS affect your work as a binder?
MH: I just get really tired sometimes. It's almost like I'm walking through mud or something. It's a big effort to do things. It's also dexterity, fine motor control.
SD: Are you concerned about the new all-in-one machines that can print a book from a digital file and then bind it?
MH: Not particularly. You see a book, and you never think what goes into making it. They [bind books] by machine nowadays. But if you want to repair a book, you can't do it by machine.
The original print version of this article was headlined "Perfect Pages"