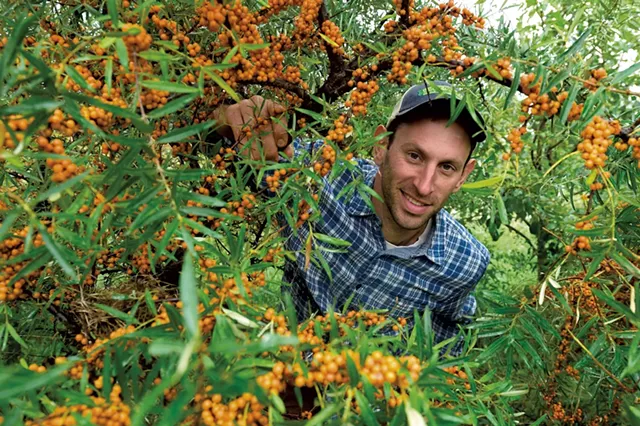 Jeb Wallace-brodeur
Nicko Rubin
Like many kids growing up in Vermont, Nicko Rubin dreamed of all the places he would go later in life. When he was a student at tiny Twinfield Union High School in Marshfield, Rubin imagined he might head out West. "It seemed so exciting," he said.
Rubin, now 36, did venture away to college in Pennsylvania. Then, after earning a degree in fine art and sculpture, he journeyed really far — more than 7,000 miles — to India. During four months of traveling and working on organic farms, Rubin first heard about an agricultural approach that eventually drew him back to Plainfield to establish East Hill Tree Farm and raise northern-hardy fruit, berry and nut plants for sale.
"It was in India where I first saw Bill Mollison's book on permaculture," Rubin recalled recently, sitting in the renovated dairy barn where he lives — just across the dirt road from his father's house. In India, he also saw banana trees producing fruit while simultaneously playing a role in a wastewater treatment system, "but I didn't get it yet," he said.
Mollison, an Australian scientist and teacher, is often called the father of permaculture, a portmanteau combining the words "permanent" and "agriculture." His first book, Permaculture One: A Perennial Agriculture for Human Settlements, coauthored with David Holmgren, was published in 1978. In it, they detailed how integrated ecological and environmental design could build a sustainable form of agriculture based on perennial plants. The system was developed in response to soil degradation and broader ecosystem damage caused by repeated production of annual crops.
Rubin defines his approach as "edible landscaping" and does not claim to be a permaculture expert, but his 10-year-old nursery and landscape consulting business is grounded in that philosophy.
On a cool, rainy afternoon, Rubin chatted over mugs of hot tea sweetened with honey from farm beehives. On the kitchen table sat a wooden bowl of pears grown a few dozen yards away. "Those are Luscious," he said, referring to the variety, not the eating experience — although they deliver on the latter, too.
Rubin described his parents as back-to-the-landers. They each moved separately to Plainfield, where they met in the early 1970s. His mother, Scottie Harrison, came to study art and education at Goddard College; his father, Richard Rubin, was a public defender in Barre. They divorced when he was 10, but both stayed in the area.
Jeb Wallace-brodeur
Pears
"I grew up with a vegetable garden, and early on there were chickens — some pigs, too," Rubin said. He played in a tree house built into an old apple tree that still bears fruit. He estimated that it could be 150 years old. "There was even a plum tree that occasionally had beautiful fruit on it, and I remember neighbors showing up with pears," he said.
This was all unremarkable to him as a boy. It was not until he moved away that Rubin saw value in local bounty. "Every time I came back, I appreciated it more and more. I thought, Why does food at my mom's house taste better than anywhere else?"
After India, Rubin considered studying green building. He wanted to work with his hands and make a positive environmental contribution. Eventually, he decided to pursue a master's degree in sustainable landscape planning and design at the Conway School in Northampton, Mass. "I really wanted to settle down, to do my own projects," he said.
Many fellow students and teachers were permaculture advocates. Dave Jacke, a Conway alum and lecturer, had coauthored Edible Forest Gardens (Chelsea Green Publishing, 2005), another book that strongly influenced Rubin. "I read it cover to cover," he said. "The framing of it was beautiful to me. It's a design system for a sustainable human relationship to land and place, a holistic integration with natural systems."
In contrast with "the unsustainable, extractive model of industrial agriculture that depends on fossil fuel inputs," Rubin explained, permaculture looks to perennial plants as both a source of food and a way to build, rebuild and protect healthy ecosystems.
Fruit and nut trees tend to have high ecological value. First, they produce a crop that can feed people well. "You put in a fruit tree and it's going to take six years to fruit, but you could have fruit for 35 years. You could feed a generation or more," Rubin observed.
Second, he continued, "they're generally going to be plants that take care of the soil, air and water," while providing habitat and food for birds, insects and other wildlife.
Such plants can be seen as defending and feeding the soil itself. Soil does not have to be tilled annually for perennials, and the plants provide permanent, protective soil cover. Their deep roots help the soil to hold water, and they add to and retain soil nutrients.
On a broader scale, permaculture has "a guiding ethical piece," Rubin added, listing off the mantra: "Earth care, people care and fair share — like sharing the surplus."
This philosophy resonated deeply for him. "I grew up in central Vermont where people grow food," Rubin reflected. "It connects us to a place in a deep way. It nourishes people. It has real, tangible, lasting value."
At the same time, he said, "People are eating crap, and the landscape is suffering for it. I thought, How come everybody doesn't have 10 or 12 blueberry bushes? I wanted that for myself and for my community."
As the puzzle pieces started to fit, Rubin realized that he had also grown up in close proximity to another early permaculture practitioner. Mollison — whose book he had first discovered in India — even came to Plainfield to visit this innovator: John Wires, a longtime neighbor just half a mile up the hill.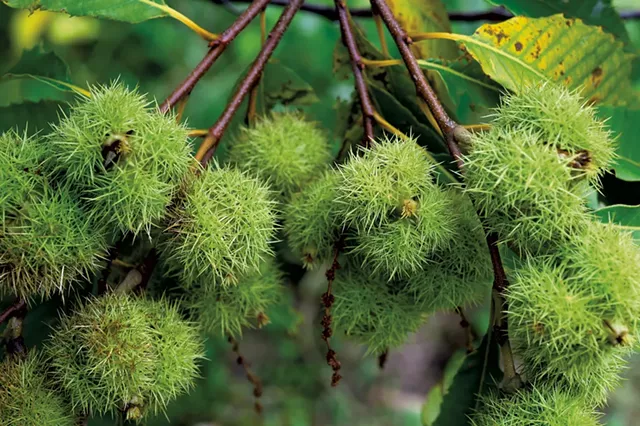 Jeb Wallace-brodeur
Chestnuts
Wires was a World War II veteran and former history teacher who moved to Vermont in part to seek relief from post-traumatic stress disorder. He originally came to Plainfield in the early 1960s, drawn by the community around Goddard College. He later settled in an off-the-grid cabin and focused on tree cropping — cultivating a range of fruit and nut trees — and sharing his expertise widely. Wires passed away in 2013 at the age of 91.
"I knew him growing up some, but I didn't realize what he was doing until I went to Conway," Rubin said. "He was interested in repairing the degradation of soil and landscape. He had chestnut trees, hardy kiwis, Nanking cherries, all kinds of unusual things back in the late '70s."
At East Hill Tree Farm, Rubin grows an American chestnut cross called John Wires' X among the few hundred varieties of several dozen species he cultivates.
Back in 2008, he invested a couple thousand dollars in plants. They ranged from pears and blueberries to the more exotic paw paw, related to soursop, and seaberry, a nitrogen-fixing shrub with vibrant orange berries.
The endeavor has all been trial and error. Rubin had little success with paw paw but now offers several different seaberry varieties, which are prized for their distinctive silvery foliage and, by some, for their nutritional benefits. "It's all about discovering what works here and having a site where people can come see everything," Rubin said.
On a quick, rain-soaked tour of his five-plus-acre operation, he acknowledged the advantage of being able to start on family land. It gave him time to build up to about 200 landscaping clients a year. He also sells plants seasonally from the nursery and grows some for other businesses, including a couple cidermakers and Fedco Seeds in Maine. Rubin now pays rent for the land and employs two part-timers along with seasonal spring help.
"Having grown up here, people know me and I know people," Rubin said. "The community here has helped."
Wearing a dark orange rain slicker almost the shade of his seaberries, Rubin strode through trees and shrubs pointing out peaches, many grafted apple varieties, hazelnuts and small Korean pines that should someday produce pine nuts. There were rows of tart cherry trees, elderberries with sprays of purple fruit arrayed like fireworks, an arbor draped with fruit-laden kiwi vines, and an Asian pear tree spangled with bronze orbs resembling Christmas ornaments.
Rubin paused to pick up the fallen fruit of an American chestnut cross. The baseball-size, light green nut casing boasted a spiky defense that one would imagine deterring all but the starving. He pointed to a small hole gnawed through the spikes. "These are almost ready to harvest," Rubin said with a resigned shrug. "A critter got here first. They need calories."
The meadows feature examples of permaculture's natural systems model. A constructed wetland and pond slow and filter runoff to a tributary of the Great Brook, which flows in the Winooski River. They also provide wildlife habitat and help improve drainage of the heavy silt loam. A flock of geese and ducks helps keep grass down, eats insects and dropped fruit, and fills Rubin's freezer every fall.
In front of a flourishing seaberry plant, Rubin stopped to offer a taste of the berries. They were unexpectedly delicious: more tart than sweet, with a compelling passionfruit flavor. "I think they taste like Jolly Ranchers," he admitted with a laugh, referring to a candy "that was very exciting to a back-to-the-land kid."
Rubin hasn't yet propagated this specific variety for sale, but it will be in the works soon, he promised.