Molly Walsh
Heartbeet Lifesharing
Annie Jackson bends down to inspect a neat row of leafy cabbages. She explains that weeds suffocate plants and must be ripped out with diligence. "You really need to go in between each plant," says the 33-year-old as she surveys neighboring rows of carrots, onions, tomatoes, garlic and other vegetables spread over two acres.
Molly Walsh
Dan Morse
Jackson, who has Down syndrome, is one of 15 adults with special needs who live at Heartbeet Lifesharing. Located on Town Farm Road in Hardwick, Heartbeet is a 150-acre community that focuses on growing food and healthy living. Founded in 2001 as a home for adults with developmental disabilities, residents live with staff and their families in five houses clustered along a dirt road that loops next to barns, pastures, stone walls, a pond and vegetable fields.
Since she moved to Heartbeet a few years ago, Jackson has essentially halved her size — dropping from 230 to about 125 pounds. Her partner, Chris Stuhlman, who also has Down syndrome, similarly shrank from 230 to 145 pounds since his arrival. The transformation for Jackson has come with abundant "walking, portion control, and a lot of love and support," she says.
Before coming to Heartbeet, she ate fast food and processed snacks and, like many Americans, had little sense of where her meals came from. Now, she and Stuhlman know how to milk cows, make cheese and yogurt, and collect eggs from the laying hens at the farm. They also get meat from the chickens and cows that they tend, which are butchered nearby in Craftsbury and Glover.
Hannah Schwartz, cofounder and executive director of Heartbeet, says residents take great satisfaction in stocking the root cellar, mixing garlic scapes into butter and sipping tea made from their own chamomile plants. They can say, "I actually grew what I put in my body," she says.
The farm sits on a sloping property a few miles outside downtown Hardwick, just north of Jeudevine Falls. It's not far from Jasper Hill Farm, the award-winning cheese operation in Greensboro, and Pete's Greens of Vermont, a successful commercial farm and CSA based in Craftsbury known for its tangy arugula and tasty fingerling potatoes.
The artisanal food movement has grown in the Northeast Kingdom region and helped revitalize Hardwick, subject of the 2010 book The Town That Food Saved: How One Community Found Vitality in Local Food, by Ben Hewitt.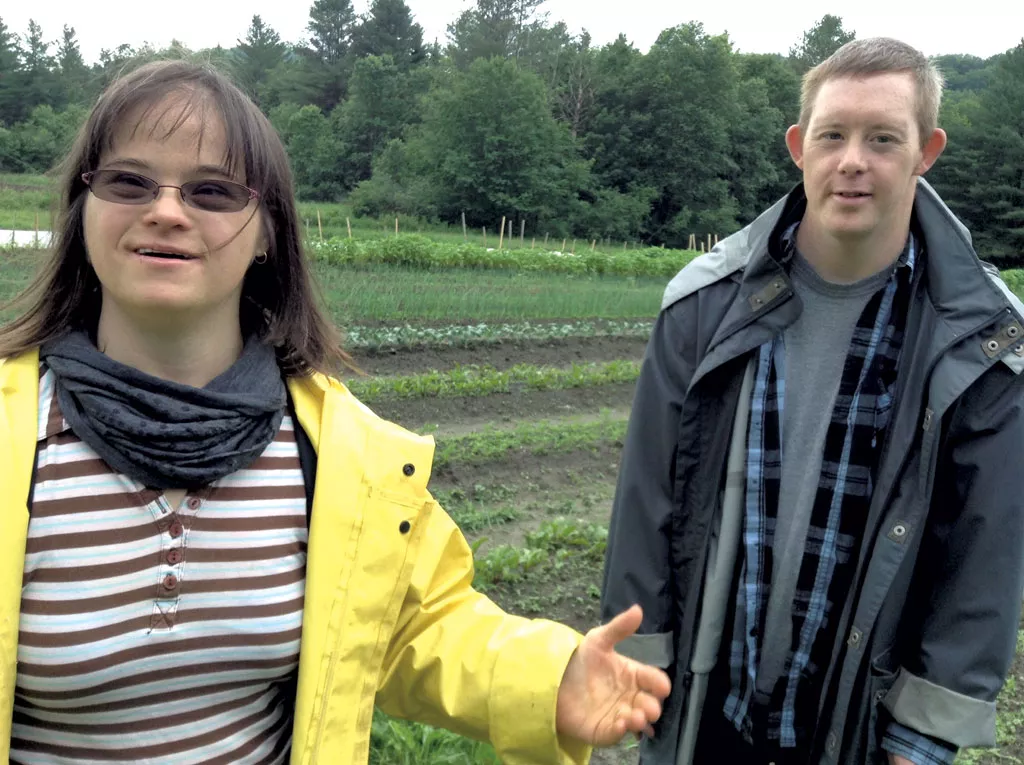 Molly Walsh
Annie Jackson and Chris Stuhlman
Although Heartbeet doesn't sell food, it's closely tied to neighboring agriculture operations. The farm children are friends and visit one another, sometimes with parents in tow. Some Heartbeet employees have worked at nearby farms. Jasper Hill cheesemaker Mateo Kehler is a Heartbeet trustee; and Schwartz's sister-in-law is married to Pete Johnson, founder of Pete's Greens. "It's family, it's friendship, it's integration," says Schwartz.
The Heartbeet community's emphasis on nature is in many ways a no-brainer, she adds. "We live in Vermont, so why not use it?" Schwartz suggests.
Heartbeet is a licensed therapeutic community for adults with autism, Down syndrome, mental retardation and other developmental disabilities. Some residents need only moderate assistance and are able to work part-time off the property at neighboring businesses, including Jasper Hill. Others have profound disabilities and need 24-hour, one-on-one care.
Heartbeet is affiliated with the Camphill Association of North America, which includes 11 therapeutic communities for children and adults; worldwide, there are more than 100. Each one has its own admissions criteria and mission but shares an emphasis on arts and land.
Camphill was founded in 1939 by Austrian pediatrician Dr. Karl König in Scotland after he fled the Nazi takeover of his home country. He believed in the philosophy of fellow Austrian Rudolf Steiner, father of the Waldorf school movement, which emphasizes learning through experiential projects that develop the head, heart and hands.
Schwartz grew up on a Camphill residence in Pennsylvania where her parents worked. She brought that philosophy to Hardwick, although she didn't initially set out to found a community for developmentally disabled adults.
In 2000, Schwartz and her husband, Jonathan Gilbert, were just starting out when they bought a yellow farmhouse on property that had once served as the Hardwick poor farm. "I had just barely finished my degree from Goddard," Schwartz recalls. "I was 23 or something."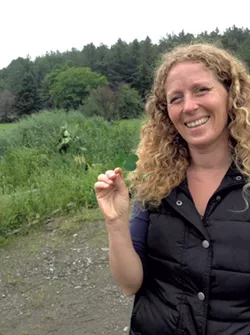 Molly Walsh
Hannah Schwartz
Schwartz thought she might work in a human-services job off the farm. But her upbringing in a Camphill setting had given her a deep interest in nature-based programs for disabled adults, and she saw a need for those programs in Vermont. Soon after settling in to her farmhouse, Heartbeet was born.
Today, the farm has a waiting list of some 30 families; there are plans to construct two more homes on its property. Also under way: fundraising to build a community center for holiday celebrations, open houses, weddings and other events.
Schwartz now speaks internationally about the Heartbeet model of living for adults with disabilities. But for the first decade, she kept her work at Heartbeet out of the spotlight, partly because state mental health officials were wary of a rural care facility. "I really had to stay quiet," she says. "The history of farming and people with disabilities isn't good."
Vermont, like many states, once isolated its children and adults with special needs. The state School for Feebleminded Children, later known as the Brandon Training School, operated from 1915 to 1993. Some defended the school, but it was shut down as part of a national wave to end the warehousing of people with disabilities and to create living options more connected to community.
This legacy made it more difficult for Heartbeet to win over state mental health officials, but Schwartz argues that rural settings can be dignified places for adults with disabilities and can provide ample opportunities for community integration.
Heartbeet looks like a small Vermont hamlet and, along with the 15 "friends," as the adults with disabilities are called, another 32 people live on the property — staff members and their children. Kids on the farm attend Orchard Valley Waldorf School in East Montpelier as well as Hazen Union High School in Hardwick. They ride bicycles around the farm and pop in and out of the houses they share with residents and their parents.
At Heartbeet, everyone works together to tend the animals, weed the vegetable garden and mend fences. Enrichment activities include fiber arts, music and cooking. They take trips into town to see movies and visit cultural destinations. Residents can leave to visit family, and visitors are welcome at the farm.
In other words, Heartbeet is not an isolating place.
According to Schwartz, Vermont needs to revisit the notion of what integrating disabled adults into the mainstream really means. "We're needing to really look at the question of what we mean by community," she says.
At Heartbeet, there is also work to be done. A garden crew focuses on planting, weeding, watering and harvesting, while the farm crew milks and tends the animals. Cows are milked at 6 a.m., and a second chore shift at 4:30 p.m. might mean watering the animals or assisting with haying. In the kitchen, residents help turn the milk into cheese, working from start to finish on the cheddar-making process. Or they might make yogurt, which is jarred by the gallon and served on the farm.
Molly Walsh
Annie Volmer
They also talk about the butchering of the animals. "They give themselves for us to eat," says Jackson. "It's sad but, in a way, it's a cycle."
Staff farmer Eric Tidblom leads residents through chores. He finds that mundane tasks help him stay present and to appreciate small things. He says the Heartbeet's "friends" often find the daily work satisfying, too. "I'm always taken aback at the real sense of pride," he says.
The farm aims to be user-friendly for residents with a range of disabilities: some have difficulty walking, while others can go for miles at a time. Bending over is easy for some; others need to sit down when they are weeding. The crop rows are designed and planted accordingly. "Our beds are really skinny and our paths are really wide," Schwartz explains. "Everything we're doing is accommodating and allowing someone's skills to shine."
Inside one of the houses, next to a big dining room table, a young man with autism and epilepsy who cannot speak listens closely as Schwartz talks with him. He's been at Heartbeet for 11 years and couldn't walk without supports when he arrived. "When I took him in, he had about a 10-page behavioral plan," Schwartz recalls. Now he walks, helps with farm chores and takes great joy in the natural world. "He will become so happy when the goldenrod blooms," Schwartz says.
He's also living in a place where people accept him and his pace, she adds.
"He really requests people to live in the moment with him," Schwartz says. "The way he views life and what's important is so different than what we're used to."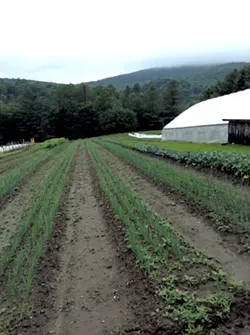 Residents of Heartbeet are referred through Vermont mental health agencies. The average cost to live at the farm is $44,000 per year, but for an individual with profound disabilities the price tag can soar to about $120,000. Medicaid and Social Security disability programs pick up the tab. But even with this public revenue, Heartbeet has to fundraise for the homes and other structures on the property, including the proposed community center. Some residents' relatives pitch in.
Warren Gleicher is president of the Heartbeet board of trustees, and his wife, Amy, also serves on the board. Their 23-year-old son, Max, has mental disablilities and has lived at Heartbeet since he was 19. The Gleichers, who split their time between Greensboro and New York City, visited Heartbeet after an outing with their son on a recent day.
It's been a wonderful home for Max, who was born with fragile X syndrome and has been seriously disabled since birth, the Gleichers explain. Even when he was a small child, life was difficult for Max socially. But it's not at Heartbeet. "Everybody is accepted here," says Warren Gleicher. And Max feels that, adds his mother: "He's good. He's valued, he works, he gives to his community."
Heartbeet is also where Max feels rooted.
He has two brothers and parents who visit regularly, but the Vermont farm gives him connections that were hard to forge elsewhere.
"He loves us, but this is his family," Amy Gleicher says. "It was very difficult to have him at home because he had only us."
Back outside, residents Jackson and Stuhlman help show a visitor around the farm. In the barn, Jackson pauses next to a pen of chicks — future meat birds — to examine one that looks a bit droopy. Goats in a stall nearby stand in fresh straw. Around the corner in another part of the barn, Jackson opens a refrigerator to point out the boxes of eggs collected that day, as well as milk that will be turned into cheese.
Outside the barn, cows sit in a grassy pasture next to a splashing brook. Down the hill, a huge pile of wood is neatly stacked and several rows of garlic are growing healthy and green. Jackson and Stuhlman pose for a photo next to a shed surrounded by bright perennial flowers. They look very much at home.
Neither would want to return to being overweight, they say, even though it wasn't easy to give up the fast-food lifestyle they had before coming to Heartbeet. That had taken its toll: Jackson had six abscessed teeth when she arrived, along with the extra weight.
These days, she has a new concept of living and eating. "If I'm in the garden," Jackson says, "I really like snacking on green beans."