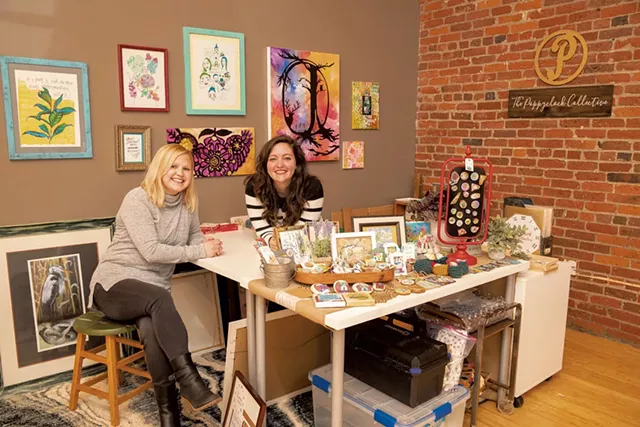 James Buck
Haley Bishop Rockwood and Deanna Lynn Kerley
Burlington's Flynndog gallery is actually a long, high-ceilinged hallway in a labyrinthine converted industrial building at 208 Flynn Avenue. And it recently got a new lease on life: In October, Margaret Coleman took over a 1,000-square-foot vacant office adjacent to the hallway and transformed it into the Flynndog Project Space, an incubator for up-and-coming artists.
Coleman is the executive director of Art Shape Mammoth, a nonprofit that supports artists and art education by sponsoring residencies, exhibitions and workshops around the country. She got involved with Flynndog about two years ago, when founder Bren Alvarez reached out to her to curate exhibits. The gallery and the new project space are now both under Coleman's stewardship.
Like many creative ventures, the acquisition of the studio space happened more organically than intentionally. When a close friend, Middlebury paper artist Deborah Sharpe-Lunstead, passed away last fall, Coleman found herself in possession of her paper-making equipment. She wanted a place to put it to good use, and the vacant suite seemed ideal. Once Coleman secured the lease, she saw an opportunity to turn the space into an artistic community of its own, fed by the energy of the Flynndog gallery.
Still, as Coleman told it, the whole process felt like a shot in the dark. "I was really, really nervous at first," she said. "What if this turned out to be a total flop? What if the whole thing imploded?"
Initially, Coleman had just one group on board — a cadre of women educators, led by artist Dorsey Hogg, who have an annual show at Flynndog. They kicked in money for the deposit and told Coleman they would use the space for their monthly meetings.
Then Coleman began advertising the studio online, and the flood of inquiries assuaged her fears of catastrophe. "The interest has been through the roof," she said.
Currently, Coleman is subletting to a printmaker/quilter, a graphic designer, a painter and the intriguingly named PoppyClock Collective, a duo consisting of Burlington artists Haley Bishop Rockwood and DeAnna Lynn Kerley.
When they're not creating public installations — like the purple moose mural for the South End location of City Market, Onion River Co-op and the bedoodled, Pepto-Bismol-colored façade of Stonecutter Spirits Highball Social — Rockwood and Kerley make paintings, drawings and funky objets d'art from found materials. Since November, they've been using the Flynndog studio as an alternative to their spare bedrooms, where they previously made most of their artwork.
"We'd definitely reached the point where we were ready to start branching out," said Kerley. Both she and Rockwood are passionate about bringing art into the community, and the studio has given them a venue in which to host workshops and classes. This summer, the women hope to organize an art camp for elementary school girls.
Space isn't all they get, Coleman added. Long term, she hopes to build a community around what she calls "emerging creativity" — artists in the early stages of moving their practices out of their homes and garages — and to facilitate cross-pollination.
Beginning later this month, Coleman plans to hold open studio hours that coincide with Flynndog receptions. The first one will happen January 24, the night "Crosscurrents" opens in the gallery, featuring paintings by Lillian Kennedy and Homer Wells and photographs by Barry Snyder and Mary Brevda.
Sharpe-Lunstead's equipment will get a second life, too: Starting in February, pulp painter Eden Stern will lead papermaking workshops.
"I want this to be a place where people show up and support each other's work, and also [to] provide them with some of the logistical help — organizing shows and exhibitions, planning and hosting classes and workshops — that will launch them to the next phase of their careers," said Coleman.
And, said Rockwood, it doesn't hurt that Nomad Coffee, where the artists can meet potential collaborators, is right down the hallway.
"When you're working out of your house, you always have to pick somewhere to meet, which gets really old," she said. At last, their bedrooms can go back to being spares.