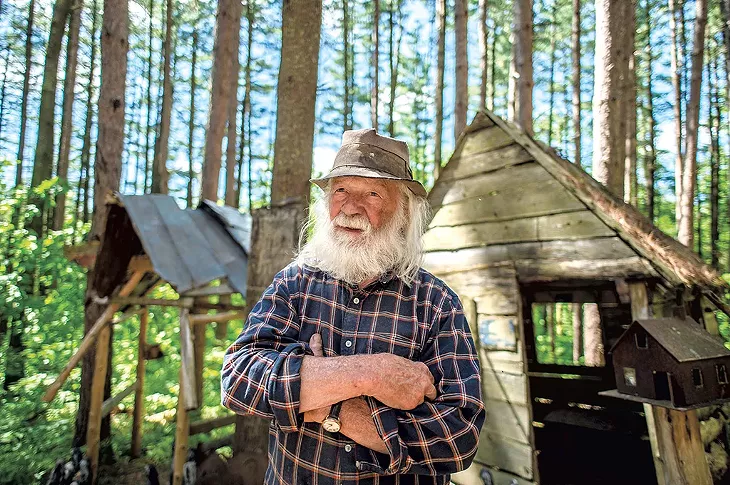 10 slides
In a hilltop grove at Bread and Puppet Theater in Glover, a painting of an evergreen on a piece of tin is nailed to a pine tree. Nearby hangs an image of a barn, rusted by time. On yet another trunk is a painting of a horse against a blue background. Each of these, made by artist and Bread and Puppet founder Peter Schumann, is a kind of trail blaze: a splotch of color on a tree that leads you deeper into the woods.
To follow his artwork into the pines — above the grassy amphitheater where the puppet troupe performs — is to discover the history of the company. The story is presented in a series of handmade art installations that memorialize puppeteers and activists, musicians and teachers, writers, family and friends who have a connection to the company Peter founded 56 years ago.
Among the trees, a work that honors a Holocaust survivor was reconfigured when weather took down the original structure. Paintings of a cloud and a horn, a bird and a candle have faded or fallen to the ground. Small buildings made of scrap wood have been buffeted by the wind or worn down by the rain.
"They weren't built for lasting forever," Peter told Seven Days one day last month on a tour of the installation.
The impermanence of the memorial pieces echoes Peter's idea of eternity itself. "There's not much of it," he said. "It's ephemeral, even eternity."
The memorial village, as the puppeteers call it, is the work not only of Peter but also of his kids and collaborators and of family members of the deceased. Though the buildings and other installations have been in the woods for decades, the site has fewer visitors than the puppet-filled museum across the road or the pageants in the field.
Small human figures placed near the entrance to the forest a few years ago — among the scores or maybe hundreds of such sculptures in the pines — will most likely attract more people to the "village" within. The advent of weekly gatherings there, a time to commemorate loved ones, has done so already. The memorial sessions take place on Wednesday evenings at 7 p.m. throughout the summer.
The pine forest is a place of wonder and sanctuary. The wonder originates with the artwork — its breadth, variety and heartfelt connection to its subjects. The sense of sanctuary derives from the woods itself: the slant of sunlight through the trees, the spread of greenery poking through the pine needles, and sometimes the metronomic tap-tap-tap of a woodpecker. (One afternoon, a bird pecked away on scrap metal. Perhaps the reincarnation of a snare drummer?)
For people with a deep connection to Bread and Puppet, the village is a kind of "living memorial," said Michael Romanyshyn, a longtime puppeteer who built a number of the installations. His parents are memorialized there by a lovely painted birdhouse. "The village is a place we can affirm and renew the presence the people remembered there have in our lives," Romanyshyn wrote in an email.
For visitors, the pine forest offers a further sense of the theater and the people who built it. Each visit yields a new discovery; a piece that's whole one week might be fallen or broken the next. Installations merge into one another; their number is fluid.
Peter, 85, is a native of Germany who moved to Vermont from New York City with his wife, Elka, 83, and their five children in 1970. The family lived in Plainfield for four years, during which Peter was a resident artist at Goddard College.
In 1974, the Schumanns relocated to a roughly 250-acre former dairy farm in Glover, making a home for their family and establishing a base for Bread and Puppet. The world-renowned company, which Peter had founded in 1963 on the Lower East Side of Manhattan, is known for its larger-than-life papier-mâché puppets, political activism and rollicking, good-humored shows that embrace performers of all levels. Inclusivity is central to Bread and Puppet's art.
The company's biggest performance, Peter said, happened on June 12, 1982, in New York City as part of a No Nukes demonstration. More than 1,500 puppet street performers, cast as the World, the End of the World and the Fight Against the End of the World, paraded through the streets of Manhattan. Each configuration was more than a block long.
"Peter's influence with Bread and Puppet Theater has been worldwide," said John Bell in a telephone call, "especially in terms of thinking about contemporary puppet theater community, political and ritual performance." President of the board and former member of the troupe, Bell is a professor of theater at the University of Connecticut and director of the Ballard Institute and Museum of Puppetry. His in-laws are memorialized in the pine forest.
Peter's arrival in Glover, an Orleans County village of about 1,000 residents, was hard to miss. "People found me because I was a big show-off on 10-foot stilts," he said.
The founder remains at Bread and Puppet's artistic helm, leading new and returning puppeteers each summer in art making, show creation and performance. The weekly summer pageants, held on Sunday afternoons, started this year on July 7.
Peter doesn't just make puppets. By his own estimation, he's made about 200,000 paintings. He paints on rafters, sheets, cardboard, school buses, tin cans and other surfaces.
"I paint fast," he said. "Fast and furious and bad. As bad as I'd like to. I have no respect for end result or completion."
Memories in the Trees
Glenn Russell
Peter and Elka Schumann
On a beautiful day in June, when ravens squawked in a high nest and the greens of early summer lit up the hillside, Peter and Elka, married 60 years, walked up a path to the pine forest. Peter quickened his pace for a moment and moved ahead to clear a jumble of branches.
"Now we can drive our horse and carriage through," he said with a smile.
The pine trees on the plateau above the amphitheater were planted in rows about 90 years ago. They were intended for timber harvest, but the Schumanns chose not to cut the trees down. "We liked the forest as it was," Peter explained. The stand is thinned when a storm blows through.
The slender evergreens reach 50 or 60 feet high. Some have bushy, brighter pines growing at their base. Fallen pines are cut and used to fire the ovens where Peter makes his famous sourdough rye to give away at shows. Sawn-off trunks become seating in the woods.
"Fancy seats we have here," said Peter — a joke, as he has long believed that art, like bread, should be available to all. "Twenty-dollar loge seats."
By foot, not carriage, the Schumanns continued past the stumps and logs and into the memorial village that's been built over 40 years. Walking among the installations, they recalled people who are commemorated here — their friendships, their contributions to Bread and Puppet.
The couple talked about the origin of the site as a performance space and its organic transformation into a place to honor the dead. The deceased who are recognized here span ages 5 to 100; their deaths encompass a range of causes.
"So many ways of dying in that little patch," Peter observed.
In recent years, the pine forest has "opened up," said Elka, becoming a place for theater apprentices and volunteers, neighbors, friends and others to come together and honor loved ones on those Wednesday nights.
"The value of this place has become the fact that it's a weekly meeting place where people can come and think of people who died," Peter said.
Sally Pollak
Peter and Elka Schumann
Bread and Puppet's inaugural Domestic Resurrection Circus in Glover took place in 1975. The first buildings in the pine forest were made that year or the next, according to Romanyshyn. He built the original set, a few simple structures, with Salih Schumann, Peter and Elka's son.
"We wanted to make that village as a place in the forest to have events and do music and have some shows there," said Romanyshyn, 62, talking by phone from a train in France. "We used the little houses for that, and then the houses became houses for the memorials."
Erected in a semicircle, the houses were constructed from slab wood — cast-off lumber that was free at the local sawmill. There was a piano in the woods, plus banners and hanging lanterns. The first piece performed there, the Schumanns recalled, was the Bach cantata Jesu, meine Freude (Jesus, my joy).
As the site transformed into a memorial, installations began to appear in a variety of forms. Peter made a set of concrete heads, now moss-covered, in tribute to Maurice Blanc, an actor and teacher who died in 1980. Tributes crafted by others were added over time, such as a bicycle hanging from a tree with the words "ride in peace" written on a board, and a sculpture of a guitar that rests against a stump among pine needles. The painted tops of cans sprout like flowers in tribute to a civil rights lawyer. Totems including a drum, a poem printed on laminated paper, a teapot and photographs are found inside the small buildings.
An open-air space marked by maple saplings is a tribute to Grace Paley, a writer and activist who was the fifth poet laureate of Vermont. Another installation, anchored by a pair of rusty wheels and with wooden wings aloft (one recently downed by the weather) is for puppeteer Lyn Spotswood. She was paralyzed and performed in a wheelchair — once in a sled Peter made for a show in the Plainfield snow.
A beautiful tribute made by three generations of Schumanns honors Peter's sister, Akelei Fischer. An English teacher at Lake Region Union High School in Orleans, Donna Underwood, is remembered by her sculpted head and big, wire-rimmed glasses.
"They are very democratic, these things," Peter said. "We make no distinction between a school teacher and trumpeter."
A new memorial installation often occasions singing, words of tribute and a big meal at the farmhouse. One such event was held last summer for Joel Kovel, an author and eco-activist who had attended Bread and Puppet over four decades. His memorial included a procession into the pine forest with horns and drums.
Kovel's stepson, sculptor and blacksmith Tovey Halleck, forged a metal book for Kovel that stands on a tree stump at the edge of the woods. Kovel's widow, DeeDee Halleck, is a documentarian who's made films about Bread and Puppet; she's also the mother-in-law of Peter and Elka's daughter Tamar.
"It's always been a kind of holy place for all of us who knew so many people at Bread and Puppet," DeeDee Halleck said. "It's sort of a natural kind of ending for so many people. You couldn't have a better goodbye."
Elka's grandfather Scott Nearing, who lived to 100, is remembered in the pine forest alongside his wife, Helen. The couple coauthored the landmark 1970 book Living the Good Life: How to Live Sanely and Simply in a Troubled World, considered a bible of the homesteading movement. The Nearings' names appear as part of a simple, moving tribute crafted by Peter that honors more than a dozen people.
On a board attached to a tree by a piece of twine, Peter carved images of a star, a quarter moon, the shining sun and the word "In." Under that top line, he carved "Memoriam" followed by a set of names. These include Daisy Dopp, from whom Elka's parents purchased the Glover farm; Hans and Margarethe Schumann, Peter's parents; and Elka's father, John Scott. (Her mother, Masha Dikareva Scott, was still alive when the piece was made.)
Last month in the grove, Peter recited every name he'd carved on the board and spoke a sentence or two about each person. After he read the last name, Elka said, "Peter, you really should make another board."
Asked whether an installation will be made for him in the pine forest one day, Peter said simply, "I hope so."
The next week, the Schumanns returned to the pine forest for a Wednesday evening gathering. As the time neared for the informal occasion, the sound of a lone horn coming from downhill played against thunder rolling in from the west. The sky darkened. As the Schumanns arrived and got out of their car, a strong bolt of lightning flashed and the rain began.
"We may be fleeing," Peter remarked.
Still, the couple walked into the woods to the memorial installations; a few puppeteers joined them. "Scary and magic," one of them said. More lightning struck; rain fell harder.
"OK, OK, next week," Elka said. The Schumanns decided to head home for the evening.
"We have a very short memorial," Peter said, "for everybody in the world."
Later that night, the Schumanns stood outside their house to look at a rainbow, then a double rainbow, in the eastern sky. "Oh, mamma mia," Peter said. "Too much, too much. How do we deserve any of this?"
Stories in the Woods: Andy Trompetter
Glenn Russell
Andy Trompetter memorial
Amy Trompetter, 76, is a puppet artist and founder of Redwing Blackbird Theater in New York's Hudson Valley. In 1968, she was living in New York City when she came upon a newspaper ad seeking participants for the "Angry Arts Festival." Peter Schumann was directing a Bach cantata for the event.
Trompetter, whose surname was then Clemens, went to Joseph Papp's Public Theater, as the notice directed, and discovered Bread and Puppet. "I remember that night thinking, If I don't do this, if I don't go back there and do this, I'll miss the whole trajectory of my life," Trompetter said.
At Bread and Puppet, which she joined, Amy recognized a source of "art and politics and some kind of deeper spirituality than what we're [usually] presented with." She also met the man she would marry, puppeteer Andy Trompetter, who was a Holocaust survivor.
Amy has remained associated with Bread and Puppet since then. Though she has formed other puppet theater companies — including one in Maine with Andy, in 1970 — she continued to tour internationally with Bread and Puppet and serves on its board.
"These theater forms are in our blood and our history," Amy said. "It's almost pre-language, and people get it."
Amy and Andy were separated when he died at age 37 in 1979, but she made a memorial for him in the pine forest.
"I not only married Andy," she said, "I married the story of the Holocaust."
The centerpiece of the installation is a statue of Andy that she made from concrete, "Peter Schumann-style," Amy said. He's sitting in a chair, wearing a cap and an expression that appears contented. Pine needles have fallen onto his moss-coated lap, alongside the duck he's cradling.
Andy's early life story is further conveyed in the pine forest through letters and photographs attached to a framework of saplings. In the late winter of 1943, when he was not yet 10 months old, his Jewish parents left him in the care of members of the Dutch resistance. Andy was raised in a small town, Nijverdal, Netherlands, until 1945, when his aunt and uncle located him. They brought him up as their son; his parents had died in concentration camps.
A copy of a letter written by Andy's mother, Marie Ijzerman Trompetter, to her son, dated March 13, 1943, is part of Amy's installation. The framed letter, presented in its original Dutch and in English translation, reads in part:
Now dear child God knows if we do right or if we do wrong. I have always wanted you with me, but the situation is such that it would be too dangerous for you, and I do not want you to fall into the hands of our executioners.
Now child I take my leave from you. A thousand kisses from your mother & father.
God bless you
Amen
Marie Ijzerman Trompetter
Bread and Puppet's memorial village offers a special kind of place — one with "free-flowing respect," Amy said — for mourning and thinking about the dead. "There's a gleaning ... a harvesting from the lives of people who've come before us, and that helps with our own lives," she added. "It's so connected to the way the puppets are made: They have that one moment when they're made, and then they speak to us beyond language."
To Peter, the piece calls up parallels between Nazi Germany and the current U.S. government.
"That whole set is maybe the most elaborate thing we have because of these letters," he said. "It's the bye-bye letters of the parents."
Peter continued: "America commits the same crimes that the Nazis committed. It's a fascist state."
Stories in the Woods: Grace Paley
Glenn Russell
Grace Paley memorial
No one was sure who made the tribute for Grace Paley after her death at age 84 in the summer of 2007. Her daughter, Nora Paley, thought Peter Schumann made it. He thought maybe Nora did.
Certainly, it contains elements of Peter's artwork, including paintings and small figures cast in cement from papier-mâché molds.
"I've been wondering who built that," Nora said in a phone call from her home in Thetford. "I'm really grateful that somebody did it."
(The mystery was solved by its builder, Michael Romanyshyn. A longtime puppeteer who helped construct the original buildings at the site, he said he made the Paley piece with his brother-in-law.)
Paley had a close connection with Bread and Puppet that dated back to New York City and the street-theater, antiwar protests of the 1960s. She later moved to Thetford Center and would read her poetry at the company's Domestic Resurrection Circus.
"I would say Bread and Puppet is one of the touchstones of my mother's life as an activist and as an artist," Nora said. "Peter's work was very important to her."
The theater also became an important part of Nora's life and those of her children. She remembers skipping high school in New York and going to the company's loft on Delancey Street, where the audience sat on boxes and ate bread.
Later, when she had kids and sometimes had to fill out forms that asked for their religious affiliation, Nora would write: "Bread and Puppet."
"I feel that's sort of their philosophical and spiritual basis," she said, referring to her children. Her son, now 25, first played drums in the circus band when he was 3.
The memorial village is a "direct transfusion of history," Nora said, especially for young people who work with the theater now. "It's really the history of our time," she said. "Because all the people there have been involved as performers or other kinds of artists or activists."
Nora still gets up to Glover occasionally for performances and to visit the memorial village. Her stepfather, Robert Nichols, is also remembered there at a site near her mother's.
"I go there in small doses," Nora said. "A lot of people I knew are there. It's just so intense, and it's so beautiful."
Stories in the Woods: Jack and Mildred Cohen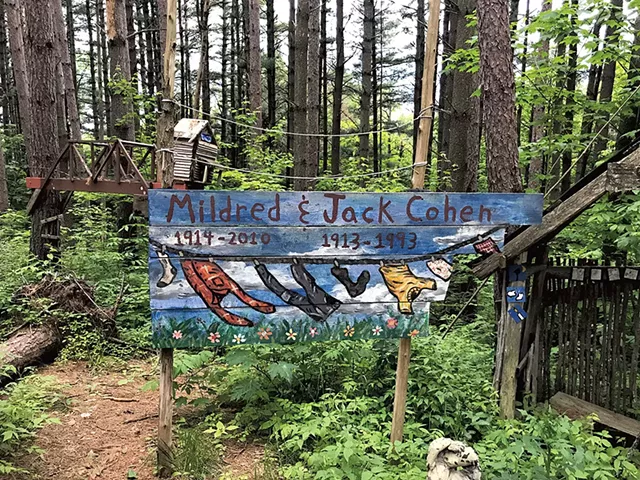 Sally Pollak
Jack and Mildred Cohen memorial
Trudi Cohen came upon Bread and Puppet in its Goddard College days, in the early 1970s. She joined the troupe through "the back door," she said, after she started singing in a shape-note group with Elka Schumann. At the time, Elka was presenting hand-puppet shows in local public schools, and Cohen thought that sounded like a cool thing to do.
"By singing and doing hand-puppet shows, I was invited to join the company," she said. "I discovered that puppets were a beautiful place to be."
Cohen, now 69, is married to John Bell. The couple lives in Cambridge, Mass., and cofounded the theater company Great Small Works.
Through their daughter, Jack and Mildred Cohen became involved with Bread and Puppet. The company stayed at the Cohens' house in New Haven, Conn., when it was on tour. The Cohens visited Glover every summer and attended big shows. Jack would repair sewing machines; Mildred mended items and cooked meals for up to 100 people at once.
The Cohens also helped spearhead a fundraising campaign, an effort Trudi called "anathema to Bread and Puppet." The money, raised circa 1980, helped pay for renovations to the puppeteers' house, according to Michael Romanyshyn, who was a puppeteer from 1975 to 1992.
To thank the Cohens, Bread and Puppet bought the couple a pair of tickets for a European tour. "They talked about it as a highlight of their lives," Trudi said. "They became very beloved friends of my generation of puppeteers."
The couple is memorialized in Bread and Puppet's pine grove with a piece that features a painting of a laundry line and billowing clothes, made by their grandson, Isaac Bell.
Nearby is a tribute to Trudi Cohen's nephew, Sam Kivelowitz, who died at age 26. Sam had spent childhood summers at Bread and Puppet with his aunt and uncle. His installation is a small suspension bridge between two trees; a wooden signs bears his name and the words "Been Here and Gone West."
"There's a lot of sadness in that pine forest," said Cohen. "These Wednesday evening things have become really important to Peter and Elka. I think it's part of aging, that looking-back part of aging."
Deadline at Puppet Farm
Singing rounds and picking through material were among the first activities at Bread and Puppet Theater in late June, when a set of apprentices arrived to work with volunteers, puppeteers, former B&Pers, probably a few "geezers" and assorted others at the famed theater in Glover.
Soon they were rummaging through bedsheets at the old farmhouse and reciting nursery rhymes such as "For every evil under the sun / There is a remedy or there is none. / If there be one, go and find out. / If there be none, never mind it."
Within a few days of the apprentices' arrival, Bread and Puppet put on a parade in Waterbury. The troupe performed a piece in the Dirt Floor Theater of the Paper Maché Cathedral by week's end and would mount the season opener in the Circus Field in less than two weeks.
"We do all our stuff fast," said Peter Schumann, founder and director of the company.
On the group's first full day at Bread and Puppet, people gathered in the music room, picked out instruments, played music and moved together. "We made an insurrection oratorio," Peter explained. The group worked "without any choreography, only little suggestions on how to move and how to listen to 'crescendis.'"
On the evening of that first day, sitting at their kitchen table, Peter and his wife, Elka, talked about working with young puppeteers and other performers. At Bread and Puppet, people learn to move away from a solo approach to performance and toward a merging of abilities and efforts.
"There's no great advantage to being an educated actor or dancer," Peter said. "We don't build our things from the academy. It's almost the opposite of that. Everybody chips in together. You don't try to enhance this solo image of yourself."
Rather, Elka noted, at Bread and Puppet the performers "get a sheet over their head."
"What we do is very similar to what many arts forms in many cultures do," Peter said. "Art is inclusive, not exclusive."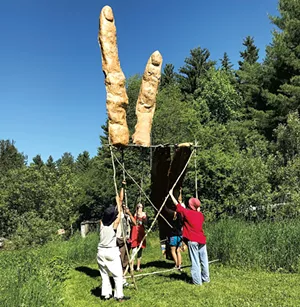 The next morning at nine, about three dozen B&Pers met for a meeting in the backyard of the farmhouse. They mapped out plans for the day; it was hot and sunny, which meant paint would dry fast, and flat surfaces should be put to use.
A herd of caribou and giant puppet hands had to be made. A subcommittee was formed to investigate where to watch the second Democratic presidential debate "of the ruling class," as the proponent phrased it. (One possibility was the laundromat in Lyndonville.)
Before the group split up to work on various projects, Peter explained the importance of knowing which material is available and how to make use of it "prior to figuring out what we want to tell people, what we want to say."
He called first for "an exploratory picking of things, followed by an exploratory making of things." He advised newcomers to "go with puppeteers who know where things are and figure out things that exist."
If you need a helicopter, Peter suggested, don't make one. Find a chair and put a sign on it that says "helicopter."
"You tell people something, and they believe it," he noted.
Soon people were rolling white paint onto cardboard by the museum steps and mounting papier-mâché fingers with movable joints on sapling supports. A second set of fingers, for another hand, was under construction beside bathtubs filled with clay.
Noting the bustling activity at the Glover farm, Peter commented, "We're on deadline."