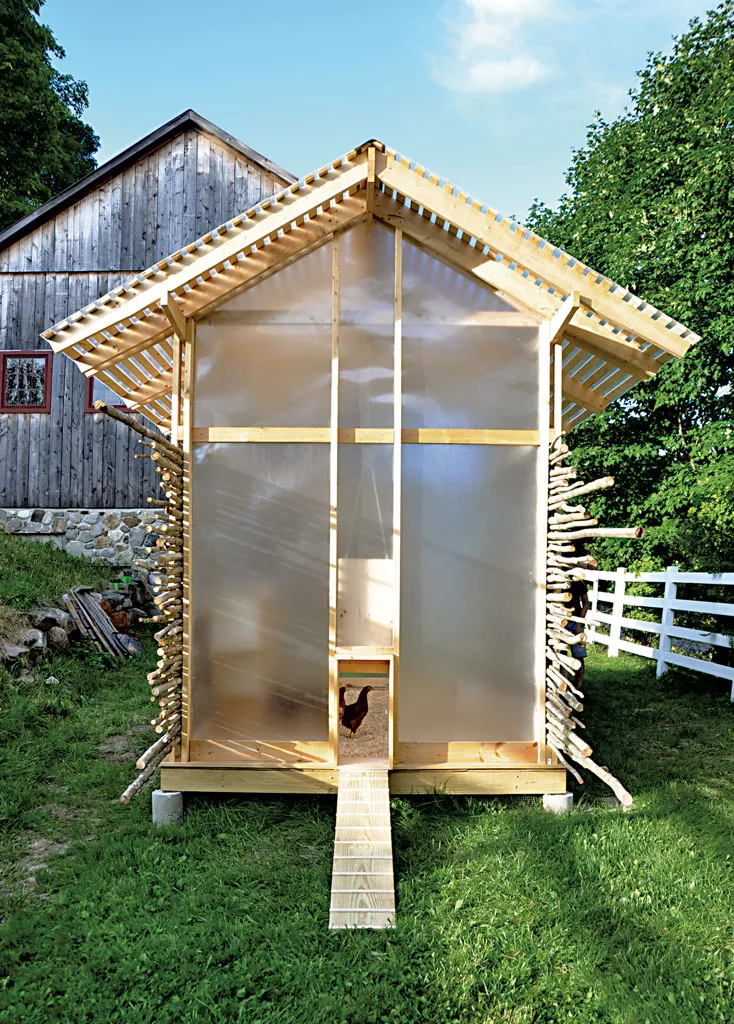 Courtesy of Lynda McIntyre
Chicken Chapel by Keith Moskow
As holiday shopping ramps up, the Architecture + Design Film Series, held at Burlington's BCA Center, will present a film and lecture that remind people of the finite nature of life on Earth.
Investigating tiny dwellings, living off the grid and doing more with less, the film, Microtopia, ultimately questions how much humans really need — and taps design to find answers. The speaker, Boston architect Keith Moskow, who lives in Vermont part-time, has been finding elegant answers of his own.
"It's edgy," promises Lynda McIntyre, cofounder of the film series and a studio art professor at the University of Vermont, speaking of Microtopia.
In the 2013 Swedish film, directed by Jesper Wachtmeister and produced by Jonas Kellagher, architects propose forward-thinking concepts for creating new communities without negative environmental impact, such as sleeping pods hanging from tree trunks, islands made from trash and microhomes on wheels.
McIntyre started the free film series last year with fellow design enthusiasts Karen Frost, who co-owns Vermont Eco-Floors in Charlotte; and Andrew Chardain, a designer at TruexCullins in Burlington.
This year, McIntyre points out, most of the films in the series are "really from one point of view" — such as forthcoming documentaries on architect I.M. Pei and photographer Henri Cartier-Bresson — or are "a little indulgent." Microtopia, by contrast, is "more intellectual in terms of thinking outside the box to solve problems of living space." In fact, she adds, it's pretty much "about the thought of what it is to be a human being."
Aware of how daunting that summary may sound, McIntyre invited architect Moskow to introduce the film with a talk about some of his own firm's equally imaginative work. Though not included in the film, Moskow's work, says McIntyre, is "much more accessible" and is more about beauty than the exigencies of building on an overpopulated planet.
Moskow works in the Boston-based Moskow Linn Architects with partner Robert Linn and lives part-time in Norwich. Before starting his company in 1990, Moskow worked at large firms in New York and Los Angeles. Now, in the midst of pursuing residential, corporate and other projects, he and Linn maintain their design chops by dreaming up what Moskow calls "interventions." These are small, whimsical structures that solve a problem or enhance an environment, such as a vertical garage for the rental firm Zipcar that is designed to work like a giant PEZ candy dispenser.
For the past three summers, Moskow and Linn have run a six-day intensive design-build workshop on Moskow's wooded 117-acre plot in Norwich called Studio North. The workshop gives a handful of aspiring architects the chance to see a "rural intervention" through to completion, in the manner of Yestermorrow Design/Build School's workshops in Warren. Studio North's first project, a chicken coop with an airy, pitched roof, was dubbed the Chicken Chapel. Both it and last summer's Birch Pavilion, a small structure for contemplation, were featured in the modern lifestyle magazine Dwell.
The pavilion — a spare, rectangular structure with walls made of closely aligned birch trunks from Moskow's property — is "minimally elegant," as McIntyre says of his work in general. That work is about "beauty, grace and minimal size," she adds — which is a fair summary of the firm's 9/11 memorial at Boston's Logan International Airport. The open-roofed, cubic glass meditation room, rather than sealing off its environment, incorporates the spot from which American Airlines Flight 11 left that day.
Reached at his Boston office, Moskow says he's still considering which Studio North project to include in his prescreening talk. "Maybe the rolling pig pen," he muses. His talk, "Swamp Hut, Ice Chimes and Rural Interventions," will cover a project he and Linn conceived. "Ice Chimes" is a two-story-high sculptural installation intended to "make huge icicles" by passively guiding snowmelt down aluminum tubes suspended from a 20-square-foot flat roof. The tubes are distributed around a central, supporting pier that doubles as a lantern.
"Ice Chimes," which graced the Dartmouth College campus during its 2012 to 2013 Year of the Arts (Moskow is an '83 alum), is hardly a net-zero project. In addition to the electric light inside the pier, heating coils are needed to "make sure things don't freeze solid," Moskow explains. The firm can certainly do "green" — it recently completed a passive-solar house on Martha's Vineyard. But Moskow is more interested in creating interventions that, he says, "make the experience of those environments different — that heighten the experience." Small-scale projects often do this well, and, in fact, Moskow adds, "those are the things people often remember — the little things."
Between Moskow's interventions and the projects featured in the compact, 55-minute Microtopia, the message of staying small and efficient is sure to leave an impression.
INFO
Architecture + Design Film Series talk by architect Keith Moskow and screening of Microtopia. Tuesday, December 16, 6 p.m. at the BCA Center in Burlington. Free. adfilmseries.org