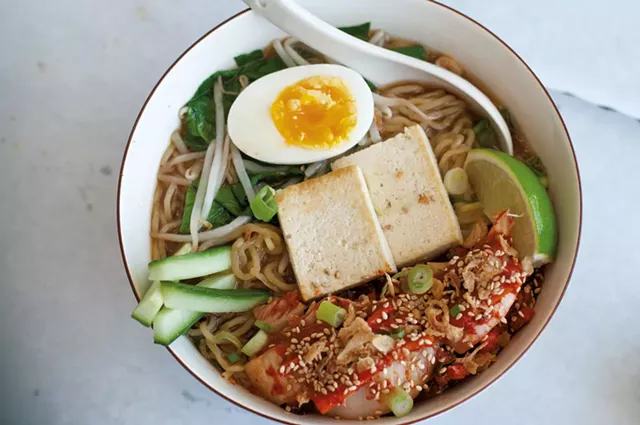 Hannah Palmer Egan
Kimchi-tofu ramen
Afternoon sun streamed through the bay windows at Barre's Si Aku Ramen last Thursday as co-owner Marlyn Brown sat at a table with Divina Haverick and Sol Gaiser. They looked up from a plate piled with stir-fried shrimp as two guests walked in the door.
Haverick jumped up to greet them. "Hello, good morning. We're open for business!" she said in a singsong voice softened by her Filipino accent.
Never mind that it was midafternoon, or that Haverick isn't an employee but a friend of Brown's, or that the "Open" sign on the door made clear the restaurant's status. It was a heartfelt welcome, and Haverick's jubilant smile was contagious.
These visitors hadn't come to eat, however, but to inquire about featuring the restaurant on a Barre City walking tour. Brown said she'd think about that. "But come back again," she added, a grin lighting up her face as she handed the women her card.
Brown opened Si Aku in late April with her husband, Peter Brown. The restaurant's quick-service format and location at 237 North Main Street — right next to the Paramount Twin Cinema — would seem to make it a prime candidate for a pre-movie supper.
The décor is spartan, but the space is comfortable in the laid-back way that great hole-in-the-wall noodle joints often are. To one side is a small Asian grocery, its shelves lined with items such as squid sauce, dry noodles and rice vinegar. In the café area, folding bistro-style chairs surround six two-top tables; barstools along the service counter can seat five more.
Brown's often-changing menu offers noodle soups ($8.95 at lunch, $12 at dinner) and Asian snacks ($5), including Filipino empanadas and scallop-edged steamed dumplings stuffed with minced pork and shrimp.
My bowl of brothy tonkotsu ramen last week offered thin slices of pork belly, seared and slathered with sweet soy barbecue sauce. The fresh alkaline noodles — shipped in twice weekly from Sun Noodle's New Jersey factory — held their chew, softening as the broth cooled. As with any proper Japanese noodle bowl, it's best to eat Si Aku's ramen quickly, lest your noodles go limp.
Hannah Palmer Egan
Marlyn Brown
While the tonkotsu bowl met the mark, a serving of kimchi-tofu ramen in rich miso broth stole the show. (I had ordered it to go but couldn't resist a quick nibble.)
Brown said a Korean friend taught her to make kimchi 30 years ago, and she's been perfecting her recipe ever since. The fermented cabbage stands in a glass jar at the end of the service counter, colored electric red by gochujang (red chile paste) and flecked green with pungent herbs.
In the soup, the amply pungent kimchi stained the broth red; chile heat built to a low crescendo. Soft-boiled egg and slabs of tofu added chew; Chinese greens gave it crunch. Brown picks up her veggies on weekly trips to Asian markets in Manchester, N.H., and Boston.
In Japan, cooks can study ramen for years, learning the ins and outs of compiling a perfect bowl of soup. But the noodles are common throughout Asia, and Brown — who learned the art of ramen in her native Manila — takes a relaxed, personal approach to cooking rather than adhering to dogma.
"This is America," she said, tying the tops of a green plastic takeout bag into a bow. "You can put whatever you want in it."
In fact, the restaurant's name — Si Aku — means "it's me" in Filipino, Brown said.
"Some people translate it as 'it's my,'" she added. "But I like it: It's me! It's me, Marlyn. It's me, ramen."