courtesy of Healthy Living Market and Café
Bunjamin's Hopcorn
The Vermont Tortilla Company is brand-new, but its products are made with a technique that's thousands of years old. Nixtamalization, explains cofounder April Moulaert, is the labor-intensive process in which corn kernels are dried, then cooked in an alkaline solution, hulled and ground into flour. What would otherwise be bland old cornmeal gains flavor and nutritional value. Moulaert believes that turning local, organic corn into nixtamal is what makes their tortillas so delicious.
Judges at last month's Local Food Business Pitch Competition agreed. Vermont Tortilla Company placed second in the contest held at South Burlington's Healthy Living Market and Café. They won a small prize and a promise from the store to stock the tortillas when they're market-ready.
Store co-owner Eli Lesser-Goldsmith is bullish on the pitch competition, which debuted last year at Burlington's Eat by Northeast food festival. "The people who pitched were great and full of energy and full of life, and I thought, There's a good idea here," he said. This year, Healthy Living used social media to call for participants, requesting that entrants submit a 10-minute pitch about why their food belongs on the store's shelves. Of the 20 entrants (up from four last year), seven were invited to compete.
"We turned a lot of people away, which in my opinion is good and bad, but it did raise the level of seriousness," Lesser-Goldsmith said.
Part market research, part reality show and part food-nerd get-together, the March 29 competition challenged its contestants to focus on what makes their products unique. The judges: Lesser-Goldsmith; Colin Miller, Healthy Living's head chef and café manager; and Mindy Elmergreen, one of the store's "tastemakers." Williston entrepreneurial group StartupVT cosponsored the event.
The first-place winner, Marshfield-based fermented food makers Sobremesa, took home a $100 Healthy Living gift card, but the more valuable prizes were less tangible. The company received product-consultation services with the store's supervisors and a three-month trial period where their product will appear on the store's shelves.
Speaking by phone with Seven Days just after their consultation, Sobremesa cofounders Caitlin and Jason Elberson bubbled with enthusiasm about their win. "We talked about packaging, strategy, flavors, cost," said Caitlin, "basically learning more about selling in that kind of environment."
Sobremesa, named for the Spanish term for post-meal conversation, makes kimchi, sauerkraut and other seasonal fermented foods, as well as salsas, pestos and herbal products like lip balms and seasonings. The Elbersons grow most of their ingredients on their Marshfield farm and prepare food in their home kitchen. They exclusively use organic Vermont produce.
"We've always been really passionate about food preservation," said Caitlin. "Fermentation is low impact, doesn't require a lot of infrastructure and it honors all these ancient traditions."
The company's products are currently available only at farmers markets in Burlington and Winooski, so scoring a spot on Healthy Living's shelves represents a significant step toward professionalization.
The Elbersons moved to their Marshfield farm just last November, but they expect to have their products in the store by summer. The company's logo and brand identity are already in place, and the creation and licensing of an on-site, state-certified kitchen is under way.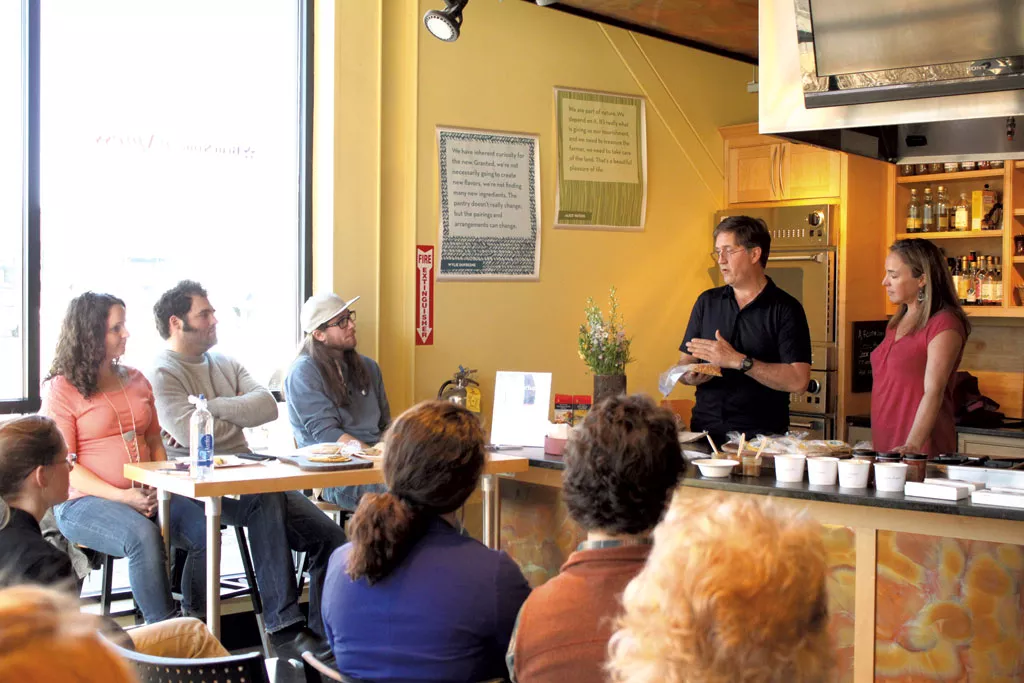 courtesy of Healthy Living Market and Café
The Moulaerts make their pitch
The Moulaerts, who live in Burlington's New North End, are similarly excited to get the Vermont Tortilla product on store shelves. "We'd like to have it ready yesterday," said April Moulaert. Though her company's second-place finish didn't come with a trial period, she said that Healthy Living is keen to make Vermont Tortillas available to its customers.
In order to capitalize on the store's interest, Moulaert said they are scrambling to find a space better than their current certified home kitchen. "There are a variety of requirements that make it challenging to find space," she said, noting that most locally available commercial spaces are far bigger than the 1,500 square feet they need, and few can supply the 750,000-BTU gas lines needed for nixtamalization.
Still, Vermont Tortilla is energized by its second-place finish. "I loved talking to other small food producers," Moulaert said. "I'm learning so much right now. [At the competition], we discussed so many questions that are specific to small food production." Particularly valuable, she noted, was learning to think about her products from the grocery store standpoint. She mentioned another pitch competitor, a popsicle company that hadn't yet developed product packaging. Unless the frozen treats are in boxes, grocery stores won't stock them. "These were things I'd never even thought about," said Moulaert.
She and her husband have been approaching local grocery stores and investigating ways to diversify their company's product offerings — including selling the masa flour from which the tortillas are made.
Another of this year's pitch competitors puts a different spin on corn. Laura Richards resides in Burlington and produces Bunjamin's Hopcorn in kitchen space rented from Vermont Cookie Love in North Ferrisburgh. Her idea: "Vermont-inspired" flavored popcorns designed to pair with various craft beers. Though Richards didn't place in the competition, Lesser-Goldsmith wrote in an email that Richards is "on the right path."
Named after her pet rabbit, Bunjamin's Hopcorn comes in four flavors: Cheddar and Summer Sausage (no meat, just the spices), designed to go with stouts and porters; Sugar on Snow, which pairs with gose; Vermont Apple Pie, to accompany dark ales; and Campfire Smoke Pepper, which pairs with hoppy brews such as IPAs. At present, the snacks are available in two locations: Growler Garage in South Burlington and 14th Star Brewing Co. in St. Albans.
"The response has been really good," she said, "but it's so new that I don't have a whole lot of feedback to work with." That's why she's grateful for the chance to participate in the competition. "It was just a really great opportunity to have a real pitch. It's something I'd never done before."
Richards also learned that she should stick with a wholesale model for now, as she hasn't yet had time to develop packaging or marketing. And, though she already knew that "local" is a selling point for many Vermonters, the pitch competition drove that point home.
The competition seems to be a win-win for all involved: Healthy Living gets the inside scoop on new products, and fledgling food companies get professional advice. Another win: Customers will soon have more Vermont-made foods to sample.
"It's part of [Healthy Living's] mission to help farmers and producers be better businesspeople and to grow and to be successful," Lesser-Goldsmith said. "We're trying to set people up for success."