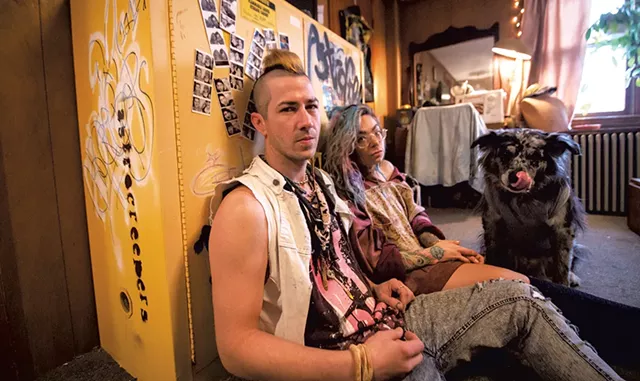 Luke Awtry
Aaron Giroux and Megan Jensen with their dog, Bulleit
As Megan Jensen opened the door to the turn-of-the-20th-century home she shares with her boyfriend, Aaron Giroux, multiple clues signaled their creative zeal. There was the run-down porch with a large sign advertising the couple's alterations and mending business. There was Bulleit, a large, friendly mutt clad in a T-shirt that read "Bad Bitch" across the back. And there was Jensen herself, with multicolored hair, wearing platform oxford heels and a pink dress that was actually a sweatshirt she'd scored from a junkyard, she mentioned later.
Just another morning in Hinesburg.
Seven Days visited the couple to learn the story of Astrocreepers, their handmade clothing line, which they call "guerrilla couture." Jensen and Giroux are two style oddballs holed up in his grandmother's old house, scavenging materials and weaving a shared vision for their deconstructed, reconstructed fashion line.
Jensen, 33, joined Giroux, 35, in the kitchen, where he was wearing overalls stitched out of two pairs of jeans. A mohawk and one long, dangling earring completed the look. Giroux only recently moved back to his hometown after long stints in New York City and New Orleans.
The latter city is where Jensen was born and raised. They met in 2017 working in a restaurant and surviving life in New Orleans, which Giroux described as "cutthroat." The two butted heads at first, but when they started dating, they found themselves remarkably in sync, they recalled.
One day early in their courtship, Giroux described to Jensen a necklace he'd been imagining — sort of a mangled rosary.
"I was describing it to her ... And she goes, 'Hold on one second.' She goes up to the attic and comes down with this box — and I swear to God it was exactly what I was describing," Giroux said. "It was the coolest jewelry I'd ever seen, and she had made it years ago ... I was like, 'You've got to teach me how to do this.'"
"We would get off work and just spend hours on the floor making jewelry," Jensen said.
They started buying old jewelry to take apart and remake and scavenging along the railroad tracks for "ground scores," odds and ends they found on the ground and incorporated into their pieces. Eventually, Jensen taught Giroux how to use a sewing machine.
It was a steep learning curve. "We've broken a lot of sewing machines," Giroux said.
"Literally, like, eight," Jensen agreed.
Luke Awtry
A piece by Astrocreepers
In September, they moved to Vermont and discovered the ultimate treasure trove. Giroux's family owns Giroux Body Shop, which is next door to the couple's home and has "all the scrap metal we could ever want," Giroux said.
Astrocreepers is somehow both a love letter and a middle finger to consumerism. All the trappings of fashion are on display in layers of sequins and beading and scraps of shiny fabrics. But the overall effect is a little like a rich person who's turned into a zombie, or what a celebrity might wear after civilization collapses.
It's from this aesthetic that the term "guerrilla couture" originates. Giroux and Jensen overlap fabrics and piece together designs in ways that are often intricate and artful. Each piece of their clothing is one of a kind and involves the detailed handiwork often associated with couture, but they aim for a street look.
The name Astrocreepers comes from the couple's early days of dating in New Orleans. He taught her to play pool after work at a 24-hour bar. They'd stand outside as the sun rose and call themselves night people — the "nocturnal fringe" and, eventually, "astrocreepers."
For Giroux and Jensen, the name represents more than a clothing line: The two have dreamed up a postapocalyptic world in which Astrocreepers is the name of their very small gang (membership: two). The clothes are their gear and a vital part of their identities. In their free time, they are creating a graphic novel about this fictional world, a few panels of which they've posted to Instagram.
The couple's materials are the fashion world's fringes, from thrift store cast-offs to literal trash. "We're actually more likely to use something if it has holes in it or stains on it," Jensen said. They've developed a relationship with Twice Is Nice thrift shop in Hinesburg, which gives them its unsellable clothing for free. It's a win-win: Giroux and Jensen get materials, and the store doesn't have to pay for disposal.
When they were new to Vermont, Giroux and Jensen participated in a clothing pop-up organized by Stu Sporko, owner of Battery Street Jeans in Burlington. He recalled them as professional and appreciated their unique options, even buying a shirt for himself.
"Their stuff, it's definitely got a lot of work put into it," Sporko said. "Everybody's a cut-and-sew artist, but they definitely have a better sense of texture, and they really make serious art pieces out of their work."
Nina Szenasi works at Battery Street Jeans and makes clothing under the moniker Stoof. She said she admires Astrocreepers.
"There was this huge trend, I think, in fashion that was, like, going minimalist," Szenasi said. "But I feel like they're doing this maximalist thing, which I find really fascinating ... For them to share such a specific style vision is very interesting."
There was a month or so, in New Orleans, when Giroux and Jensen were making a living selling their wares full time at an artists' market. Now they're piecing it together with Astrocreepers, their alterations business and restaurant jobs in Burlington. The good people of Hinesburg aren't buying Astrocreepers creations just yet. "We stick out like a sore thumb around here," Jensen said. But the two are selling through Instagram and looking for retailers around the state that might stock their jewelry.
At the top of the narrow staircase in their house is a cluster of tiny, wood-paneled bedrooms that they use for fitting rooms. Racks of their wares stand against the wall, every piece with a story. Giroux pulled out a shredded, bleached T-shirt screenprinted with the words "Sneakers and Titties."
"I was distressing this thing for hours," Giroux said, referencing a process that makes clothing look old and worn.
"He spent, like, 13 hours on that shirt," Jensen said. "I always joke, and I call it the million-dollar shirt."
"Whenever we put our stuff out somewhere, we'll price it at, like, $700," Giroux said. (Their standard pricing is much more reasonable.) "But watch, like, fucking Beyoncé or somebody will be like, 'How much is it? Done.' Couldn't you see some R&B star wearing that and being, like, 'It was $700. It's couture'?"