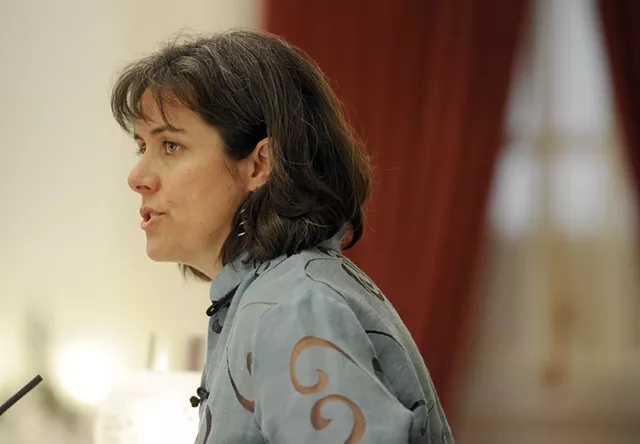 File: Jeb Wallace-Brodeur
House Speaker Mitzi Johnson
Assigning lawmakers to committees is kind of like drawing up a seating chart for a wedding, except instead of drinking champagne and eating layer cake, those seated at the table determine the direction of our state.
"I think setting up committees is the most important thing the speaker does in two years," said House Speaker Mitzi Johnson (D-South Hero). "It lays the foundation for where the meat of the work gets done." With five of 14 House committee chairs retiring this year, Johnson has an unusual opportunity to rebuild that foundation.
The women and men who head committees are responsible for setting the Democratic majority's policy agenda, marshaling support for legislation and delivering fully baked bills that can withstand attacks on the floor.
As subject matter experts, committee chairs often play key roles in backroom negotiations with legislative leaders and the governor.
Committee assignments won't be announced until the new biennium starts in January, but behind the scenes, the jockeying for spots is well underway. For ambitious lawmakers, scoring a committee chairmanship can be the first step toward higher office.
Johnson has the unchecked power to assign each of her 149 members to one committee and to name chairs. In the Senate, the task is shared by Senate President Pro Tempore Tim Ashe (D/P-Chittenden), Progressive/Democratic Lt. Gov. David Zuckerman and the third member of the Committee on Committees, who, for years, has been Sen. Dick Mazza (D-Grand Isle). Senators each serve on two of that chamber's 11 committees, and more than a third are chairs.
In past years, leaders have used assignments as a disciplinary tool, with insubordinate members banished to undesirable committees. Some have engaged in a sort of gerrymandering — packing sleepy committees with minority-party members, for instance.
Today's arbiters profess to take a less Machiavellian approach. Johnson said she tries to build committees that include geographic and political diversity, gender balance, and a mix of professional and political experience. Stacking a committee with Chittenden County Democrats, for instance, would make its work easy to undermine.
Though she doesn't plan to maroon members of the minority, Johnson isn't about to tie her hands, either. "There's a difference between being fair and giving your power away," she said. Loyal committee chairs are key to delivering a legislative agenda.
Perfection, of course, isn't possible, and the process will inevitably leave some members disgruntled. "At some point you just cry uncle," Johnson said.
Women are already well represented in House committees, with seven female chairs returning and several more in consideration for vacant positions. Rep. Pat Brennan (R-Colchester), who leads the House Transportation Committee, is the only Republican chair.
Though Johnson declined to speculate about what changes she'll make, that shouldn't stop the rest of us. Seven Days spoke with a number of lawmakers and lobbyists to get an early sense of who's angling for what.
Rep. Tom Stevens (D-Waterbury) is the presumed heir to the General, Housing and Military Affairs Committee, formerly chaired by retiring Rep. Helen Head (D-South Burlington). "I've put my hat in the ring," said Stevens, a liberal Democrat who could play a key role in shaping paid family leave and minimum wage bills, both of which are expected to resurface next session.
Elsewhere, successors are less certain.
Rep. Amy Sheldon (D-Middlebury) is a potential candidate to replace Rep. David Deen (D-Westminster) at the helm of the Natural Resources, Fish and Wildlife Committee. Sheldon, who says she's interested, currently heads up a commission evaluating the state's flagship environmental law, Act 250. Whoever is chosen will be at the center of discussions about waterway cleanup.
Rep. Kate Webb (D-Shelburne) wants to replace outgoing Rep. Dave Sharpe (D-Bristol) as chair of the House Education Committee, which will likely be busy, given Gov. Phil Scott's calls for major education reform. Rep. Emily Long (D-Newfane), who serves with Webb on the panel, is also considered a candidate for chair or for another leadership position.
At least two reps of very different political persuasions have expressed interest in taking the reins of the Commerce and Economic Development Committee: Rep. Michael Marcotte (R-Coventry), who has served on it for 14 years, and Rep. Jean O'Sullivan (D-Burlington), a liberal Democrat who has for four. Legislation to tax and regulate marijuana would likely come through this panel, as would any proposals to bolster the workforce.
It's a free-for-all on the Energy and Technology Committee. Rep. Laura Sibilia (I-Dover) said she's interested in replacing the outgoing chair, Rep. Stephen Carr (D-Brandon). Vice chair Curt McCormack (D-Burlington), and Rep. Robin Chesnut-Tangerman (P-Middletown Springs) and Rep. Michael Yantachka (D-Charlotte), both committee members, are also considered contenders.
There are fewer openings in the Senate, where Sen. Claire Ayer (D-Addison), chair of the Health and Welfare Committee, and Peg Flory (R-Rutland), chair of the Institutions Committee, are the only departing leaders.
"We're already hearing all sorts of gossip about decisions that have already been made," Ashe said, stressing, "Not a single decision has been made."
Sen. Ginny Lyons (D-Chittenden) would like to lead Health and Welfare. "I certainly have been there and have experience, so I would welcome that opportunity," said Lyons, who has served on the committee for 16 years and previously chaired the Natural Resources and Energy Committee.
The all-male Committee on Committees may feel obligated to appoint at least one woman given that only three of the returning chairs are female. And in all likelihood, one of the new chairs will hail from the GOP. "I've always believed strongly that it's important that there be at least one Republican chair," Ashe said, and with Flory's departure, the Senate has none.
Sen. Richard Westman (R-Lamoille), who previously led the House Appropriations and Transportation committees, is considered a candidate, though he said he hasn't sought a chairmanship. "If there was an opportunity for me to do something constructive, I would not be opposed to that idea, but I'm not out there running and looking for something right now," he said.
Sen. Joe Benning (R-Caledonia), who plans to run for minority leader again this year, said the only chairmanship he would be interested in is Judiciary, but he has no expectation that Sen. Dick Sears (D-Bennington), its longtime chair, will budge. Sen. Brian Collamore (R-Rutland) said he's talked to Flory about following in her footsteps at Institutions, "but we'll have to wait and see."
Also eying Institutions, which oversees state buildings and the Department of Corrections is Sen. John Rodgers (D-Essex/Orleans), who is vice chair and has served on the committee for six years.
Mazza, who chairs Transportation, suggested it's in everyone's best interest to ensure legislators are satisfied. "The last thing you want is someone on the committee who doesn't want to be there."
Media Notes
Sadly, I won't be around to watch any of this unfold. After nearly five years at Seven Days, I'm leaving at the end of this year for an extended trip to Latin America.
I'm excited for the adventure, but I know I'm giving up something rare: a job at a thriving paper run by fearless, fair-minded people who care more about accountability than clicks. Plus, where else will I be paid to eat roadkill, take a predawn boat ride to catch duck poachers, operate heavy machinery with the lieutenant governor and tour a state senator's hemp fields by ATV?
During my time here, I've seen officials go to great lengths to keep public documents secret. I've reported on a state department defying the law to deprive people of treatment. I've been stonewalled, berated, booted from meetings.
But I've also witnessed politicians show remarkable courage. I'll never forget the scene on the Statehouse steps last April, when Gov. Scott gently but firmly addressed livid gun rights activists as they screamed "liar" and "traitor" at him.
Political journalism is a profession that attracts cynics and reinforces their pessimistic tendencies. But covering Vermont politics can, at times, warm even the coldest journalist heart.
There was the time I wrote about Sen. Mazza, who takes it upon himself to select neckwear for both the Republican governor and the Democratic leader of the Senate. "Oh God, they were so drab," Mazza said of Ashe's and Scott's ties, before he stepped in.
During a reporting trip in September, I was caravanning with Speaker Johnson, through her home district of South Hero. At one point, she abruptly pulled over, leapt out of her Prius and sprinted up the road. She returned a minute later, having delivered a turtle to the shores of Lake Champlain.
When it comes to solving expensive policy conundrums, our politicians don't always act so swiftly — toxic algae in Lake Champlain is a case in point — but most of them care deeply about this state.
This small state spoils journalists with access: Nearly every public official can be easily reached on his or her cell phone. And having grown up here, I had a head start at making connections. My liberal arts degree carried little cachet, but my Tunbridge roots opened all sorts of doors.
On the other hand, Vermont's small size can be infuriating for a reporter. Conflicts of interest are too easily tolerated, and uncovering misdeeds can be especially challenging. When I was reporting on sexual harassment in the Statehouse, a handful of women said they hadn't reported inappropriate conduct at the time and couldn't speak out about it even then — the state was just too small.
I'll sign off with seven pieces of advice for my successor, who has yet to be named.
Leave the building. The best stories start outside the Statehouse.
Don't cross John Bloomer. If the eagle-eyed Senate secretary catches you surreptitiously texting, drinking water or violating another of the upper chamber's myriad rules (and he will catch you), he'll swoop in and snatch the forbidden object from your hand like it was an unsuspecting mouse.
Check the filing cabinet. Lawmakers finally agreed to fill out financial disclosure forms but are so protective of the information that they refuse to put it online. The paper copies are locked away in a drawer. (Bloomer has the key.)
Crash the caucuses. Last session, my colleague Taylor Dobbs and I slipped into a locked building to find Senate Democrats discussing strategy. Absconding from the Statehouse for off-site meetings is common practice in both parties and both chambers.
Get to know the women who handle the money — those who chair the legislature's taxing and spending committees: Sen. Jane Kitchel (D-Caledonia); Sen. Ann Cummings (D-Washington); Rep. Kitty Toll (D-Danville) and Rep. Janet Ancel (D-Calais).
Don't ignore the newbies. With good reason, reporters gravitate toward those who hold the most influence. As a first-term Republican, Rep. Janssen Willhoit (R-St. Johnsbury) possessed barely any. But the ex-convict-turned-lawmaker had an unforgettable story.
Eat a cookie. The Statehouse cafeteria's cookies are mostly butter and chocolate, and hands-down the best fuel for covering marathon floor debates.