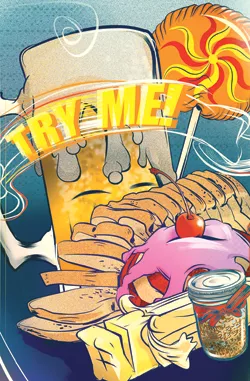 It's a typical Wednesday morning: I rush into the office, throw my laptop bag down on my desk and give a once-over to whatever has landed there during the previous two days. A newspaper clipping from my boss, a seed catalog, a cardboard box. This last I cut open to find a pair of foot-long cardboard cylinders. I pop off their plastic caps and slide out the contents: two 12-ounce bottles of beer, cool to the touch.
I stand the beers beside the jars of soup that arrived the previous week. The drawer below them holds vials of peppermint and orange extracts from a national spice company that sends me and fellow food writer Alice Levitt new blends a few times a year, packed in confetti, despite our protests that Seven Days covers only Vermont-made goods. (Even so, we secretly love opening the boxes.)
Both Alice and I commonly hear the remark, "You're a food writer? That must be such an amazing job." Yes, it can be. We eat and eat, and eat some more, and sometimes bottles of beer (or pints of ice cream) arrive before lunch. Yet a few facets of our jobs are downright uncomfortable: We must review restaurants opened by people we admire; we chase down some sources who despise the press, or us; and we are relentlessly inundated with samples and pitches. We puzzle over how, or whether, to address all the local ones. But since Seven Days is Vermont-centric, we have no choice but to dismiss the others, which range from mildly interesting to so funny they're almost endearing.
In the corner of our open-plan office we call the "nook," our desks are cluttered with a shifting tableau of cookbooks, catalogs, food magazines and bags of half-eaten treats, as well as the pastries, jams, breads, soups, candy, cheeses, crackers, syrups and beers that arrive each week from near and far. In the virtual realm, dozens of email pitches bombard our inboxes each day. Almost all these samples and pitches pertain to fledgling companies or to products into which their makers have poured their heart and soul (and sometimes savings).
Yet how to write an entire feature on maple crème fraîche, even if it is amazing? Our office might devour a new butterscotch-y ice cream inside of an hour, but how do we fit that experience into print? Ditto for a tray of truffles spiked with Maker's Mark or Campari; peppery, single-varietal chocolates; gluten-free cookies; plump, perfectly round bagels; sticky fruit cake; tomato jam; chocolate mole simple syrup; and even the bottles of spirits that some microdistillers periodically insist on giving me. (When they do, I privately wonder if they think I'm a lush.)
We can weave some of these morsels into stories or blog posts, but we can't possibly get to them all. And some of the pitches are wildly irrelevant, such as these:
a California public relations firm marketing a sous-vide immersion circulator
a Washington State firm announcing a book written by a former White House chef
an offer for vodka distilled in Maui from "deep ocean mineral water, sourced from a depth of 3000 feet off the Kona Coast of the Big Island"
the news that a Tennessee moonshine distiller has released two new flavors, Strawberry and Lemon Drop
a "clever new device" that dries and polishes the inside of your glassware
a new e-cookbook from the National Pork Board
a press release titled "America's Halloween Candy May Be Killing Orangutans" (palm oil is the culprit)
a promotional recipe for freekeh stuffing (ostensibly promoting "the world's oldest grain")
a line of artisanal, single-varietal American honeys
a sell sheet from a manufacturer of empanada, quesadilla and espresso makers
a Cabernet Sauvignon that has been "ocean-aged" for three months in Charleston Harbor, and which one blind taster called "a dramatic improvement on an already spectacular wine" ($500 for two bottles)
"premium cocktail cranberries"
a GMO-free, gluten-free, corn-syrup-free, preservative-free "probiotic dietary supplement" that promises to "wash your intestines"
Señor Shaker, a gleaming cocktail shaker molded in the image of a mustachioed, sombrero-topped Mexican man, which came with this message: Hi Corin, You spend all day writing articles. You need to go home and have a drink made with FLARE. Enter Señor Shaker.
a review copy of one of Flannel John's "Cookbooks for Guys," billed as "Eight Stocking Stuffers for Hunters, Anglers, Single Men, Football Fanatics & More"
sea-salt-covered pomegranate chips
Sometimes it's hard to say, "Thanks, but no thanks." But resist we must, because there's a perpetual flood of Vermont food news on our desks — so much that only a fraction can make it into print. (And, truth be told, not all of what we receive is newsworthy.) For example, lately I've failed to note that Boloco released its Late November burrito; that Aqua Vitea Kombucha built a new facility and expanded its product line; and that Vermont Quince, which makes a mean membrillo, is flourishing after a year in business and leading a "quince renaissance" on the East Coast, according to its owner.
Then there are those beers from a major local brewery, graciously sent to us each season and followed up with mellow "Let us know if you need anything else" emails — even though I've yet to review any of the brews.
Two weeks ago, I carted one of the bottles to a colleague who's an undisputed beer geek. His eyes lit up — at least until I made my own pitch: "Do you think you might write about this? For our blog, maybe?" I asked hopefully.
Implied in his silent stare: "Thanks, but no thanks."
The original print version of this article was headlined "An Embarrassment of Pitches"