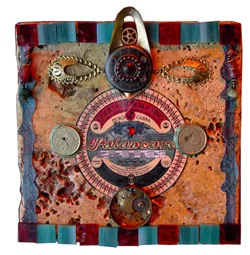 EXHIBIT: Dana Marks Rachlin, watchwork collages on marble and ceramic tiles, Muddy Waters and Mirabelles, Burlington. Through May.
ARTWORK: An untitled construction by Dana Marks Rachlin
Every assemblage artist must eventually come to terms with the legacy of Joseph Cornell. The reclusive, lifelong resident of Queens, New York, practically invented the art form of the three-dimensional collage. South Burlington sculptor Dana Marks Rachlin works in a similar vein, piecing together bits of strange detritus to create unexpected images. But she has refined her approach to excel beyond the derivative. Her simultaneous cafe shows at Muddy Waters and Mirabelles in Burlington present a varied body of work that attests to her originality.
Rachlin has managed to avoid the trap of being too closely influenced by Cornell's metaphoric and often asymmetrical approach. She has discovered her own style of assemblage: flat, decorative, balanced. Her pieces are visually entertaining rather than deep and perplexing.
Cornell's pieces were fairly small, Surrealist aggregations of junk-shop pickings that were usually built into glass-fronted shadow boxes, to become wall sculptures. Few were more than a foot long in any direction. Rachlin's works are similarly scaled, but she thinks "outside the box" affixing mysterious objects to flat, stone squares, and ceramic tiles that range from 4-by-4 inches to 12-by-12. Her main ingredients include coins, antique watch parts, earrings, bits of printed matter and pieces of colored mosaic glass.
Rachlin, who lived and studied in France for several years in the late 1990s, refers to her collection as a "Melange des Mechanismes," but the pieces are otherwise untitled. Rachlin also notes that she's accumulated "thousands of antique watch parts and vintage items." From that copious inventory of bric-a-brac, Rachlin selects materials with a careful eye for detail.
There are 10 12-by-12-inch assemblages at Mirabelles, one of which has a beach-inspired motif. Glued to a beautiful, bumpy-surfaced red tile are a thin starfish, pointed snail shells and border squares of abalone shell or some other iridescent material. The same species of neutral brown, spiraled snail shell appears in an otherwise monochromatic blue piece, constructed on a dark ceramic tile. The blue assemblage includes silver jewelry, small silver bells, a Venezuelan coin and an ancient watch face with its hands frozen at 8:17.
In one of the works at Muddy Waters, six watch faces are surrounded by a circle of sequins. The circle imitates a plate, with a fork on the right. Another piece appears to have a theater ticket at its center. Symmetrical clusters of jewelry and two watch faces are stuck onto either side of the ticket. Fourteen blue, green and gray mosaic tiles form a border along the image's edge.
In addition to nine foot-square pieces, the Muddy Waters exhibit showcases Rachlin's 4-by-4-inch works. In these smaller pieces, visual details such as coins or a circular Spanish cheese label stand out more. The cheese label assemblage also features two Spanish euro coins, and the interior of a pocket watch affixed to its surface. Alternating red and blue glass mosaic tiles run along the top and bottom edges, and the whole piece is spread out on a pitted ceramic square.
Muddy Waters and Mirabelles are both popular venues, where artists often book shows a year in advance. Having two simultaneous exhibits a few doors apart is a nice little coup for Rachlin. Or is it just good timing?