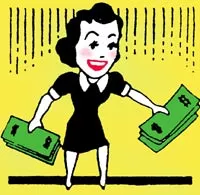 Dear Lola,
The woman I'm dating is a lot wealthier than I am, and when we go out, she always insists on paying. When I do manage to grab the tab before she does, I inevitably discover a wad of cash hidden in my coat pocket or slipped beside my toothbrush. I appreciate her generosity, and the income gap really isn't an issue in our relationship. The problem is that by always picking up the tab, she deprives me of the pleasure of treating her. How can I convince her that it isn't necessarily nice to always insist on being nice?
Treated-out in Tunbridge
Dear Treated-Out,
You put it very nicely in your letter. Your friend should find these same words convincing. If not, you may have to find less mercenary ways to express your feelings. How about preparing a meal yourself? Introducing her to a place you've discovered? Surprising her with a gift that's precious because of what it suggests, rather than what it costs? Your letter displays a lot of wisdom. Now it's time to let your creativity kick in.
Love, Lola