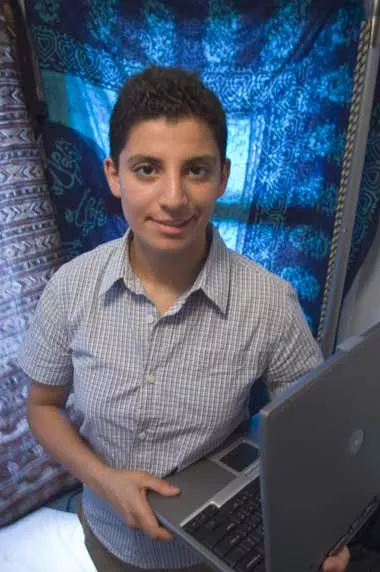 If you're about to start school as a freshman at Middlebury College, and you have questions about your dorm room or class schedule, where do you turn? To the college website? To the admissions office? This year, thanks to the social networking site Facebook, you can ask Hiba Fakhoury '09 for advice.
Fakhoury is Middlebury's Information Age version of "Dear Abby." The brainy 20-year-old junior from Jordan is majoring in computer science and international politics and economics. Over the past few months, she has become a valuable and trusted source of information for many freshmen and their parents - even though she doesn't work for the admissions department and isn't an official Middlebury spokesperson.
"Hiba's advice has been extremely helpful to me, and I'm sure other students feel the same way," writes freshman Tim Liu of Nassau County, New York, in response to a reporter's query. "Thanks to her, I think a lot of us are feeling more comfortable about going to college."
Fakhoury's story illustrates the rapid changes in how college students network and exchange information online. It also underscores the fact that their conversations tend to take place without any support, or supervision, from the schools themselves.
Fakhoury started communicating with Middlebury's first-years in June, when she joined the Middlebury Class of 2011 group on Facebook. Not technically affiliated with the college, the group was started by a member of the freshman class shortly after early admissions acceptance letters went out in December 2006. Its membership swelled as more accepted students joined. This fall, 645 students will matriculate in Middlebury's Class of 2011; the Facebook group has 611 members, making it a remarkably effective way to communicate.
Fakhoury joined because this fall she'll be a first-year counselor - a kind of residential assistant - living with students in the dorms. She wanted to see if she could offer any advice to anxious incoming frosh.
Helping out has been "a trend" for her in college, Fakhoury notes. She's a volunteer firefighter and works at the computer help desk. "I remember being really confused before I got to college," she recalls. "I was thinking about being a first-year counselor, and I was thinking, 'How can I be a good first-year counselor?'"
She posted an initial message to the group introducing herself. One student responded, asking her to start a topic on the group's online discussion board. So she created one called "Ask Hiba!" and cheerfully invited incoming freshmen to write in with questions. "I honestly didn't expect anybody to post anything on it," she confesses.
But two months later, Fakhoury has had nearly 100 correspondents. The discussion boasts more than 425 individual comments, many of them quite lengthy.
"Hey, Hiba," writes one new student. "How much wall space do we get?"
"Hi, Hiba," writes another. "I was wondering if the dorms were wired for cable?"
"Is it plausible to schedule classes that are only 15 minutes apart?" wonders one woman. "Or do students find it really hard to make it to the second class on time?"
Fakhoury says she gets a lot of questions about the dorms, food and social life on campus, though sometimes the inquiries seem random. "I was asked what the ceiling was made of in one of the buildings," she recalls. "That one was a little strange. I was like, 'Why do you even need to know?'"
Regardless of the topic, Fakhoury patiently answers each query, sometimes with a sentence, sometimes with a few paragraphs. Her answers are detailed and frank, as in her response to someone asking about a budget for laundry:
alright, well . . . lets talk about laundry. each load costs 1.25 to wash, and for each 23 minutes of drying it costs 0.50. lets say you do 2 loads every two weeks . . . and the driers sometimes arent great, i usually spend 1.50 to dry (but they're big, so you can put both your loads in one). which means, 2.50 for washing, 1.50 for drying. twice a month. that's 8 dollars worth of laundry (not counting detergent, softener and stuff like that).
Fakhoury's punctuation, capitalization and grammar wouldn't meet the standards for "official" communications, but that hasn't hurt her credibility. She points out that she's recently started getting email from parents.
"All of this information is very basic," she explains modestly. "You can be at the college for five days and know it all."
But it's information that is otherwise difficult, if not impossible, for incoming students to obtain. Caroline Grego of Columbia, South Carolina, says she reads Fakhoury's responses "religiously" because they provide a first-person perspective on college life that she can't find in other campus publications.
"I really like Hiba's descriptions of rooms and dorms around campus," writes Grego in a Facebook message to a reporter. "She gives you the pros and cons, whereas the college simply can't and isn't going to tell you that in such-and-such dorm the kids are loud and sometimes get too drunk. That stuff's important." Grego concludes her message by saying Fakhoury deserves "some sort of citizenship award."
She certainly won't be compensated in any other way. Fakhoury is not being paid for her contributions to the Facebook group. She's been flying under the college administration's radar - Sarah Ray, Middlebury's director of Public Affairs, wasn't aware of Fakhoury's hobby as an advice columnist until she received a phone call from a reporter. Fakhoury says the only contact she's had with the college administration concerning her contributions to Facebook was a communication with the admissions office about a problem a student mentioned online.
Middlebury hasn't officially embraced the social networking site, and that's not unusual. Other area colleges have enterprising, self-motivated students who provide similar pro bono services.
Dan Bergeron, a 20-year-old Colchester native who'll be a junior this year at Champlain College, has also answered questions for first-year students in his school's Class of '11 Facebook group. He sees it as an extension of his duties as a freshman orientation leader. "A lot of us have just been helping out freshmen and answering questions for them on our own, without anyone really asking us to," Bergeron explains.
He reasons that it makes sense to reach out to first-years on Facebook, in terms that underline the difference between today's students and those of previous generations. "When kids my age get a letter in the mail, we tend to not read it, or just hand it to our parents," Bergeron says. "This is how my generation communicates."
Champlain College online marketing professor Elaine Young agrees. She says her students don't even read their email: "What I'm finding is that I communicate more with my students through Facebook and Instant Messenger."
Young, 40, has been on Facebook for more than a year. She also joined the Class of '11 Facebook group, and occasionally chimes in during discussions about what students can expect. "I'm a professor. I can answer the question. They love that," she says. "They don't seem to find that I'm interrupting them in their conversation." But Young concedes that she's an anomaly. Most of her colleagues take a more hands-off approach to the site.
That may be changing. At Middlebury, Sarah Ray says Fakhoury's example will most likely "prompt discussions" about how to reach out to students more effectively next year, using online tools.
In the meantime, students at Midd can continue to direct questions to Fakhoury, who published her room number on the discussion thread. "Please feel free to drop by and say hello," she writes. "Let me know if there are any final questions (even after you get here)." Maybe some of them will even meet her face to face.