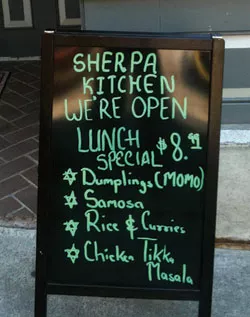 A pair of eateries that opened over the past week will cover both ends of the Asian culinary spectrum: subtle and fiery.
Sherpa Kitchen opened Saturday on College Street, rolling out a menu of momos, curries and Indian specialties such as samosas, pakoras and chana masala.
Owners Doma Sherpa and Lakpa Lama are also serving appetizers such as wild-rice salad tossed with chaat-and-parsley dressing; roti and other fresh breads; and homemade mango chutney and mixed pickles. Eclectic desserts include kulfi (Nepalese ice cream) and Batsa Makhu, cheese dumplings in a caramel sauce.
Sherpa Kitchen is open for lunch and dinner six days a week, with a brunch buffet on Sundays.
Down the interstate in Montpelier, beloved food cart Wilaiwan's Kitchen has left its perch in front of the county courthouse and opened at 34 State Street.
"It's been a very warm, welcoming week," says co-owner Tim Azarian as he halves limes for a recent lunch. His wife, Wilaiwan Phonjan-azarian, is co-owner and chef.
Though they have no menu yet, the pair posts specials on a chalkboard inside the nine-seat café. On a recent day, those included Chiang Mai noodles in yellow coconut curry and yam moo krob, or Thai-style crispy pork salad.
Wilaiwan's Kitchen is open Monday through Friday, from 11 a.m. to 2:30 p.m.
Sherpa Kitchen, 119 College Street, 881-0550
Wilaiwan's Kitchen, 34 State Street, Montpelier