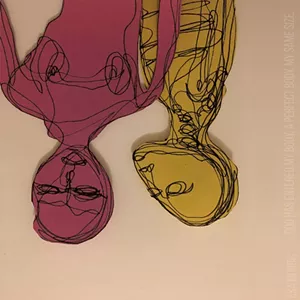 Asa Morris, God Has Entered My Body. A Perfect Body, My Same Size
(Small Ghost Recordings, digital)
Burlington transplant Asa Morris' internet presence suggests that he needs to make art the way the rest of us need to eat and drink water. Morris is a painter, writer and prolific musician. He's known in the upstate New York DIY scene for his rock band Asa Morris and the Mess and noise-rock group Tiki Bats, among other projects. According to a press release, Morris has recorded in bedrooms, motel rooms and backs of cars, like some crazy childbirth. So, while some of us spent our quarantine downtime rewatching "The Office," Morris recorded his 35th solo EP, God Has Entered My Body. A Perfect Body, My Same Size.
When I read that Morris had recorded almost three dozen EPs in the last six years, my first thought was that God Has Entered My Body would be a shining example of self-indulgence and poor editing. After several listens, though, I admit that I judged too hastily.
The five-song collection opens with "We Don't Need Anyone," an upbeat rock number with handclaps, fuzzed-out guitar and playfully imperfect harmonies. Lyrics celebrate the feelings of safety and being seen that come with companionship — a particularly resonant sentiment during this time of increased isolation.
On "Song for Nothing," Morris' ambient background guitar adds a soothing layer of sound like warm static or, as he sings, "a slow calm laid over me."
My favorite cut is "To Be the Flame." On the album closer, whisper-soft vocals and lilting acoustic guitar float across the sonic landscape, anchored by live drums, like a balloon tethered to Earth. Interference in the background — a cough and somebody talking — makes the track feel extra intimate.
Morris also throws in a mellow version of "Scary Monsters (and Super Creeps)," a 1980 David Bowie number about a woman in the throes of psychosis. This acoustic interpretation replaces the chaos of the original with plodding melancholy.
Morris' fellow New York scenester Matt Hall, of the Plattsburgh-centric web series "TBN" (formerly "TRASHburgh"), jumps in on drums for the Bowie cover. The multifaceted Morris handles vocals, guitar, programming, keys, background atmosphere and bass, as well as production throughout the album. Other pals and former bandmates created and contributed their parts remotely.
Morris' lo-fi aural aesthetic is dynamic and cool, and his lyrics show warmth, desire for affection and appreciation of the small things. Keep 'em coming, Morris.
God Has Entered My Body. A Perfect Body, My Same Size is available July 14 at asamorris.bandcamp.com. Proceeds benefit the Movement for Black Lives, Color of Change, Survived & Punished, and other organizations.