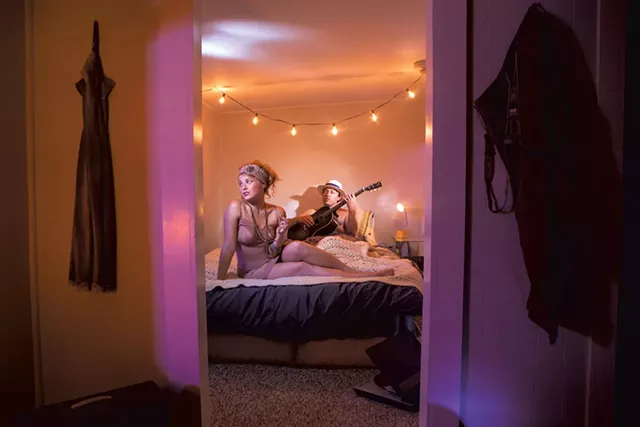 Courtesy Of Dana Tarr
Hayley Jane and Ryan Montbleau
Ryan Montbleau and Hayley Jane are kindred spirits. They finish each other's sentences, crack each other up and compliment each other frequently. The two formerly Boston-based artists each front their own projects (Ryan Montbleau Band; Hayley Jane and the Primates) and are now based in Burlington — a move neither knew the other was planning.
Occasional collaborators in Beantown, Hayley Jane — known solely by her first and middle names since she was 12 — and Montbleau ran into each other one night at Dead Set, Burlington's weekly Grateful Dead tribute night at Nectar's. It was a classic, "What are you doing here?" "What am I doing here? What are you doing here?" moment.
Further collaborations led the pair to a dynamic, cheeky new project: Yes Darling. Though the name may conjure nostalgic images of Ward and June Cleaver, the duo's self-titled debut album is a thoroughly modern examination of sex, love and relationships.
The songwriters ruminate on universal themes such as passive-aggressiveness, open relationships, gender stereotypes and the dreaded car argument, all while genre-hopping from gypsy jazz to old-school ska to folk ballads. But what makes the record so special is how Hayley Jane and Montbleau interact with each other across its 12 tracks. The two seem to play characters — which are really just aggrandized versions of themselves. Comedic patter and the pair's preternatural gift for improvisation give the album a vaudevillian, theatrical vibe.
"If you let go of the rules a little bit, you end up creating something new," Hayley Jane tells Seven Days.
Yes Darling perform on Thursday, February 22, at the Higher Ground Showcase Lounge in South Burlington. Montbleau's band headlines. Seven Days recently caught up with Yes Darling via FaceTime for a track-by-track look at the new album.
"So Wrong"
The first track is also the duo's first collaborative outing. Exploring romantic trepidation, it calls on the wistfulness of the mid-20th-century era of vocal pop with its dreamy assemblage of strings.
"It's just 100 percent honest about our situation, our story, us," says Hayley Jane.
Of course, the pair is tight-lipped about what that actually is. The song is meant more as an abstraction than something directly parallel to their personal lives.
"8 Dollars"
Have you ever heard a song with a bubbly, early-era Studio One ska vibe that not only breaks the fourth wall between artist and listener ("We're gonna give 'em their money's worth / 'Cause they paid eight dollars to get in here") but also details the major plot points of the film Dirty Dancing? Probably not, because it didn't exist until Yes Darling had the balls to write it.
"The second I said, 'No, [we can't do that],' I was like, 'Wait, I can't say no. This project feels like you have to say yes,'" Hayley Jane recalls.
"Misplaced Anger"
"We don't condone violence," Montbleau makes clear regarding track three's potentially controversial lyrics. But, he concedes, "Out of context, [they look] so evil."
He refers to the line, "Though I'd never do it / I still cop to it / Kiss you and then punch you in the face."
It's a hot take on the intersection of lust and rage with which many people may identify. After a lackadaisical intro builds suspense, the song launches into whimsical gypsy swing. Levity helps balance the song's dark undertones.
"A Phone Call"
Showcasing the tried-and-true "Yes, and..." approach to improv, the fourth track is a brief, comedic sketch that sets up the subsequent cut.
"Call Your Mother"
Brushed drums and muted trumpet encode this sassy jazz number with an air of secrecy — and, thematically, that's right on point.
"Call your mother / Just don't tell her everything you do," the pair sings in harmony.
"[It's] a primal feeling," says Montbleau of the need for boundaries in parent-child relationships. "It goes both ways. You can't picture your parents having sex."
"What Are You Thinking About?"
Part sketch, part twee-pop tune, this song examines roadblocks in communication. To wit: Just because someone isn't forthcoming with their thoughts and feelings doesn't mean they don't have them.
And, sometimes, the inquiry in the song's title can be used as a means to turn the conversation back to the one who's asking the question.
"The premise is that you're asking me how I'm feeling," Montbleau begins.
"Because I want you to ask me," Hayley Jane continues.
"Tuesday 4pm"
Fans of Montbleau's music will hear his influence on this earnest, modern folk ballad.
"It's a very Ryan Montbleau song," says Hayley Jane.
"So much of life is found in the mundane [and] what's found in between," he says.
"It reminds me of [Baz Luhrmann's 'Everybody's Free (to Wear Sunscreen)']," she continues. "The things that really strike you aren't the big things. [The song] says, 'Don't bother worrying. All the things you worry about probably won't happen.'"
"Calabasas"
This slinky, bluesy number with relatable subject matter — arguing in the car on a road trip — goes completely off the rails just a few minutes in.
Again blurring the lines between sketch comedy and song, it starts as an examination of gender stereotypes — specifically, dudes don't ask for directions — before becoming an acid-addled romp through all the feelings. Moog synth courtesy of Beau Sasser furnishes the song's psychedelic feel.
"Putting it onto sheet music is going to be hilarious," quips Hayley Jane.
"Open Relationship"
For some, polyamory is just what makes sense. But for others, opening up a once-monogamous relationship can be a way to tune out if things aren't working. The song's drunken, barroom sing-along vibe accentuates this concept.
"I've been in an open relationship," admits Montbleau. "It seems like you're the smartest people in the world — for two weeks. In retrospect, it's just downgrading the relationship."
"My Baby's Eyes"
Ukulele and toy piano highlight the duo's sweet and tender projection of what might happen if they were to add a little one into the mix. Furthermore, they muse about how children are the literal product of their parents.
Montbleau explains: "The idea is, when you first meet somebody, the very first time you look them in the eye..."
"...you could be looking at your baby's eyes," Hayley Jane concludes.
"The Things That You Could Be"
Sometimes you say things with good intentions, and it just comes out all wrong.
"I've been with guys that think they're doing something so sweet, and they just keep talking and..." Hayley Jane says, trailing off and groaning.
This cabaret-style tune is chock-full of puns and double entendres that, depending on the context, could be endearing or offensive.
"I'm Every Better Man"
As the album's ultimate statement, the pair concludes on this triumphant folk-rock song that, deep down, people are more the same than they are different.
"We all get blamed for the same shit, we all do the same shit," Hayley Jane declares. "We're all in this together."
In a climactic finale, they mash up two famous songs with similar themes: Pearl Jam's "Better Man" and Chaka Khan's "I'm Every Woman."