Courtesy Of Krystal Woodward
Protesters in Johnson urging passersby to support the colleges
The Vermont legislature has resisted pleas to invest more in higher education for so long that the state college system ranks among the lowest in the country for public support.
Now, with the system teetering toward a collapse propelled by the coronavirus pandemic, its chancellor last week proposed shuttering three campuses and laying off hundreds of people. His plan hit immediate, vehement opposition among state legislators, who are scrambling to delay a final decision by college trustees — even if that means bailing out the system they have so long overlooked.
With the bill finally coming due, lawmakers face a choice: spending millions to save the campuses or allowing them to meet their fate.
Lawmakers informed the Vermont State Colleges System on Tuesday that it was "possible" the legislature would be willing to fund a 2020-21 "bridge year" to cover the immediate losses from the coronavirus crisis, according to Senate President Pro Tempore Tim Ashe (D/P-Chittenden).
"The question we will have to entertain," Ashe told his colleagues Tuesday afternoon, "is, would we put $25 million on the table to buy the time to have a better decision-making process, an independent set of eyes and a better understanding of the broader economic impacts of a school closure — or three school closures?"
To be sure, declining enrollment had put the college system on shaky ground well before the coronavirus. System leaders carried out a controversial merger of Johnson and Lyndon State Colleges two years ago, creating the two-campus Northern Vermont University. But the system still projected a deficit of up to $4 million this fiscal year, a shortfall that ballooned after the coronavirus closed campuses in March.
The system faces up to $10 million in losses this academic year, due in large part to anticipated reimbursements to students. It's also projecting another $15 million to $18 million shortfall next year in expectation of more drops in enrollment.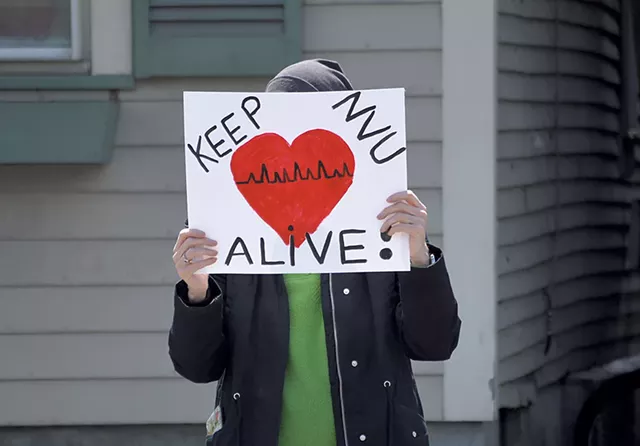 Courtesy of Krystal Woodward
Protester in Johnson
In response, chancellor Jeb Spaulding has proposed a dramatic restructuring that would close Northern Vermont University's campuses in Lyndon and Johnson and shift programs to distant Castleton University. The plan would also close the Vermont Technical College campus in Randolph Center and move operations to that school's Williston campus. The Community College of Vermont, which operates in a dozen locations, would not be affected. About 500 people would lose their jobs.
Trustees had planned to vote on the proposal Monday, three days after it became public. That decision was postponed for at least a week after board members heard over the weekend from thousands of Vermonters who oppose the closures. The board convened an emergency meeting Tuesday night as this issue of Seven Days headed to press, but no action was expected. Members expected to vote on a proposal within 10 days.
On Monday, Spaulding warned that the board must act swiftly to save the system. He said staying the course would force him to start drawing on reserves by summer, with a potential cumulative deficit of $85 million expected over the next five years.
"The reason for making this recommendation is because the entire system is at risk," Spaulding said. "Without decisive action or with inaction, we jeopardize all of the pieces."
Despite Spaulding's intentions, his plan to eliminate three campuses triggered a mutiny among his rank and file. Alumni and faculty groups from Northern Vermont University voted "no confidence" in him on Sunday. And more than 100 people — many of whom are students, faculty and alumni — delivered the same plea at the trustees' meeting on Monday. They contended that the closures would shrink Vermonters' access to higher education and cripple local economies.
"Choosing to close every campus in the [Northeast Kingdom], the poorest area of the state, one already struggling, will truly devastate the communities which depend on these campuses," said Christina Cotnoir, who is the assistant to the dean of students at Northern Vermont University and owns a small business in Derby.
Others tore into the chancellor for drafting the plan behind closed doors and criticized the trustees for preparing to vote on it without public debate. Some even called for Spaulding to step down.
"The closing of NVU doesn't just feel like a closing, it feels like an attack," said Kevin Carney, a Northeast Kingdom resident. "I am just so, so angry, and so hurt, that fellow Vermonters would do this without forethought, without giving us a chance to think about it, or prepare for it, or to design other ideas."
"I have to join the choir of people who are calling for Jeb Spaulding's resignation," Carney continued. "It's getting pretty loud, and I hope people are please listening."
Several students said they had no idea how they would finish their education if the campuses close.
Jade Elias, a second-year student at Community College of Vermont, said she had long hoped to finish her degree at Northern Vermont University and had planned to start at the Johnson campus in the fall. "I might change my degree. I might go out of state," she told college officials. "But either way, I will have much more debt than I planned to, because of all of you."
Not everyone faults Spaulding for his proposal.
Timothy Donovan, who served as the chancellor for six years before Spaulding took over in 2015, said the state colleges have been losing support for decades: State funding accounted for half of Vermont State College's revenues in 1980; today, it's roughly 17 percent.
Donovan, who is no stranger to pleading with the legislature for funding, said he finds it ironic that some of the same lawmakers who once suggested Vermont might be better off with fewer state colleges are now recoiling from the idea.
"This is not a crisis borne of the pandemic. It's just laid open by the pandemic," Donovan said. "It's 30 years in the making."
A former state legislator himself, Spaulding has kept his criticisms of lawmakers to a minimum, saying he recognizes they only have so much money to spend. But he also fired a shot across their bow: Giving lawmakers the power to decide the system's fate will "do nothing but hasten inaction," he said — a result "more dangerous to people's access to education" than his proposal.
That hasn't stopped lawmakers from inserting themselves into the discussion. Spaulding's plan triggered a passionate debate among senators this week over who was to blame for the crisis and how to move forward.
"Our tuition at our state colleges is higher than in any other state because we don't invest in the colleges," Sen. Ruth Hardy (D-Addison) said on a call with the full Senate.
Hardy suggested it was time for the state to seriously consider merging the state colleges system with the University of Vermont, or at least facilitating "better collaboration" between the two. Such a merger was discussed in the 1970s, she said, and "this might be an opportunity to make that marriage really happen."
Ashe tried to tamp down his colleagues' penchant for brainstorming solutions, at one point reminding them not to "pretend we know how to run colleges."
"I know we can't run a college," responded Sen. Bobby Starr (D-Essex/Orleans), one of the sharpest critics of the college system's leadership. "But I bet you $10 we could hire people that could run our colleges!"
Starr claimed college leaders had years to solve the problems but only ever came to the legislature asking for more money. He said working with trustees to resolve the issues would be "a total waste of our time," and he suggested bringing in a team of outside professionals to assess the situation.
Other senators, however, stressed that the legislature needed to take responsibility for the state of affairs.
"We talk about the fact that the colleges need $30 million, then we give them $1 million and then we pat ourselves on the back and say, 'See, we're giving the colleges increased funding!'" said Sen. Anthony Pollina (P/D-Washington), referring to past legislative debates. "Actually, what we're doing is, we're hanging them out to dry."
Sen. Ginny Lyons (D-Chittenden) had a similar take. "I know that there are those who are categorically against [intervening] and believe that it's a historical problem," she told Seven Days. "The truth is, it is a historical problem, and we can't say that we haven't been a part of that."
The strongest sign that the legislature may indeed support a temporary bailout came from Sen. Jane Kitchel (D-Caledonia), chair of the powerful Senate Appropriations Committee, who said it seemed like a "very reasonable" way to spend some of Vermont's recently received $1.25 billion in federal stimulus funds.
But Sen. Dick Mazza (D-Grand Isle), another leading voice in the Senate, insisted the message to the college system's leaders should be that the legislature is willing to work with them, not just bail them out.
"If we say, 'Here's $25 million,' they're going to walk away with it and say, 'Well, we made it another year,'" Mazza said.
The broader problem facing the system is that, having sounded the alarm about an impending fiscal crisis, Spaulding may have put the long-term viability of the campuses at risk, according to Sen. Dick McCormack (D-Windsor). Anyone who was thinking about attending one of those campuses in the fall will likely reconsider knowing they are on the chopping block, McCormack said, urging that the legislature make a stronger statement of commitment to keeping the campuses open for the long term.
"We don't want to go and undermine their credibility, because that becomes a self-fulfilling prophecy," he said.
But Spaulding has said that keeping the campuses open would require not only $25 million up front, but also $25 million annually moving forward. No one knows where that money would come from.
That's why Sen. Phil Baruth (D/P-Chittenden) has consistently tried to "stiffen the spine" of his colleagues by reminding them that keeping the campuses open for the long run would require that the state open its checkbook.
"If you're going to beat the drum to keep these campuses open, then you have to vote yes when we raise the taxes," Baruth, chair of the Senate Education Committee, told Seven Days.
Beyond a potential short-term bailout, Baruth didn't sound optimistic about finding a sustainable funding source. The state may have even less money to go around, thanks to the pandemic, he said. Still, he finds it hard to fathom losing the only public residential campuses in the Northeast Kingdom. "My mind rejects that, and my heart rejects that," he said.
He added: "I'm struggling then, as the trustees have for months and months, with — is there another way?"
Disclosure: Tim Ashe is the domestic partner of Seven Days publisher and coeditor Paula Routly. Find our conflict-of-interest policy at sevendaysvt.com/disclosure.