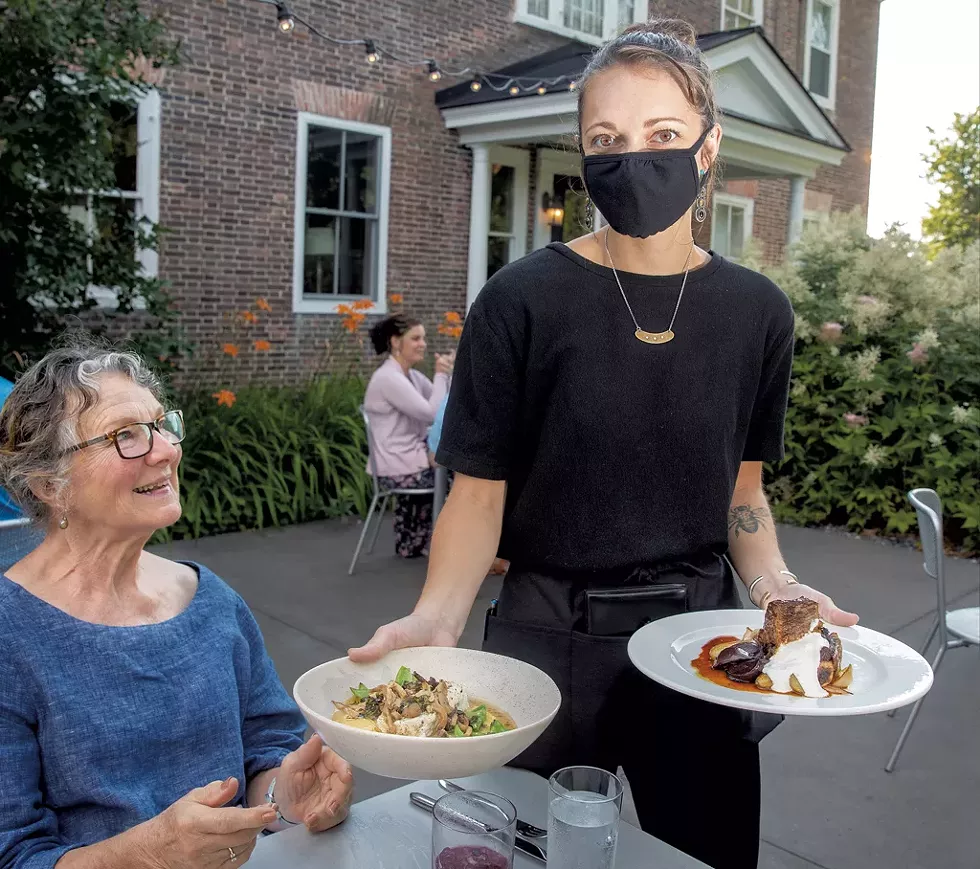 James Buck
Outdoor dining at Kitchen Table Bistro
Open one minute, closed the next. That's what happened to two Burlington breweries and their affiliated restaurants on July 16.
On the waterfront, the beer stopped flowing at Foam Brewers and the kitchen ceased service at Deep City after a brewery employee reported a potential exposure to the coronavirus. While the businesses were closed, the staffer got tested.
Meanwhile, a taproom employee at Zero Gravity Craft Brewery telephoned the Pine Street business to report that his roommate's parent in Massachusetts had tested positive for the virus. Zero Gravity and its affiliated restaurant, the Great Northern, immediately closed, and employees started to clean, according to Frank Pace, chef-owner of the restaurant. He and about half a dozen staffers walked to the COVID-19 testing site at neighboring Champlain Elementary School, where each had the swab test with no appointment.
Those tests came back negative, as did the Foam staffer's. The four businesses were back open early the next week.
"This is how we do business now," Pace said. "We have to be safe."
Running a business when a pandemic is surging across the nation — even if local case numbers are stable — is an "immense strain financially, spiritually," Pace went on. "You know, like, we're freaking out."
Since the March 17 statewide shutdown of on-site dining, Vermont restaurants have been on a veritable roller-coaster ride as they try to keep their businesses going.
The reopening of limited outdoor and then indoor dining has presented tempting opportunities but also tough decisions about how to keep staff and patrons safe. Customers have to make their own choices, balancing their concerns about safety against their craving for normalcy — not to mention a desire to support their favorite restaurants.
Some diners are simply happy to enjoy the drool-worthy range of local takeout options: spicy dal, warm naan, cauliflower tacos with turmeric slaw, tourtière, fried-eggplant pita. Others miss the intangibles of restaurant dining: eating shoulder to shoulder in a warm buzz of conversation; snagging the last of the chef's daily special; sharing a simple but celebratory experience with strangers who might be friends by evening's end.
That experience, not just the food, is drawing some diners back to restaurants. But the risk continues to loom over the industry: In parts of the U.S. where COVID-19 cases have been spiking, local and state governments have once again ordered bars and restaurants to close.
This whiplash for already-weakened restaurants could prove fatal to many. A June report published by the Independent Restaurant Coalition warned that 85 percent of independent restaurants could close permanently by the end of the year.
In Vermont, so far, few independent restaurants have confirmed permanent closure. A few have even opened new businesses during the pandemic. But a vaccine remains months away, or longer, and a single employee's exposure to the virus can shut a restaurant down without notice. How long can restaurants hang on?
For now, Vermont's restaurant industry is operating on short order. Many of the day-to-day tasks are new. Instead of chatting with guests over the bar, bartenders batch up cocktails to-go. Instead of delicately plating dishes, chefs pack boxes; alongside appetizers and entrées, they sell bags of flour and salad mixes from local farms. At restaurants that welcome diners, staff are on constant alert as they work tables and the line, sweating under their masks.
Whatever their chosen approach, every restaurant owner is fighting for the life of their business, hoping a return to normalcy is not too far off and that their customers will be there for them when it arrives.
#Dont86Us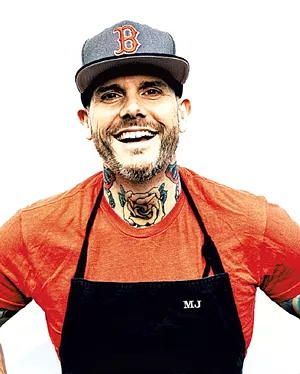 Photo Courtesy Of Michael Piazza
Matt Jennings of Full Heart Hospitality
The hashtag #Dont86Us — referring to the restaurant lingo for killing a menu item — has become a rallying cry for food industry support. But the prospect of 85 percent of independent restaurants getting 86'ed alarms more than restaurateurs.
"Any town that you're in in Vermont, restaurants are an extension of your local culture," said Amy Spear, vice president of tourism for the Vermont Chamber of Commerce.
More than just dining rooms, she explained, the state's restaurants have traditionally been "an important place for people to meet and socialize and feel connected to their community."
While those gatherings are more socially distant these days, restaurants remain critical outlets for local farms and other producers of food and beverages. When restaurants make those local purchases, they're investing in Vermont agriculture and supporting jobs outside their own kitchens and dining rooms.
"Vermont really needs its restaurants to survive this crisis so they'll be able to reopen, hire back employees, help the economy and support our farmers," Spear said.
Last year, 32,677 Vermonters were employed in the food service and accommodation industries. That's 12.7 percent of the state's nongovernment workforce.
Based on unemployment numbers shared by the Vermont Department of Labor, the COVID-19 pandemic has had a huge impact on those industries' workers. As of July 4, nearly 25 percent of continued unemployment claims are attributed to the "accommodation and food services" sector. (Restaurant-specific data are not available.) That percentage — which works out to roughly 10,000 people — may underrepresent the scale of the problem, as the labor department didn't attribute another 20 percent of claims to any sector.
Overall, the accommodation and food services sector has represented the highest proportion of Vermont unemployment claims since the week after dining rooms were closed. At the peak, on April 11, at least 11,124 claims came from those out of work in that sector. That's at least a third of the industry's 2019 workforce levels.
Losses in restaurant revenue spell trouble for the state's budget, too. Diners pay Vermont's 9 percent meals and rooms tax when they purchase a restaurant meal; restaurants collect it and must remit it monthly to the state.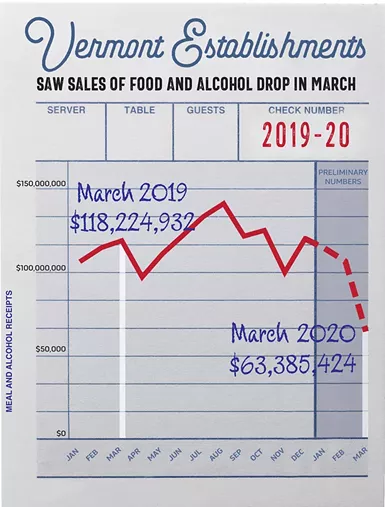 Source: Vermont Department Of Taxes
Based on preliminary numbers published by the Department of Taxes, taxable restaurant receipts dropped by 42.7 percent in March from the year before. The total amount spent on alcohol at restaurants, which is subject to a 10 percent tax, dropped by 62.9 percent.
Although on-site dining wasn't shut down statewide until March 17, business had already slowed significantly. Facing a crisis in the industry, restaurants had no choice but to adapt to survive — or call it quits.
"We're built for this," said Matt Jennings, an award-winning chef, consultant and founder of Full Heart Hospitality, who lives in Charlotte. He was talking about an industry in which confronting and overcoming challenges is already routine.
"We're happy to do the work; that's never been the issue," Jennings said. "Getting creative has never been the issue. Finding solutions has never been the issue.
"But we do need some help this time. This is a little bit bigger than a hot oil spill on a Friday night."
Hot Mask, Hot Kitchen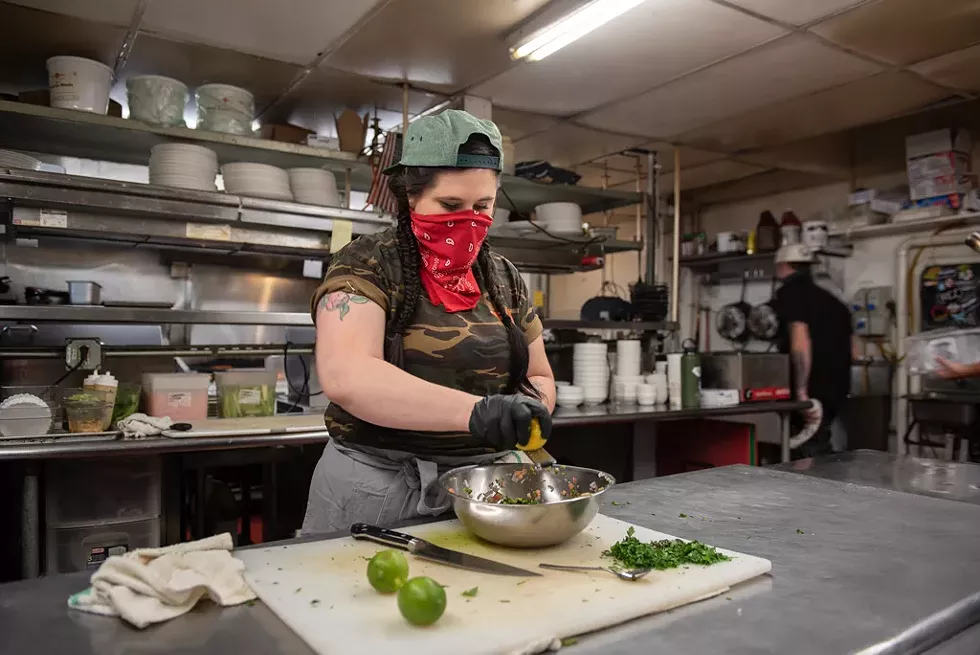 Daria Bishop
Sage Guggenheim of the Reservoir
The temperature hit 120 degrees on the cooking line at Waterbury restaurant the Reservoir on a mid-July weekend, the chef said. The dishwasher was wearing his new getup: a hot-pink, industrial-grade respirator mask. The cooks turned out French fries and wings, rotating break time in the walk-in cooler.
"People are gorging on fried food since we opened," executive chef Sage Guggenheim wrote in a text. "It's as if they don't have fryolators at home."
Guggenheim, 28, was referring to the restaurant's reopening in late June after a three-month shutdown due to the pandemic. Now that she's back at work, pretty much everything is new — not just customers' fried-food cravings — and constantly changing.
"We haven't thought 10 steps ahead of us," she said. "We're still dealing with the two steps behind us that we've missed."
Guggenheim's daily concerns range from protecting the health of her dishwasher to balancing in-house dining with takeout business (roughly 80 percent of orders, she said) to procuring inventory.
"It's a constant struggle to get what you need," she said.
Guggenheim has worked at the Reservoir for six years, moving from line cook to executive chef. The South Main Street bar and eatery is one of three restaurants owned by business partners Mark Frier and Chad Fry; the other two are the Bench and Tres Amigos in Stowe.
Business is down about 50 percent since the restaurants reopened in late June and early July, according to Frier. He spent much of the shutdown securing loans, working to limit the businesses' overhead and galvanizing support for the industry.
"We're leveraged to the point of discomfort," Frier said. "We think that we need to make it to next summer to try to find any normalcy of business that we know to be profitable. It's scary."
While Frier thinks about the big picture, Guggenheim is focused on the challenges presented by each shift.
Wearing a mask in a super-hot kitchen is one; sometimes she feels like it inhibits breathing, Guggenheim said. "When is it OK to take it off?" she asked. "My answer is just to go outside and take a breather."
Four cooking stations (sauté, grill, flat-top, fry) are spaced along a 17-foot line, according to Guggenheim. Maintaining adequate space can be a challenge for cooks.
"The line has always been a kind of duck-and-weave game, especially here," Guggenheim said. "Trying to do six things at once is definitely standard practice now."
If two cooks work the line rather than three, Guggenheim's concern becomes "maintaining a flow during service."
While the Reservoir was closed, Guggenheim did paperwork at home in Waterbury Center, planned menus and worked to ensure the restaurant would be ready to open when the time came. Mostly, though, she hung out with her partner, Kane Sweeney, sous chef of Tres Amigos, and spent "three months shut down, just worrying about getting the virus."
Now that worry has moved to a more public sphere, and Guggenheim confronts it by trying to manage risk at the Reservoir. For example, she has silverware soaked in special cleanser before it comes into the kitchen, as a protection for the dishwasher.
She and Sweeney have eaten out just once since the restaurant world changed so drastically. They went to Doc Ponds in Stowe, arrived before other customers got there and sat outside.
It was great, Guggenheim said. But one thing kind of bothered her.
"Working in a restaurant, I know this is what waitstaff do," she said. "But I almost feel bad for forcing waitstaff to have contact with me."
A Long Goodbye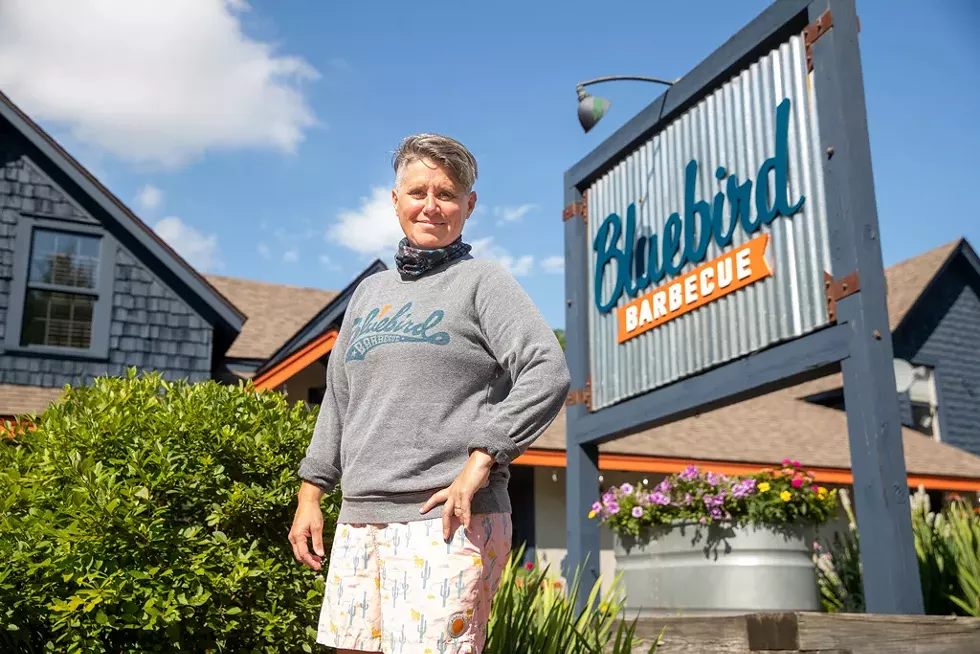 James Buck
Sue Bette of Bluebird Barbecue
The shutdown of in-person dining in March might have seemed like the worst thing that could happen to the restaurant industry, but accountant and business adviser Leo O'Reilly believes harder times are ahead.
The team at South Burlington-based O'Reilly & O'Reilly Business Services has spent months working furiously with about 30 Vermont restaurant clients to navigate paperwork for the federal Paycheck Protection Program and Economic Injury Disaster Loan Program, as well as for Vermont's economic recovery grants. All of these federal and state programs were designed to help small businesses, including restaurants, weather the severe economic challenges posed by COVID-19.
Client Sue Bette of Bluebird Barbecue joked of O'Reilly, "He's my new best friend."
The winter of 2020 to 2021 will be no joke, however, for restaurateurs like Bette, who reopened her Burlington establishment for takeout in mid-June after three months of complete closure.
Bluebird's big smoker is again filled with ribs, brisket and pork shoulders, but Bette said her most recent four weeks of sales amount to about $51,000; by contrast, restaurant, event and catering revenue brought in about $200,000 during a typical July. She's nervous about heading into the winter without the cushion of a normal summer.
In early April, Bette, Frier and other restaurant owners cofounded the Vermont Restaurant Coalition to communicate the needs of their sector to the state and federal governments. They advocated successfully for changes in the PPP to make it work for restaurants that couldn't spend the percentage on payroll within the initial time frame that was required to convert the loans into grants.
Based on recently released data from the U.S. Small Business Administration, 629 Vermont restaurants and small restaurant groups received a total of between $45.3 million and $71 million in PPP funds. (The 77 largest loan amounts were specified only within dollar ranges.)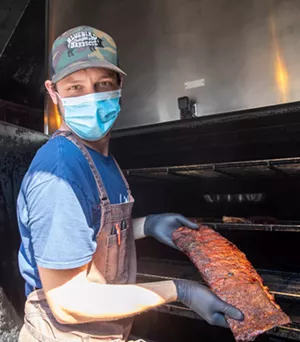 James Buck
Smoker at Bluebird Barbecue
But most restaurants will have run through their PPP funds by October, O'Reilly said. The state emergency grants offer up to $50,000 based on revenue loss of 50 percent or more during any single month of the pandemic. That might tide over some restaurants through the end of the year, O'Reilly continued. "You'll have some EIDL money that might bring you through the beginning of 2021," he said, referring to the federal disaster loans. "Then people are going to have some significant issues."
O'Reilly said his restaurant clients are seeing revenues at least 50 percent lower than a year ago; most, like Bluebird, are down 70 percent. In the face of those losses, the government financial safety nets are crucial. But for some restaurants, he conceded, they are probably just postponing inevitable closure.
The first quarter of the year is always lean for non-ski-area Vermont restaurants. For many of O'Reilly's clients, "their best January is a third of their best August," he said.
And that, of course, is in a normal year. The pandemic trends point to an ongoing need for social distancing and a slow economy through at least the first part of 2021. Both factors will contribute to lower customer demand. "I think people will still be reluctant to eat indoors," O'Reilly said.
Two economists at the University of Chicago who conducted an analysis of consumer behavior tied to the nation's COVID-19 economic nosedive found that "individual choices were far more important" than local government policy in determining spending habits and consumer choices.
In their June "working paper," published by the National Bureau of Economic Research, economists Austan Goolsbee and Chad Syverson found that, "[W]hile overall consumer traffic fell by 60 percentage points, legal restrictions explain only 7 percent of that. Individual choices were far more important and seem tied to fears of infection."
"The uncertainty, I think, is probably the biggest issue," O'Reilly added, noting that it is essentially impossible for restaurateurs to plan ahead.
Independent restaurants run on notoriously low profit margins of between 5 and 15 percent. "It's a challenging business in the best of times," O'Reilly said. In addition to sharply curtailed sales, restaurants have seen increased food costs during the coronavirus pandemic, he noted. Meantime, fixed costs such as rent have remained steady, though some landlords and banks have offered flexible payment schedules.
In May, a National Bureau of Economic Research report projected that restaurants had just a 30 percent chance of staying open if the COVID-19 crisis lasted four months. That's a lower business survival rate than any other sector. And four months is right about now, with no end to the crisis in sight.
After 17 years of working with restaurant owners, O'Reilly believes that if any group can see their way through the business upheaval of a lifetime, it's this one. People who go into the business, he observed, tend to be hardworking, creative and passionate. "They have an uncanny way of trying to thread the needle and come up with something that's gonna work," he said.
Still, both Bette and O'Reilly believe restaurants will need more help to make it to the other side of the pandemic.
Vermonters might see their favorite restaurants reopening, but those restaurants won't be making money if sales are at 30 percent of normal. "I think you can't overemphasize the challenges that this industry will face over the next year," O'Reilly cautioned. "It's just not close to being out of the woods."
Bette said the restaurant coalition now has 180 members who continue to advocate for themselves and their employees, as well as the local farms, food and beverage producers, and downtown communities they support.
"We need to invest in preserving the independent restaurant sector across the nation," she said, "so we don't become a land of chain restaurants."
Staying Alive
James Buck
Lara and Steve Atkins of Kitchen Table Bistro
To place a takeout order at Richmond's Kitchen Table Bistro, you have to pick up the phone and do it the old-fashioned way. While owners Lara and Steve Atkins, both 49, have transformed their fine-dining restaurant into "KTB To-Go" over the past few chaotic months, one thing has been constant: Lara's friendly Tennessee twang greeting customers on the other end of the line.
"It would be so much easier for the customers — and for us — if it was just a ticket that came in," Steve said, meeting with Seven Days on a muggy July morning on the patio outside the stately brick restaurant. "We have never really approached our business like we're businesspeople," he added with a chuckle.
Customers may occasionally encounter a busy signal, Lara acknowledged. But the trade-off — maintaining a personal connection to customers — outweighs the convenience of contactless online ordering. The conversations have lingered after orders are placed, and customers have become "more than a name in the reservation book," she said.
That connection is stronger in the kitchen these days, too. Instead of anonymous table numbers, the tickets are labeled with customers' names. Staffers have developed stories about their regulars, and the excitement of seeing a familiar name elicits "enthusiastic outbursts," Steve said, as they call out the order.
"I always talk about our 'KTB friends and family,'" he said. "It feels like a bigger and stronger family than it ever has before, which is not how we could even have begun to imagine it on March 17."
That was the restaurant's first day as "KTB To-Go." Business had started plummeting the week before; customers grew wary of sitting in a restaurant even before the governor's order shuttered dining rooms.
Concerned for the health of their staff and customers — and of the restaurant itself, which couldn't afford to operate indefinitely at that level of service — the Atkinses made the call to switch to takeout.
They laid off 20 employees, developed a to-go menu based on ingredients at hand, and searched high and low for takeout boxes — pandemic necessities as scarce as toilet paper and hand sanitizer in mid-March.
"We knew that staying open was the only way we could keep the business alive and keep it as strong as possible, so we have a place for our staff to come back to," Steve said.
"We've built a lot of relationships in the almost 18 years we've been here, too," he said, referring to the farmers and bakers from whom the restaurateurs source products.
"We wanted to help them survive," Lara added.
In addition to classic Kitchen Table Bistro dishes, the Atkinses started offering "Bags of Good Goods." Each week during the stay-at-home order, they sold 30 to 40 of these CSA-style assortments featuring local meat, cheese, bread, produce, pantry items and a bottle of wine. The $50 bags gave customers a way to avoid trips to the grocery store, and they were so popular — often selling out quickly — that the restaurant ended up buying more from its farmers than it ever had in late spring.
Bags of Good Goods also helped keep the restaurant's laid-off employees fed. Lara and Steve gave them to staff in addition to collecting tips from customers for an emergency fund — which "directly helped some emergencies," Lara said, when staff reached out for assistance.
Kitchen Table Bistro opened for outdoor dining in mid-June. Masked servers carry cornmeal-fried green tomatoes from Jericho Settlers Farm and tomato-braised halibut to diners at the 35 seats spread out on the patio and the recently added picnic tables scattered on the garden-filled property. Customers tend to linger at the picnic tables, Lara said, reveling in the novel setting for upscale farm-to-table cuisine.
A Paycheck Protection Program loan helped the Atkinses hire back about half of their staff, but meeting the payroll requirement for PPP forgiveness is a challenge. The restaurant isn't operating at full capacity; it could seat 110 indoors, but indoor dining won't happen again until there's a vaccine, Lara said. Before then, returning to full staffing levels would be impossible.
As for the state's economic recovery grants, Kitchen Table Bistro doesn't qualify: The restaurant lost no more than 48 percent of its revenue during any single month, two points shy of the 50 percent qualification bar. "We should have taken a Saturday off," Steve said. "We busted our asses to do everything we've done to stay open, and it hurts, frankly."
Despite those challenges, they plan to keep working. Once it's too cold for patio season, the restaurant will revert to KTB To-Go, the couple said. Indoor dining is too risky.
"We believe in science, and science says you shouldn't do that," Steve said.
"We hope the public will support us in that decision," Lara added. "Adapt and change. That's the way we'll survive."
Kitchen Confidence
Caleb Kenna
Robert Barral of Café Provence
Robert Barral, chef-owner of Café Provence in Brandon, turned 67 a week ago. He's marking his late sixties by attempting to cut back on his cooking schedule in the open kitchen of his French restaurant.
"I have a great team of people in the kitchen, fantastic help," Barral said. "And they want me to take my evenings off.''
French-born and -trained, Barral has some five decades of culinary experience. He moved to Vermont in the late 1980s for a position at New England Culinary Institute, where he became executive chef. In 2004, he opened Café Provence, the centerpiece of a culinary enterprise in Brandon that includes Barral's cooking classes, a bakery, and wine and specialty foods shop, Gourmet Provence.
Barral has been guided by state regulations in operating his restaurant during the pandemic. He closed both businesses during the shutdown — except for a week of curbside service at the bakery — and reopened Café Provence for outdoor dining in the third week of May, when that option was permitted.
"The government said it was OK to do it, and we did it," Barral said. "And we were ready for it."
On their return to work, Barral's employees expanded the outdoor seating to accommodate about 35 people and repainted the outdoor furniture. "Everybody with their masks on," Barral said. "It was like a party."
The staff also cleaned the interior of the restaurant and painted its walls, readying it for diners on June 8, again per the governor's orders. Though indoor capacity is capped at 50 percent — about 40 seats at Café Provence — the restaurant hasn't seated that many people on any given night.
"People really want to eat outside," Barral said, noting they feel safer there. "Outside is very, very busy."
In good weather, outdoor tables are full for both lunch and dinner. On a recent Tuesday, the night Barral is usually alone in the kitchen, he had to call in another cook. "It was too much for me," he said.
Some diners still prefer to eat indoors, including regulars who want to sit at their customary tables. Indoor diners can also watch the chef at work, preparing daily specials and seasonal dishes. A few weeks ago, Barral accommodated a customer's request to whip up seafood stew — a signature dish at Café Provence that wasn't on the lunch menu that day.
"The menu is not as big as it was before, [but] if somebody comes and asks for something that we used to have, I always say yes," Barral said.
Business this summer is on par with last year, Barral said, but he noted that the summer of 2019 was slower than usual due to construction in downtown Brandon. Notable this year, Barral said, is the loss of diners from Québec and other tourists.
"We were a destination for them," he said. "People are not traveling the way they did."
Though it's too early to know how Café Provence will fare through foliage season, Barral said he feels "very fortunate." He's especially grateful for his team of workers. "Without them, none of [this] is possible," he said. "It gives me goosebumps."
While Barral runs the kitchen, his business partner and former wife, Line Barral, manages the financial side of the restaurant. "Without her, I'd be in trouble," Barral said.
Through Line's efforts, Café Provence received a PPP loan of $118,000. That covered four payrolls ($20,000 to $22,000 every two weeks) and utility expenses, according to Barral.
As that money comes to an end this month, "we are going to have to be extremely cautious," the chef said.
The lessons Barral said he would impart to aspiring chefs now, if he were still instructing them, are crucial ones during the pandemic. In particular, he'd emphasize the importance of sanitation procedures, handwashing and careful management of expenses, practices that he has long adhered to.
"I remind the people all the time, all day long" to wash their hands, he said.
Every day for 16 years, Barral said, he pinched pennies. He would advise young restaurateurs to do the same.
"They have to be very patient, very much in control of expenses and the income," Barral said. "Don't spend more than what you can. That's crucial, basic arithmetic."
Everyone in the kitchen should pay attention to reducing waste, he continued, saying that's more important than portion size.
"It's all a matter of respecting the product," Barral said. "You have to be creative using the food that you have on hand. Make sure that every penny brings you at least three back."
On July 3, a few weeks before the chef's birthday, his restaurant turned 16. Café Provence celebrates the occasion every five years, so 16 passed without a party.
"It's funny," Barral said, "because I still love it like it was the first day."
No B Team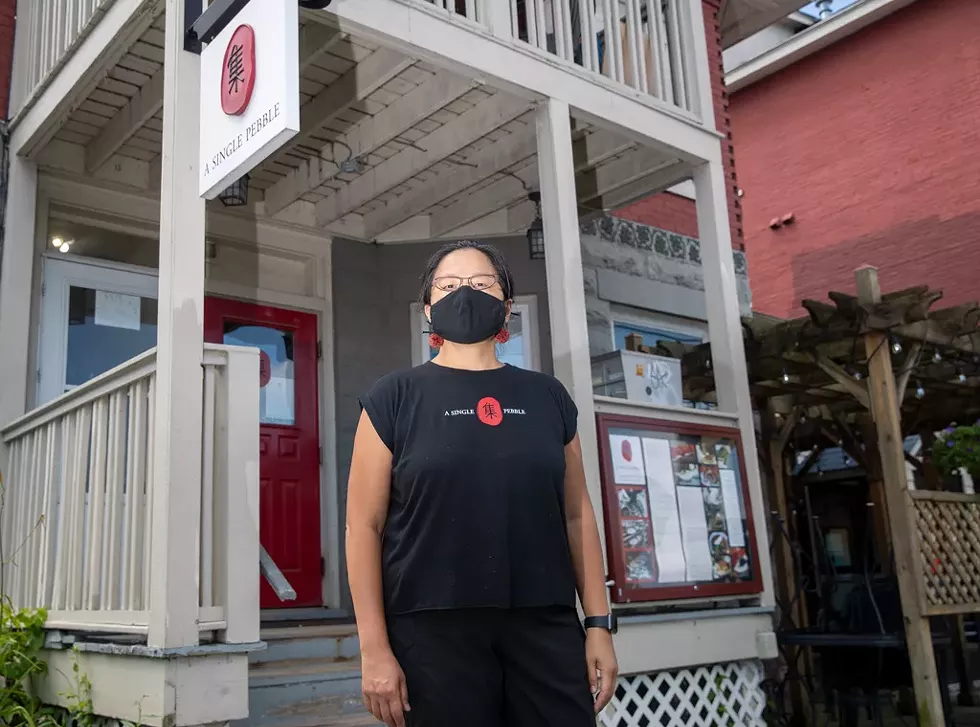 James Buck
Chiuho Sampson of A Single Pebble
Chiuho Sampson, chef-owner of A Single Pebble in Burlington, never considered fully closing her restaurant during the pandemic. "We still need to feed people," she said over a pot of tea offered across one of her dining room's large circular tables.
In mid-March, the restaurant pivoted overnight from doing about 10 percent of its business in takeout to 100 percent. Sampson, 47, has stayed the course and is not sure when she will seat customers again, inside or outside. "It is how I can keep our people safe and continue to do what we do," she said.
The Taiwan native only knew how to cook instant noodles before she moved to Vermont to attend New England Culinary Institute, almost 20 years ago. She planned to return home after graduating, but instead Sampson began working at Steve Bogart's beloved Asian restaurant in 2003; she became sole owner in 2017.
Over the past few years, A Single Pebble has struggled with its location across from the former downtown mall turned "pit," which faces an uncertain fate; developer Brookfield Asset Management has expressed a desire to pull out of the CityPlace Burlington project. But that disruptive neighbor pales in comparison to what March and April of 2020 brought. "I even told my husband that I don't think I can make it through," Sampson recalled.
She laid off all but seven of her 40 employees. The hardest was telling her longtime dishwasher. "He's from Burma, and he just became a citizen," Sampson said. "He's been with us for I don't know how many years." After she explained to him that takeout did not generate enough dishes, she said, "I closed my office door and started crying."
Takeout business started out strong, which was a mixed blessing. A Single Pebble didn't yet have an online ordering system, and the phone rang off the hook with orders for crispy lemon chicken and red Thai curry soup.
The crispy chicken doesn't travel particularly well, Sampson said, "but people keep ordering it." One customer, who lives two hours away, called and pledged to get takeout weekly to support his favorite restaurant.
But then Sampson's sous chef confided that he was leaving work angry every night. With the reduced kitchen crew, the workload of cooking five days straight, morning through evening, was just too much. Sampson decided to cut lunch.
"We needed revenue, but, at the same time, I'm more focused on everybody feeling OK," she said.
The busy "honeymoon period" did not last, Sampson went on. During the first month or so of the pandemic, revenue was about 62 percent of normal sales; since then, it has dropped to about 40 percent. June 2019 sales amounted to $133,000 in food and $34,000 in beverages. This year, the same month generated $67,000 in food and $1,500 in beverages — a massive decline in the latter category. Tip percentages have also slumped; Sampson chalks that up to customers gradually tightening their belts after an initial surge of appreciation.
The restaurant applied for all of the federal and state loan and grant programs available and has benefited from the payment flexibility offered by suppliers and the building's landlord. That financial life raft has enabled Sampson gradually to bring back a few more employees, each of whom must receive a negative COVID-19 test before returning. "We can't risk it," she said. "Because if one of us goes down, we have to shut down."
Social distancing is difficult, if not impossible, in the kitchen of A Single Pebble, as in most restaurant kitchens. Sampson recalled a suggestion from Bette of Bluebird Barbecue: Establish an A team and a B team who work separate shifts in case anyone gets sick. "I told everybody, 'We don't have a B team, so I need you guys to all stay healthy,'" she noted dryly.
Since the start of the pandemic, interest in A Single Pebble's food truck has been high. It currently makes appearances at Adams Apple Orchard & Farm Market in Williston on Tuesdays and at Lake Champlain Chocolates on Burlington's Pine Street on Sundays, along with some concerts and one-time events. While the sales are welcome, only Sampson can run the truck alone, so each gig means pulling two people out of the kitchen.
Earlier this month, as Sampson juggled orders for scallion pancake wraps and steamed meat buns in the truck, a customer called out a question: When would she start seated dining again? The chef responded that she had no idea.
"There's a lot of uncertainty, a lot more work," Sampson said. Several dining room staff members have expressed discomfort with coming back. "My reality is, even if I want to open, I don't have the people," she said.
She understands their concerns. In the spring, before A Single Pebble created a takeout window, some customers came into the restaurant to pick up orders. Sampson recalled one in particular: "I kept backing away, and she just kept coming, like, right in my face."
On the flip side, Sampson said some customers request safety assurances. One asked to what temperature she should heat her order to sanitize it.
"I said, 'I don't really know,'" Sampson recalled. "I know you want to hear me just tell you you're going to be OK. This is not something I can give to you."
New Paths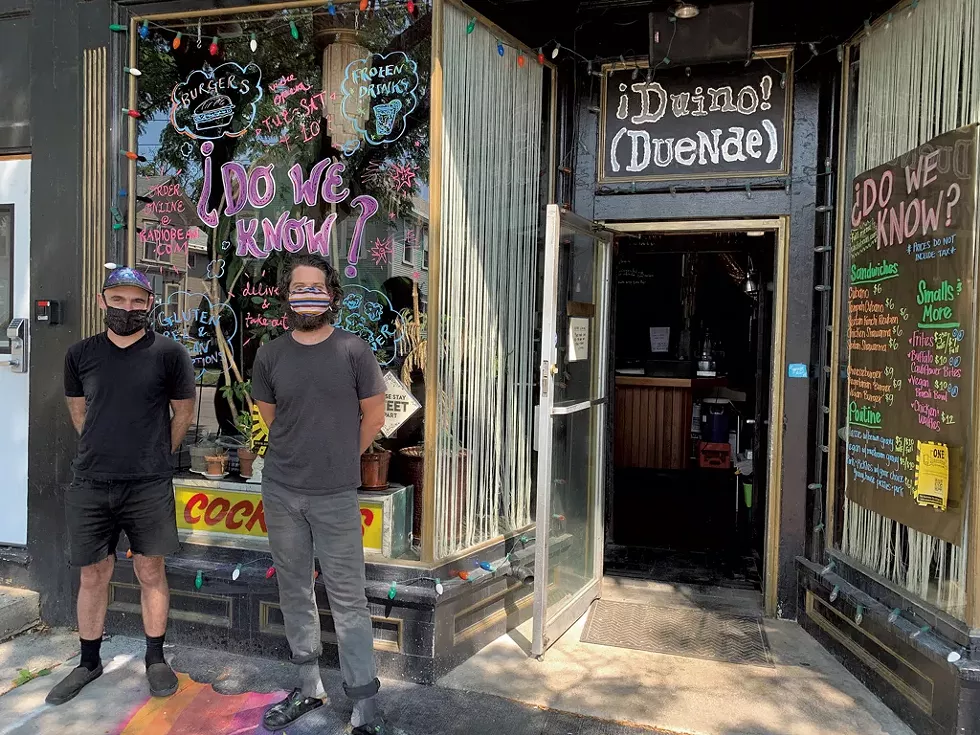 Melissa Pasanen ©️ Seven Days
Lee Anderson (left) and Justin Wright of C'est Ça, which will replace ¡Duino! (Duende) in August
In his role as a consultant, Jennings of Full Heart Hospitality communicates with restaurateurs around the country. The text threads on his phone range from questions about daily temperature checks for restaurant workers to a housing concern from a Chicago chef who's having trouble renting an apartment because landlords worry about his financial solubility.
The uncertainty surrounding the pandemic, and the speed with which circumstances change and people must assimilate new information, present a particular challenge for restaurant owners and operators, Jennings said.
"It's really tough to try to plan or strategize for your business," he observed. "There's no path, so we have to create our own path."
He appeals to restaurateurs "to play with different formats," Jennings said, such as a grocery model, meal kits, online ordering and delivery options. "That's healthy for us: I can't be a one-trick pony anymore. I've got to diversify."
That applies to Jennings himself, who recently joined Healthy Living Market & Café as the company's vice president of culinary and is working on another "side hustle." He and his wife, Kate, plan to open Red Barn Kitchen next summer.
The catering and meal-delivery business will feature food grown and raised at their Charlotte farm. Jennings will offer a chef's pantry CSA as part of the seasonal project he described as "super chill."
Another local restaurant professional starting down a new path is Lee Anderson. His Radio Bean and Light Club Lamp Shop bars and music venues sandwich his restaurant, ¡Duino! (Duende), on North Winooski Avenue in Burlington.
Anderson, 42, announced via social media last week that ¡Duino! (Duende) will wind down a decade in business by the end of July. In August, he'll replace it with a new restaurant designed exclusively for takeout and delivery.
For the past four months, Anderson and his 21-year-old nephew have been cooking all the takeout and delivery orders at ¡Duino! (Duende). "He's one of the fastest line cooks I've ever seen," Anderson said with appreciation.
While he had pondered a different direction for the restaurant before the pandemic, "I made this pivot because of COVID," Anderson said.
"Obviously, no one really knows," he said, "but for us, I think it'll be minimum next summer before I'm seeing customers inside. I know that I personally wouldn't feel safe doing it."
Staying on top of all the safety details seems impossible, Anderson added. "Somebody starts coughing even a little bit, then what do you do? Do you clear every single person out of the restaurant?" he asked. "I don't want to host that nervousness in my space. Part of it's spiritual; some of it's logistical."
The new restaurant has a chef, a general plan and a name: C'est Ça (French for "that's it"), Anderson said.
New chef Justin Wright started work last Thursday developing a vegetable-focused menu. Wright returned to Vermont from California, where he most recently cooked at Sister in Oakland. He graduated from New England Culinary Institute and previously worked at Hen of the Wood and the Inn at Shelburne Farms.
Anderson said there was no shortage of strong candidates for the job, but he and Wright were on the same page. "We agree that the sustainable model going forward is takeout and delivery. He's not chomping at the bit to do inside or outdoor seating."
A key aspect of the new restaurant will be its rapid responsiveness to obstacles and changing conditions. "We have to be able to turn and pivot on a dime. Stop and adapt, then accelerate fast and, boom, go!" Anderson said. "This is the new way. We can't be beholden to the past."