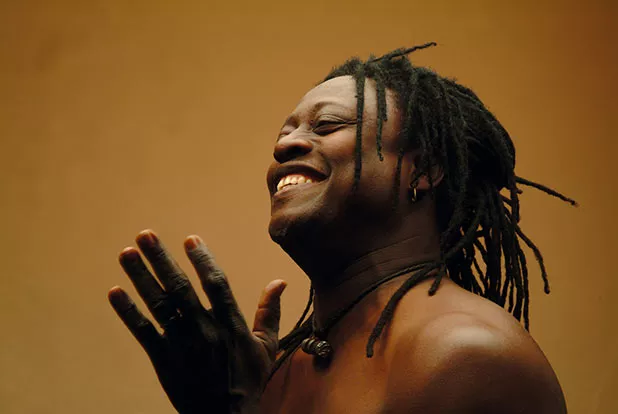 In the ever-expanding landscape of "world music," few performers are as widely recognized or revered as Malian guitarist Habib Koité. While many international artists reside fleetingly on the fringes of American popularity - think WXPN's "World Café" - Koité's impact has been substantial and far-reaching. The 50-year-old songwriter has performed more than 1000 shows over the last 15 years and has landed in the pages of such estimable U.S. publications as Rolling Stone and Vanity Fair. His exotic blend of traditional Malian rhythms and melodies with more modern influences such as blues, jazz and rock has endeared him to legions of fans around the globe. So has his unique pentatonic-tuned, open-string guitar style, which he modeled after the African kamale n'goni.
In the States, Koité counts such artists as Bonnie Raitt and Jackson Browne among his ardent admirers. Both have made numerous onstage appearances with the singer - Koité appeared on Raitt's 2002 album Silver Lining, singing "Back Around," a tune he co-wrote with the American pop icon. Following the release of Koité's second album Ma Ya in 1998 - which burned up College Music Journal's World charts - he became one of the first African artists to appear on "Late Night with David Letterman.
"Last fall, Koité released Afriki, his fourth studio album with backing band Bamada and his first for Vermont-based imprint Cumbancha - much of the album was recorded at Charles Eller Studios in Charlotte. The critically acclaimed effort was his first since 2001's Bayo, and has reestablished Koité as one of world music's most brightly shining stars.
Seven Days recently caught up with him by phone in Brussels in advance of his upcoming Burlington performance.
SEVEN DAYS: Tell me about your early experiences as a young artist in Mali. What types of venues did you play? What were your stomping grounds like?
HABIB KOITé: In Mali, we sit down and drink tea in the afternoon. We don't move very fast, like you in America. People have time to stay and sit and drink tea. So I would play a lot when we would sit and drink tea. I played all the time. I always had a guitar in my hands.
After dark, I would play in a club. I played in clubs for fifteen years. A lot of clubs. Seven nights a week. It was a great time for me because I played a lot of different types of music. I would play in restaurants, I would play in clubs. And in each type of place, people would ask me if I could play a different type of music and I'd try to play it. If I couldn't at the moment, I'd say "OK, next week."
It helped me to understand a lot of different types of music. It was a good beginning.
SD: Could you describe your relationship with Putumayo and Cumbancha? How has each contributed to your career?
HK: Putumayo first and Cumbancha after. It's like a family relationship between an artist and producer. It was great. At the beginning when they wanted to produce me, [there] was a long discussion between my European producer and Putumayo. And I'm a little shy sometimes. And when my producer asked me what I want, what is my idea, I generally . . . I don't say what I think. But I was such a fan of the old stuff Putumayo Records made. The first time [we met with them], they made great food for me in the office in New York and everybody met me. And it's actually like a family, you know?
I know [Cumbancha founder] Jacob Edgar has so much faith in Putumayo. And I would eat in his house several times during my time with Putumayo. And they are all like friends. It's a good relationship.
Cumbancha wanted to produce my new album - and Jacob was working until now with Putumayo. And Putumayo helped Jacob on his label. But me, I'm not very far from Putumayo. And they help sometimes, too, to support. We've made some compilations with Putumayo where a big part of the money would go to the music school in Mali, where I went [National Institute of Arts in Bamako, Mali]. They gave money to buy materials for the school for drama and music. So we are together.
SD: What sort of influence would you say labels such as Cumbancha and Putumayo have in world music?
HK: Influence? They do, very strongly. Putumayo doesn't "make" a lot of artists. But they make them popular throughout the world with compilations. And through the compilations, they do [have influence]. But when they start to make some artists like me, it worked very well and put artists on the American stage.
It was actually Cumbancha who brought onstage a lot of music from Africa and outside America generally. You know, the Garifuna Project and the voice of women, Garifuna from Belize, who sing like Africans. When I first listened to Andy Palacio's album, I thought [it sounded] like an African band. I actually met them in Spain one week ago. And we've become friends because Cumbancha and Putumayo make these kinds of meetings happen.
SD: As world music has continued to grow in popularity, its influence has started to appear in more traditionally "Western" music.
HK: It's the world. We are together and music is music. And music is . . . I cannot say more than everybody already knows, but it's a feeling. It's the soul of people. And music can change you in different feelings. Music can take you in different feelings. I don't know how to say it in English. But people are open.
The world is really small now. We know a lot about what is happening in America from Africa. And we know what's happening in the world, musically and politically. And if you like some type of music from just listening and just feeling, even if you don't understand any of the lyrics, you can feel the lyrics, the melody. You can feel the rhythm. It's why a lot of young people in Africa like some music from America and Europe or wherever. If they want one day to sing, they can make something like one singer they fall in love with. They try to make the same voice.
. . . Many musicians, European or American musicians, make some music like music from Africa. And I know some musicians who sometimes do that and keep music from the other spots outside of their country. They can record a song and create something that people listening to it might not know it's music that was inspired by music that came from various back forests of Africa. But [the person] who sings the song is from America or he's white or English. It's like that. Everybody influences everybody.
SD: So it works both ways, then. Do you see Western influence in your own music, or African music in general?
HB: Yes. I tell you, I played, I don't know, 15 or 16 years in bars and clubs in Mali. A French bar, a French club, a Lebanese restaurant. A lot of American and European people come to eat and drink, and I each time I would play all kinds of music because people ask me to play [certain] songs. And if I cannot play, they bring to me the cassette. At that time it was cassette, not CD. And I listen one week and I practice and I play for them. I did that for 16 years. It's not something small. Each night, 16 years.
When I talk about that today, it's like a flashback. It's like I look back and see just a short time. But it's not short. And when I play this music, I understand the structure. If it's jazz, if it's funk. Anything you can imagine, maybe . . .
I've played a lot of country music, a lot of rock music, popular songs in Europe. And African music, too. I play everything. Jazz. I played for hours in a workshop with American jazz musicians from Detroit. They came to Africa - not in Mali, but in Senegal. In Mali, the U.S. Embassy chose one musician in Mali to go to Senegal to meet those musicians who came from Michigan. And I was the musician the U.S. Embassy chose. And I was there for two weeks. And we talked about jazz and they showed and explained to us what is jazz. Everybody has, I think, his own idea about that. But I have had a lot of experiences.