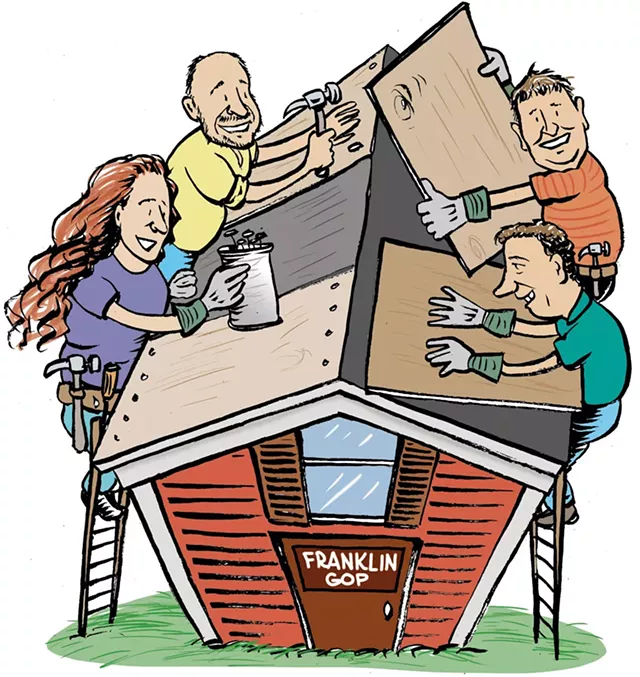 The Vermont Republican Party has been a ramshackle affair of late, lagging behind the Democrats in organization and fundraising, losing ground in the legislature, and failing to field competitive candidates in most statewide and congressional races.
It's been a dismal stretch ... except in Franklin County, where Republicans have taken command and held their gains. The GOP holds nine of the county's 12 House seats and both Senate seats, and it even managed a net gain of one seat in the 2018 election, which was otherwise disastrous for the party.
So, what's going on up there?
The Franklin County success story has many authors, but one person exemplifies the effort: Sen. Corey Parent (R-Franklin), who at age 29 is the youngest state senator and a five-year veteran of the legislature. He cites two keys to victory: working really hard to connect with voters, and gathering information to create a voter database.
"People think it's wizardry, but it's not," Parent said. "It's making calls, going door-to-door and entering the information in our database." Statewide, he said, "the Democrats have the advantage" in voter data.
A robust, accurate database is immensely helpful to parties. It includes contact information gleaned from each voter interaction and identifies a voter's issues and concerns. It also makes get-out-the-vote efforts much more efficient.
The necessary foundation for this effort: candidates willing to do the fundamentals. "When I recruit candidates, I expect them to put the work in," said Parent. "Knock on doors, do fundraising calls."
"We have a smart, active county party," said first-term Rep. Felisha Leffler (R-Enosburg Falls). "It's about bringing everybody up to a good level of data collection." For longtime Republican pols, that can be a step too far. Leffler has seen lawmakers who maintained "paper lists with highlighters," which are fine for an individual candidate but not shareable with others on the ticket.
Sen. Randy Brock (R-Franklin) sees it as "basic politics 101," he said. "Connecting with and serving constituents. Going out, talking to people, knocking on doors, answering mail, picking up the phone, going to community events."
And then getting all that old-school information into the new-school database. "We know who our voters are; we stay in contact with them," Brock said.
They also raise money — a lot more than most other county GOP committees. During the 2018 election cycle, three Franklin County Republican groups spent nearly $50,000 on campaign activities: funding an office; two staffers to answer phones, handle correspondence and coordinate activities; an Election Day phone bank; and $6,000 for an election night party. Compare that to the two-year total of $2,300 spent by Windsor County Republicans or $5,244 by the Chittenden County GOP.
"Our fundraising success has followed our political success," said Parent. "When we have a plan, we execute it well."
Franklin Republicans benefited from the generosity of some high-roller benefactors. Big checks came from Monsanto ($2,000), the tobacco giant Altria ($3,000), Vermont fuel magnate Skip Vallee ($2,000) and ultraconservative donors Lenore Broughton, and Tom and Carol Breuer ($4,080 apiece). But most of the money came from local donors who gave less than $200 each.
"They did a fantastic job in 2018," said Vermont Republican Party chair Deb Billado. "They took the model that everyone should be using, applied it and went after the voters they needed."
Easy to say, but the Franklin County effort has been building for quite a while. "When I ran for auditor in 2004, there was Corey in his blue suit and Republican tie for my announcement," said Brock. "It was his 14th birthday. You don't have it happen overnight. It takes time."
Rep. Mike McCarthy (D-St. Albans), who serves as chair of the Franklin County Democratic Committee, says the county is especially fertile ground for the Republican appeal, due to a heavy population of Irish and French Canadian Catholics. "There are more people who are culturally conservative in Franklin County than in other parts of Vermont," McCarthy noted. "It used to be, if you were a Catholic in Franklin County, you were a Democrat."
Frank Cioffi, a St. Albans native and president of the Greater Burlington Industrial Corporation, recalls those days very well. "The Democratic Party was the party up there for about 50 years," Cioffi said. "My grandfather on my mother's side was mayor of St. Albans and a state representative. My father and his father were aldermen." All were Democrats.
Cioffi believes the county's conservative turn was sparked by the 2000 enactment of Vermont's civil unions law, which offended many religious voters. "It started changing after that," Cioffi said. "We had to fight like the dickens to get Howard reelected," he said of then-governor Howard Dean, who signed the civil unions bill into law. "Before that, he'd run around 60 percent" in Franklin County.
Sara Kittell served 18 years as a Democratic state senator from Franklin County before she chose not to seek reelection in 2013. She failed to win a seat in 2014 and 2016. She sees the county's political balance as a delicate thing, prone to partisan swings. "I do think it's a cyclical thing," Kittell said. "We're changing, making investments; young people are moving here; housing is going up." Sooner or later, she believes, the pendulum will swing back to the Democrats.
In the meantime, Parent has an idea for rebranding the VTGOP as the party of rural Vermont. He noted that the state's economic growth has occurred almost entirely in Chittenden County. "There's a real call for people who speak for rural Vermont," he said. "The Republican message could play well."
Rural Vermont comprises a majority of the state's landscape — but a decided minority of its voters. Parent's expectations are measured. "Would it get us up to 76 seats?" he said, citing the number necessary for a House majority. "Probably not, but could it get us into the 60s? Yes."
That would allow the Republican caucus to provide a reliable backstop for a Republican governor like Phil Scott or Jim Douglas, but, as Parent acknowledged, that's about all.
Parent and his colleagues have shown how the Republican Party can grow, on relatively friendly turf, with years of diligent effort and energy. Problem is, the VTGOP has shown little evidence of possessing either commodity.
Courage After Dark
In April 2018, Gov. Scott made a move that required personal and political bravery: He signed a series of gun restrictions on the lawn of the Statehouse, surrounded by supporters and opponents of the measures.
This year? Not so much. In a press release issued quietly on Monday evening, Scott announced he had signed H.57, a bill establishing abortion rights in state law — and vetoed S.169, which would have mandated a 24-hour waiting period for handgun purchases.
So much timidity, so little time.
A public signing of the abortion bill would have been a huge, symbolic act at a time when other Republican governors are signing the harshest possible abortion restrictions. How better to take a public stand for a cause that's under attack from elements of his own party?
As for the gun measure, advocates made a strong case that it would have prevented impulsive acts of violence or suicide. But apparently we've reached Scott's limit of tolerance for offending the gun-rights community.
His veto rationale is unconvincing. He wrote that S.169 failed to "address the underlying causes of violence and suicide," which is true — but it was never intended to. It's like forswearing chemotherapy because it doesn't address the underlying causes of cancer.
Alyssa and Rob Black issued a statement Monday noting that the bill "would have saved lives." The Essex residents became the leading public advocates for a waiting period after their son, Andrew, shot himself last December with a gun he purchased only a few hours before his death.
Perhaps the governor will arrange a meeting with the two, so he can explain his action in person. Surely he can convince them that the bill was irrelevant because it didn't address the underlying causes of Andrew's suicide.
Media Note
Turnover is a fact of life in the news media, but it still hurts to report the departure of a bright young mind — especially someone who's not only leaving a job, but also leaving the profession.
Such is the case with Seven Days reporter Taylor Dobbs, who will soon take his leave of our office, the state and reporting in general. Dobbs has been a member of our policy and politics team since December 2017. Before that, he spent four years as a digital reporter for Vermont Public Radio.
And now he'll turn off his brain for a while, working a summer job at a Vermont resort and doing plenty of rock climbing. After that? "In August, my wife, Tori, and I are moving to North Carolina," Dobbs said. "She's finishing up her graduate degree, and I'm following her to the next gig."
His future plans are unclear for now. "I'm definitely taking a break from government and policy reporting," he said. "It requires 24-7 attention to do it well. There are a lot of other things in the world to pay attention to."
News editor Matthew Roy is sorry to see Dobbs go. "Taylor's one of the good guys," he wrote in an email. "He's pursued some difficult stories, such as the treatment of Vermont's out-of-state inmates. We'll definitely miss him."
A familiar face is coming out of the bull pen to replace Dobbs: Paul Heintz, my predecessor as Fair Game columnist and, since November 2014, the editor for the state policy and politics team. "Paul has been an excellent editor, but he's wanted to focus on writing," said Roy. "So we're unleashing him from management duties so he can be a full-time reporter again."
And here's something I'd bring up if any other publication were the subject: Seven Days' news team has seen a lot of changes in recent years. In fact, four news reporters have left since the end of December: Katie Jickling, Mark Davis, Alicia Freese and now Dobbs.
"Like all media outlets, we expect churn," Roy wrote. "News staffers have left us to retire, travel internationally and pursue other opportunities. Meanwhile, we've been successfully recruiting terrific reporters ... Our news staff is as solid as ever."
Seven Days has recruited very well. But one factor in that success is that, because of cutbacks and closures at newspapers across the country, there are a lot of experienced people looking for work. The "churn" has negative consequences for the reporters and the beats they've cultivated. And when talented writers such as Dobbs decide they've had their fill of journalism at a young age, it's a sign of trouble for the news business.