James Buck
Lt. Gov. David Zuckerman addressing supporters in a farm field
At a farm in Williston on Sunday, Lt. Gov. David Zuckerman gazed out over a field, not of cows or corn but of more than 100 vehicles lined up neatly, as though attending a rural drive-in movie.
The organic farmer and gubernatorial candidate spoke — with a mask hanging around his neck — from a wagon festooned with fan-shaped red, white and blue flags. He made a point about the importance of building more affordable housing, then paused and smiled.
"By the way," he told his supporters. "It's really cool to look out over this crowd, I have to say. This is awesome."
Tired of telephone town halls and Zoom calls — and with absentee voting already under way for the August 11 primary — some political candidates in Vermont are emerging from their COVID-19 isolation in search of more direct connection with voters.
Thomas Chittenden, a three-term South Burlington city councilor running in a crowded Democratic primary for a state Senate seat in his namesake county, had been campaigning via mail, phone and Zoom. It's been tough to build momentum from a keyboard. "For newer voices, it's harder to get out there and reach people," he said.
To boost his visibility and encourage supporters to patronize struggling Burlington businesses, Chittenden stood outside Church Street Tavern on June 21, distributing campaign literature and face masks.
Even with COVID-19 infection rates rising sharply elsewhere in the country, Chittenden said he felt he wasn't putting himself or others at risk because the interactions were brief, optional and outdoors. He said he plans similar outings in coming weeks.
"I like to tell people, 'Democracy is an essential service,'" Chittenden said.
Molly Gray, who is seeking the Democratic nomination for lieutenant governor in her first bid for public office, is similarly seeking to raise her profile through in-person events she considers safe.
During the pandemic, she's leaned into social media and videoconferencing tools to connect with voters — for example, by staging a virtual concert with five local musicians to raise money for the Vermont Foodbank.
Nevertheless, Gray said she sees face-to-face interactions as something candidates need — and Vermont voters expect — so she's begun some in-person campaigning. She was one of several politicians, including fellow LG candidates Senate President Pro Tempore Tim Ashe (D/P-Chittenden) and activist Brenda Siegel, who attended Zuckerman's event.
"There is no substitute for understanding what a person's environment is like and what their daily experience is," Gray said.
The Newbury native and assistant attorney general held a "mobile meet-and-greet" in Burlington's South End in late May. Several Democrats, including Tiff Bluemle and Gabrielle Stebbins, candidates for the Vermont House in the Chittenden 6-5 district, rang cowbells, carried signs and talked to receptive voters. Last week, Gray staged her first in-person press conference on the Statehouse lawn.
Not all candidates are comfortable with engaging voters in person during the pandemic, and many have no plans to push that boundary, according to Spencer Dole, House campaign director for the Vermont Democratic Party.
"There are candidates who do not feel like it's the right time yet," Dole said.
Most have beefed up their websites, focused on internet marketing, and recorded Zoom calls and debates to help them spread their messages on social media, he said.
Despite the state's low COVID-19 infection rate, the "worst-case scenario" for a campaign would be for a candidate or someone they've come in contact with to contract the disease, Dole said.
The risk is not one Rep. Dylan Giambatista (D-Essex Junction) is willing to take as he, too, seeks a Chittenden County Senate seat. A former member of the popular Burlington punk-rock band Rough Francis, Giambatista had hoped to publicize his run with edgy concerts.
COVID-19 quashed that plan, so Giambatista has been sending supporters vinyl records of his campaign song and links to his music video.
While he stressed he's not criticizing other candidates for their decisions to campaign in person, Giambatista believes it's better to model good behavior than to put anyone at risk.
"I think any organization or individual contemplating holding in-person events has to balance human health with their own personal ambition," Giambatista said.
While Democratic LG candidate Siegel attended Zuckerman's event, she has not yet planned similar rallies. The only in-person campaigning she has done has been to attend Black Lives Matter protests. "Some things are worth risking your life for," she said.
Ashe said he has taken tentative steps, attending small campaign events at private homes in recent weeks. "It really is very unusual, looking at people at what is an intimate gathering but spaced out," Ashe said.
Sen. Debbie Ingram (D-Chittenden), also a candidate for the Democratic LG nomination, handed out campaign literature at a Juneteenth event in Burlington but has no in-person events of her own planned.
Rebecca Holcombe, the former Vermont education secretary seeking the Democratic gubernatorial nomination, echoed Giambatista's safety concerns. The sharp spike in national infection rates makes her hesitant to green-light any in-person campaigning, let alone large gatherings.
"We're not through the woods on this," Holcombe said. "I think we just have to be extremely careful."
Holcombe has taken a hard line on social distancing. When she and her campaign manager, Cameron Russell, met to file her candidate paperwork at the Secretary of State's Office in late May, they hadn't seen each other in three months, she said.
She has criticized Republican Gov. Phil Scott for what she calls inconsistent messaging on the importance of wearing masks in businesses, a position that may make it harder for Holcombe to pivot to in-person events and perhaps reach voters who haven't focused on her campaign yet.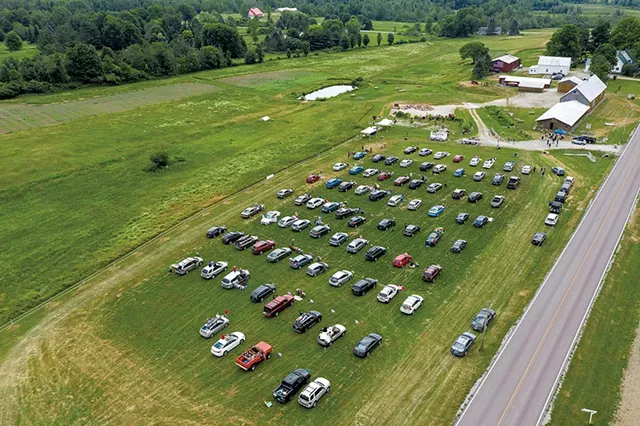 James Buck
Supporters keeping their distance at Lt. Gov. David Zuckerman's campaign rally
The lockdown is even more of a challenge for a first-time candidate competing against an established figure such as Zuckerman, who served in the legislature for 20 years before being elected lieutenant governor in 2016.
"It makes it more challenging, yes. Name recognition is a huge issue for me," Holcombe said.
The real challenge, though, is not a lack of opportunity to march in parades or speak at block parties. It's the media and the public's preoccupation with the daily drumbeat of more pressing news, she said. On top of the pandemic, calls for criminal justice reforms have led newscasts in recent weeks.
She is an outsider calling for change when most voters have more change than they can handle right now.
"What COVID has done is, along with shutting us up in our homes, it has shut down any discussion of ideas," Holcombe said. "That's not a criticism. That's just a reality."
Holcombe chafes as she watches Scott hold three COVID-19-focused press conferences a week. The events ensure that the media spotlight remains on the governor, whether there's much news to report or not, she said.
"When you've got one person with a megaphone, there really isn't a lot of room for other conversation," Holcombe said. She disputes Scott's assertion that he is not campaigning.
One of Scott's challengers in the Republican primary, Brookfield farmer and attorney John Klar, agrees that the pandemic has worked to the two-term governor's political advantage.
"It has put my opponent in the limelight, ad nauseam for some people," Klar said.
The first-time candidate has held in-person events in the past several weeks, something he said he started doing after Scott said limits on outdoor events did not apply to Black Lives Matter rallies.
Klar's outdoor gatherings have attracted a decidedly smaller, more conservative crowd, and masks are generally not seen outside Chittenden County, he said.
"I don't wear a mask. I generally spittle on the people in the front row," Klar quipped.
That wasn't much of a risk at Zuckerman's event, where the candidate spoke at a distance of more than 30 feet from the front row of cars.
Most attendees wore masks and were encouraged to stay close to their vehicles, spaced a socially distant six feet or more apart. Had it rained — dark skies threatened throughout — people still could have listened from their cars as the event was broadcast over FM airwaves.
Most chose to sit next to or atop their cars, enjoying the fresh air, live music, gourmet food, and ice cream from Ben & Jerry's, whose founders, Jerry Greenfield and Ben Cohen, were on hand.
They urged attendees to support Zuckerman financially ahead of a key campaign finance deadline. Making that face-to-face pitch for cash is another reason some candidates feel the pressure to attend events in person.
Zuckerman's event seemed to energize attendees due to both its size and novelty. Car horns honked in support, and the audience whooped its approval when the candidate called for steps toward social, economic and environmental justice.
Nan Reid sat in a folding chair in front of her car and beside a Zuckerman campaign sign that she was encouraged to take home and plant in her yard. The event, she said, was deeply gratifying.
"I'm lonely," said Reid, a 63-year-old early education teacher from Burlington. "I needed something to make me feel like I'm still part of a community."