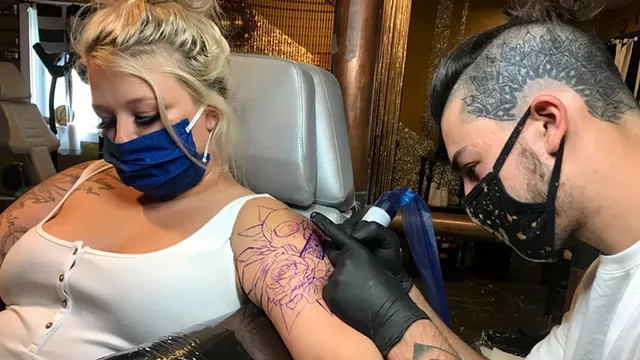 Chelsea Edgar
Adam Vindigni tattooing Sage Ruffle
On a recent Monday at World Famous Monkey House Customs, Adam Vindigni was etching a skull, partly obscured by two large roses, into Sage Ruffle's left arm. The Stowe tattoo and piercing shop is normally closed on Mondays, but since it reopened on June 2, after a mandatory three-month hiatus, Vindigni has been coming in to work six days a week to keep up with his bookings.
The tattooing encounter, which hinges on prolonged proximity, doesn't quite lend itself to social distancing. To contain their microbes, Vindigni and his clients wear a mask at all times. Walk-ins are no longer allowed; clients can't bring friends or family members with them for moral support during their sessions. During the three months that Monkey House was closed, owner Ryann Schofield had to take out a loan to pay the rent.
Between the loss of revenue and the general bewilderment of navigating the unemployment application process, it hasn't been an especially relaxing break for Schofield or her artists: "Most of us did not receive a dime until May," she said.
While Vindigni was stuck at home, he drew a lot of tattoos, including the skull-and-roses creation he was outlining on Ruffle's arm. Ruffle, who recently went back to work at a hair salon near Monkey House, saw it on Vindigni's Instagram in the doldrums of quarantine. Ruffle is very much a tattoo person; a vaguely fearsome horned serpent adorns her right upper arm, along with a smattering of botanical illustrations. Being able to come in for an appointment, even a masked one, feels like a sliver of the pre-pandemic world.
"This is a completely normal occurrence for me," she said, looking mostly blissed out as Vindigni scratched purple ink into her skin, a sensation she likened to exfoliating a sunburn with sandpaper.
Since Monkey House reopened, Vindigni said, he's noticed an unusually high demand for motherhood-themed tattoos. Last week, artist Anne Winslow and Schofield both did the same design for two different clients: a silhouette of a mother and child embracing, their bodies rendered in celestial blues and bruise-colored, nebular dust swirls.
"There's definitely more of a family sense right now," said Vindigni, fitting a piece of tape on his nose to keep his mask from slipping off while he worked. "Probably because people have had all this time to figure out what's really important to them."
"My friend Cheyanne got a breastfeeding tattoo from Anne the other day," said Ruffle. She pulled up a picture of the design on Winslow's Instagram: a vignette of a Madonna-like figure with flowers in her hair, nursing a baby. "Cheyanne loves her breastfeeding bond with her kids. She's, like, deeeep mom."
Courtesy Of Ryann Schofield
Tattoo by Ryann Schofield
According to Schofield, maternal imagery has been trending at other shops; at True Tattoo in St. Albans, an artist she knows drew the same mother-child silhouette for one of his clients.
"I keep seeing that one, in particular, with kids' names, or the galaxy effect, or a family crest," Schofield said. "It's just weird to have so many people getting the same image. I think the COVID thing really scared people, and it seems like mothers, specifically, are feeling this urge to express their love for their children."
Brenna Keefe, who owns True Tattoo, looks askance at the "trendiness" of the mother-child ink phenomenon. "It's just a timeless thing, like skulls and roses," she said. "Honestly, most people don't know what they want. When they see something on Pinterest or social media, they think that's what they should get, because other people are getting it, too."
Like Monkey House, Keefe has a backlog of clients — some of whom tried, unsuccessfully, to get her to tattoo them at home while her shop was shut down. After being open for less than two weeks, she's already booked through mid-September; even people who lost income because of the pandemic haven't canceled their sessions.
"People need their ink," Keefe said. "It's a primitive thing for humans to want body art, and COVID isn't going to change that."
Now that people can get tattooed again, Monkey House's Vindigni said, his clients seem more needy, almost childlike. "People have been demanding to know why they can't just walk in and get an appointment today, or they want to know our address, which is all over the internet. They seem to need so much attention all of a sudden."
Another curious thing, he noted, is that people are revealing much more of themselves in their appointment requests. "When they email me, they're telling me way more about why they want to get the tattoo they want to get," he said. "There's always a symbology behind the things people choose, but I feel like we're getting more of the story now."