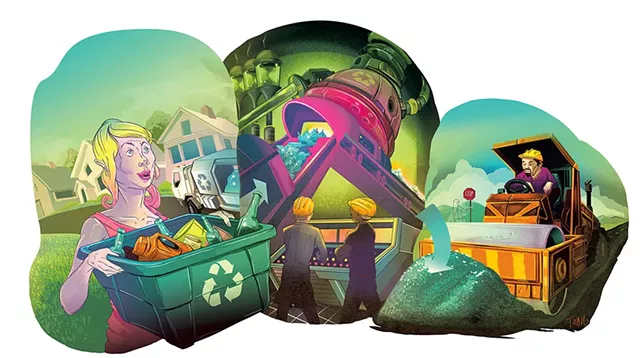 Members of the executive board and staff of the Chittenden Solid Waste District sat around a table, their documents scattered among three pizzas and an assortment of soft drinks. Most everyone ignored the snacks, but in fact their business is all about the materials in which they were delivered: paper, pizza boxes and aluminum cans.
As of last July, the state of Vermont mandates recycling aluminum and steel cans, foil and pie pans, glass, certain plastic containers, corrugated cardboard, office paper, and other fiber products such as packaging and egg cartons, newspapers, magazines, boxboard and paper bags.
The market for most of those materials was strong when the legislature passed the Universal Recycling Law in 2012. But that has changed, acknowledged Cathy Jamieson, solid waste program manager at the Vermont Department of Environmental Conservation. Contributing to the drop: cheap oil and an economic downturn that has slowed manufacturing.
While "the timing of it was not ideal," Jamieson said, the market decline "is not preventing implementation of universal recycling." There is a cost to converting waste into reusable materials, "but even with the depressed market, it is still less than landfilling," she said.
In the Northeast Kingdom Waste Management District, which serves 49 rural communities, the money from selling recycled materials used to cover nearly one-third of the district's $700,000 annual budget.
"We were riding a nice wave up until last spring," said executive director Paul Tomasi, and the district still has markets for all the materials it collects at 28 facilities scattered across northeastern Vermont. Most of it is reused in New York, New Hampshire, Canada and the mid-Atlantic states.
But even with that business, reduced revenue has forced "drastic measures to lower our costs," Tomasi said. The district no longer provides health insurance for the seven employees in its main office.
At CSWD, general manager Tom Moreau offered an example to illustrate how the recycling market has flipped in the past few years. He said that in 2012, when the Universal Recycling Law passed, he was paying haulers $10 a ton for the recycling material that they delivered. Now he charges them $21 a ton.
The CSWD processes 44,000 tons of recycling annually. In some years, Moreau said, the money raised from recycling sales has covered the district's entire budget. This year, recycling revenue is expected to cover only a portion of projected costs — $1.4 million of the nearly $2.1 million operating budget.
Global forces influence prices, and the price of oil has plummeted. That affects the market for recycled plastics, which are made from petroleum. "When [manufacturers] can get virgin material cheaper than recycling, they buy virgin," Moreau said.
Plastics still have value, but prices have dropped more than 20 percent during the past six months. For example, the clear plastic used for beverage bottles dropped from $287 a ton a year ago to $205.
Moreau also cited the slowdown of the Chinese economy, which affects the market for materials such as steel. The district used to receive more than $150 a ton for steel but now gets half that amount, $76.
The market for newsprint has also shrunk, but so has the amount being recycled as readers migrate to the internet, Moreau said. The closure of a paper mill in Québec in 2014 dramatically changed the district's strategy and revenues for newsprint. "They were picking it up and paying $73 a ton," he said. "We now ship to China and went from getting $73 to $47."
Cardboard pizza boxes like the ones on the board's table last week fetch $96 a ton, a price that, unlike others, has held over the past year. You can't recycle greasy pizza boxes, but boxes that don't have food on them are acceptable. *
Aluminum soft-drink cans sell for $1,095 a ton — down more than 20 percent from the $1,478 a year ago. Smelting aluminum ore requires a lot of energy, so depressed energy prices make recycled cans less valuable.
The price often goes up in the spring when soft-drink and beer manufacturers gear up for summer beverage consumption, Moreau said. He noted that CSWD only sees a portion of the aluminum cans that are recycled because the state's bottle and can redemption law sends many of those through another pipeline.
Glass — the subject of the recent executive board meeting — has always been a challenge, Moreau said. Chittenden County residents supply the district's recycling facility with 7,000 tons of wine bottles, pickle jars and assorted glass a year. But there aren't many markets for it, facilities manager Brian Wright said.
The district used to separate clear glass from colored because clear had greater value. Beer bottle companies would take brown, but green and blue had no value. When a glass plant closed in New York some 15 years ago, the district decided that it would be cheaper to abandon separation and instead crush all the glass for use in construction.
That has been a hit-or-miss remedy. Moreau lists the price per ton as a negative number — minus $1.21, plus shipping.
"Pike Industries normally takes around 1,500 tons of our clean 'fines' per year and pays us $4 per ton," Moreau explained. "We never charge for our coarse glass aggregate, sometimes get contractors to haul it away for free, sometimes pay a trucking company to move it to a private or to a CSWD job, and sometimes store it off-site on CSWD property."
Currently, Wright said, the best opportunity is to provide the recycled glass in sand-like form to the Vermont Agency of Transportation, for use as a base for new roads. There's a problem, though: The district's crushed-glass product today, pulverized in a "hammer mill," Wright said, is too "dirty." Too many label scraps and bits of plastic and metal end up in the product.
That New Hampshire has lower road aggregrate standards has benefited Tomasi. His Northeast Kingdom Waste Management District has a steady market in the neighboring state, but it collects just 380 tons annually compared to CSWD's 7,000.
CSWD's challenge: "We really need to clean up our glass to get it consistently used by VTrans," Wright said.
After two years of research — including trips to other recycling facilities and equipment tests in Williston — Wright and general manager Moreau found three pieces of equipment that they believe could better clean the glass. They briefed the executive board on the proposal in hopes of getting the green light to propose the half million dollar purchase to the full board at a later date.
Glass isn't the only challenging material. Jeff Myers, president of Myers Waste and Recycling, briefed the House Transportation Committee last week on a process he has been developing for three years to divert asphalt shingles from landfills. "It's finally all falling together," he said in a telephone interview.
Myers has developed a system to remove nails and debris from the shingles before grinding them into small bits. He takes the ground shingles to an asphalt plant where they are added to the hot mix. He noted that it has been essential to figure out the correct ratio of each to ensure the pavement holds up.
House Transportation Committee chair Patrick Brennan (R-Colchester) has helped Myers connect with VTrans to discuss establishing a standard for asphalt containing ground shingles. "There is a pilot project in Burlington we are watching," Brennan said. Last summer some shingle and asphalt mix was used to pave a section of road. "It is holding up well, so far," he said.
"We are working on the specifications now," Transportation Secretary Chris Cole confirmed. "We aren't opposed to trying things out."
Cole said the agency is also working with CSWD on its new glass-processing system. If the district can meet the state's specifications for glass aggregate, Cole said, "We are pretty confident we could use the supply."
At the executive board meeting, Allen Nye, representing Essex and Essex Junction, said he needed more detailed cost comparisons before he would vote for the purchase.
Board chair Paul Stabler of South Burlington wondered whether beverage manufacturers might shift from glass to aluminum in the next decade. Wright, the district's facilities engineer, said he expected to continue to see glass containers, noting that he didn't think wine would end up in cans.
Chapin Spencer, representing Burlington, asked Wright how sure he was that the equipment could produce glass aggregate that would meet the state's specifications.
"I am confident we have a good chance of getting under 1 percent," Wright said, referring to the maximum amount of contamination VTrans would allow. "I feel pretty good."
Convinced, Spencer signed off.
The full board will consider the proposal at an evening meeting on Wednesday, January 27.
*Correction, January 27, 2016: Greasy pizza boxes are not recyclable. A previous version of this story contained an error.