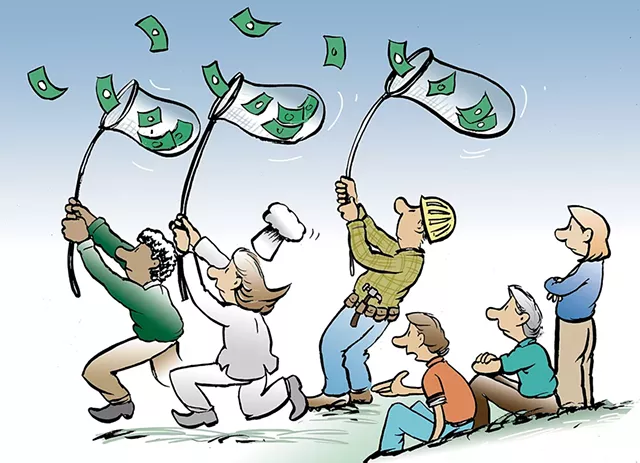 Tim Newcomb ©️ Seven Days
Iconic Vermont businesses such as Darn Tough Vermont and the Trapp Family Lodge are among thousands of Green Mountain State businesses that received a combined $1.2 billion in federal pandemic relief through the Paycheck Protection Program. And last week, Vermont launched its own $152 million program to provide grants of up to $50,000 to hard-hit businesses.
But thousands of desperate businesses are out of luck when it comes to one or both of the high-profile relief programs. Greg Ford, a wholesale car buyer from Barre, said that guidelines exclude him from the state-administered grants.
"My accountant said, 'You're not going to get any money,'" Ford recalled. "I said, 'That's a bunch of bullshit.'"
Ford, 53, said he was able to qualify for a modest PPP loan. He's not eligible for the state grant program, however, for three reasons: He's a sole proprietor, meaning he has no employees; he's white; and he's male.
The state set aside $5 million for sole-proprietor businesses that are majority owned by women and/or people of color to keep those businesses from falling behind, explained Rep. Jean O'Sullivan (D-Burlington). Those groups, including New Americans, have traditionally lacked strong relationships with bankers.
"You want a broad swath of business to survive this thing, not just the very well connected," O'Sullivan said. "This should not be survival of the fittest."
But it means tens of thousands of sole proprietors, including Ford, won't be cashing in.
Ford said he understands and supports the rationale behind some programs that give preferential treatment to women and minorities because they've historically been excluded from opportunities. But the criteria feels off in response to a pandemic that is devastating wide-ranging sectors of the economy, he said.
"The virus wasn't sexist. The virus wasn't racist," Ford said. "The virus said, 'I don't care who you are. I'm shutting you all down.'"
Gov. Phil Scott's administration initially proposed a loan program that would have been available to all 60,000 estimated sole proprietors in Vermont. But legal hurdles and input from the business community resulted in a major overhaul, according to lawmakers.
During that process, administration officials changed tack and argued against including sole proprietors at all, said Rep. Michael Marcotte (R-Newport), chair of the House Committee on Commerce and Economic Development. Legislators, meanwhile, felt pressure to get the money out quickly, Marcotte added.
"One thing [the Scott administration] did ask us for was to make sure there was at least one employee, because the business community of sole proprietors was so large that they were afraid they were going to get bogged down," he said.
Excluding some businesses without employees from a relief program is a "huge elephant in the room" not being talked about amid all the press coverage, said Charles Martin, government affairs director for the Vermont Chamber of Commerce.
"Obviously, we find that pretty troubling because there are so many sole proprietors in the state, and they are the lion's share of our business community," he said.
Small businesses are already at a disadvantage because of the complexity of the programs and the fact that they are first-come, first-served, Martin said.
"I completely sympathize with businesses who don't necessarily have on-the-spot, speed-dial legal counsel to walk them through some of the intricacies of this," Martin said.
Sen. Ann Cummings (D-Washington) said she fielded a spirited call from Ford, her constituent, and understands his concerns. The bill was passed at 9:30 p.m. on the Friday before the Senate adjourned and probably didn't get the debate it might have otherwise, she said.
"The reality is, we didn't have enough money to help all of them," Cummings said.
Joan Goldstein, commissioner of the Agency of Commerce and Community Development, said demand for the grant program has been "robust." As of Monday, 2,956 businesses had applied, requesting a total of $35 million. Nearly 200 applications totaling $6.8 million had been approved, and another 989 were in the queue, she said. Ninety-five had been found ineligible, while 158 applications were deemed incomplete.
She declined to weigh in on the equity of the eligibility requirements, stressing that the grant program was created specifically to help support businesses that might not have been able to benefit from the PPP.
"There is help on the way," Goldstein said. "It's not going to help every single person in every single situation, but it's a step in the right direction to help as many businesses as we possibly can."
Asked Tuesday about the program eligibility requirements, Scott said he was "concerned" and noted that the administration was doing its best to distribute the funds allocated by the legislature.
"Hopefully, we'll be able to go back in and fill that need, as well," Scott said.
Both the PPP and state grant programs restrict eligibility. For example, the PPP was limited to businesses of fewer than 500 employees. The state grant program limits awards to businesses with typically less than $20 million in annual receipts that have lost at least 50 percent of revenue. (Some funds were set aside for those that lost 75 percent of revenue.)
A hodgepodge of other restrictions has surprised some applicants.
Prudish federal rules kept PPP funds from flowing to sex shop Imago in Colchester, according to owner Gerard Rainville. The Small Business Administration "has determined that financing lawful activities of a prurient sexual nature is not in the public interest," read the guidelines that his lender forwarded to him to explain his rejection.
Rainville had to let his seven employees go and drastically reduce his hours and expenses. He no longer takes a salary, and he's getting unemployment.
Rainville, who has owned the business since 1997, knows his shop is not for everyone. But he said he'd like to know how federal officials justify playing favorites when it comes to bailing out legal businesses.
"The next time a politician comes into my store to shop, I will ask them that question," Rainville quipped.
Planned Parenthood of Northern New England finds itself in a similar pickle, except that it received $2.7 million in PPP funds — only to later have regulators order it returned.
The organization has about 250 employees in Vermont, New Hampshire and Maine. It saw the loan as its best opportunity to preserve services during a time of unprecedented stress on the nation's health care system, spokesperson Lucy Leriche said.
"We are the poster child in terms of what the program was supposed to do, and that was to prevent layoffs and furloughs," Leriche said.
Now it's fighting to hold on to the funds the SBA is trying to claw back. After disbursing the funds, the agency concluded that Planned Parenthood affiliates are too closely aligned with the national organization to be considered independent entities and therefore exceed the 500-employee limit. Leriche said the ruling appears to only affect Planned Parenthood.
"This is clearly a targeted attack against our organization and against reproductive health care for poor and vulnerable populations," she said.
Eligibility isn't the problem for the travel and hospitality sector, though the program just might not work for those businesses, said Austin Davis, government affairs manager for the Lake Champlain Regional Chamber of Commerce. A loan to keep staff on the payroll doesn't cut it for businesses that can't reopen because there are no visitors or too few to offset other expenses, Davis said.
"The travel, leisure and hospitality industries were not very well served by the PPP," Davis said.
There are some smaller pots of money available to sole proprietors, but far from what's needed to meet demand, Marcotte said. Lawmakers will consider expanding those funds when they return in August, but it will depend on whether additional federal dollars are forthcoming.
"This isn't an easy place for any of us to be in," he said.
Julie Rohleder and her husband, John, are also in a tough spot. The couple owns the Fitch Hill Inn in Hyde Park, a bed-and-breakfast in a stately 200-year-old farmhouse they purchased in 2003.
The pair didn't apply for the PPP because they don't have any employees and run the six-room inn themselves; they figured they wouldn't be eligible. When they shut it down amid the pandemic, the couple began receiving unemployment insurance and, for a time, benefited from the $600 each extra in weekly federal benefits.
But when they reopened their business in June, they were no longer eligible for unemployment, and bookings were anemic. Business has crept up since then but remains less than 25 percent of typical summer volumes, a level that's not sustainable.
"We're borrowing from Peter to pay Paul at this point," Julie said. "We're borrowing from our unborn great-grandchildren!"
She was hopeful that they might qualify for a grant under the new state recovery program because the partnership is woman-owned — her half of it, anyway.
But the program only applies to businesses that are 51 percent owned by women and minorities, so they didn't apply, she said
"That's three strikes for us," Julie said, referring to the PPP, unemployment and recovery grant programs.
Julie worries about what the state's future holds. After a spate of recent closures, there's just one motel left in Morrisville and two B&Bs in nearby Hyde Park, she said.
Every time a lodging business closes, that's one more hit to the local economy and to the tax base of the state, she noted, stressing that meals and rooms taxes make up a good chunk of the education budget.
Her message to lawmakers: "You need to think about how many of us are out here just trying to keep our heads above water."