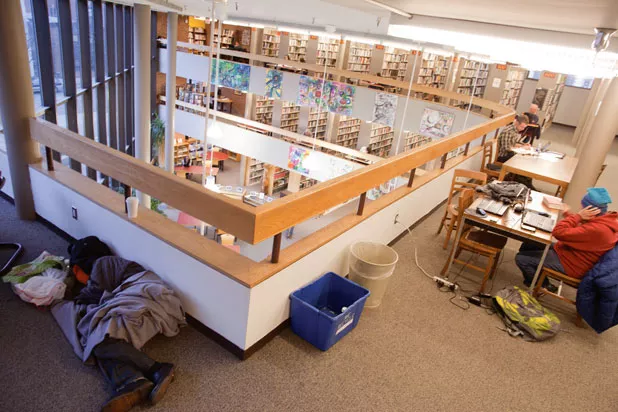 Matthew Thorsen
Fletcher Free Library
Is Fletcher Free Library becoming Burlington's most popular homeless hangout? At least one librarian has observed that more and more itinerant people are using it as a de facto day station — a warm, safe place to pass the time.
At the reference desk in the main reading room, cataloger and reference librarian Christine Webb ticks off numbers out loud — "one, two, three, four, five" — as she tallies at least 10 regulars within view last Friday afternoon.
The city's College Street library has "always been a haven for people that don't have anyplace else to go," says codirector Robert Resnik. But over the course of his 23-year tenure, he has observed that the number of patrons who appear to be homeless camped out at the library has grown significantly.
In fact, the number of homeless Vermonters increased by 1 percent this year, according to newly released figures from the U.S. Department of Housing and Urban Development's annual "point-in-time" survey. The number of chronically homeless shot up 102 percent in 2012, and there were 35 percent more homeless veterans.
Serving that population — while making sure other library visitors still feel comfortable — will be one of the challenges facing the library's incoming director, Rubi Simon, whose first priority is drafting a new strategic plan. "How do we work with them, and how do we make them welcome?" asks Simon, who spent nine years working in the Boston Public Library system. "They are still part of that community … and you want to make sure the library is welcoming to everyone."
Resnik notes that most of the so-called regulars — 25 to 30 men and women who show up every day — don't cause problems. Some arrive when the library opens and leave shortly before closing time. Others come and go throughout the day, taking advantage of computer stations with free access to the internet. They take pride in the space, Resnik says, and in many cases will tell librarians if something "untoward" is happening.
But there are exceptions. Since January, the Burlington Police Department has responded to one instance of disorderly conduct, five disturbances, two counts of public intoxication, seven city ordinance violations and 10 trespasses at the Fletcher Free Library. Police have twice checked on the welfare of library patrons.
Asking librarians to assist struggling patrons with basic computer skills — "in a lot of cases doing the most basic training of how to paste and copy, things you would have ordinarily found five years ago in a copy shop" — is one thing, Resnik says.
But social work is a bigger stretch. When the library becomes "the living room for people who don't have another living room," as Resnik puts it, librarians are doing a job for which they aren't properly trained.
"We're not mental health professionals," says Resnik. "We don't have any training in that. And quite frankly, most us didn't sign up for that job."
Webb — one of five librarians who rotate on the reference desk — says she has to awaken a patron several times a week; sleeping in the library is a violation of a city ordinance. Recently she and another librarian had to deal with a man who wanted to leave his shopping cart at the reference desk. They turned him down.
Bigger challenges arise when a patron doesn't — or can't — understand the library's rules. Resnik remembers one man who, a few weeks ago, was pacing relentlessly in the main reading room. The library asked HowardCenter's street outreach team to intervene.
Matt Young, who supervises the street outreach team, knew the individual, who was pacing, yelling and praying. "We just gently explained library rules, and it seemed to go well," he says.
Webb and other librarians at Fletcher Free are careful not to draw any unwarranted conclusions about their patrons. "You just can't judge," says Webb.
Resnik jokes that "freedom of access" is tattooed on every librarian's shoulder. That means that just as librarians pride themselves on ignoring what books a patron checks out, or which websites he or she may visit, so too do librarians like Resnik steer clear of stereotyping their patrons. That means that while he and other library workers can draw some conclusions about their patrons circumstances based on appearance or behavior, he can't speak definitively about their lives. "It's our job not to know," says Resnik.
Several attempts by Seven Days to speak with patrons who fall into this category were politely rebuffed, as patrons' expressed a wish to keep to themselves.
Young believes that anonymity is a big part of the library's appeal. While the Committee on Temporary Shelter (COTS) runs a day station specifically for homeless individuals in Burlington, Young says many people like the library, where they aren't so easily labeled as "homeless."
"That's when they feel homeless, when they're accessing these homeless services," Young says. "If they're camping in the woods and hanging out at the library — that's a life."
Burlington's official day station shut down last July after a flash flood tore through the basement-level facility on the corner of South Winooski Avenue and King Street. COTS executive director Rita Markley says the organization "cobbled together" services from two locations before opening an interim daytime shelter in the parsonage of the First United Methodist Church of Burlington on Buell Street in late October. She reports attendance numbers range between 30 and 50 individuals each day.
When the library performed its last round of strategic planning, Markley says the organization "went out of their way to include COTS." Simon will likely continue that tradition. Although she has most recently been directing Colchester's Burnham Memorial Library, the bilingual librarian has urban roots. Kyle Dodson, the director of Champlain College's Center for Service and Civic Engagement, suggested Simon to the library search and calls the first-generation Mexican-American an "incredible grab for Burlington."
At last week's press conference to announce Simon's appointment, the talk was of the need for a visionary leader — one with experience in diverse communities — who could head Fletcher Free in a time when, as Mayor Miro Weinberger noted, Burlington is asking its library to do more than ever.
Assuming that Weinberger's pick earns the city council's approval on December 17, Simon will start work in January. Her appointment signals a shift away from a codirector model at the library; until last summer librarians Resnik, Robert Coleburn and Amber Collins shared the top job. Collins retired in June, leaving Resnik and Coleburn to co-man the ship. They'll stay on as librarians at the downtown library after Simon takes charge.
No doubt they'll be part of any conversation about the Fletcher Free's future and how Burlington's homeless population fits into it.
In the meantime, though, the librarians may have to combat what Resnik worries is the misconception that the library is a "scary place" full of "scary people," which he insists just isn't true.
Paul Olsen, a Colchester resident and business professor at St. Michael's College, visits the Fletcher Free three or four times a week to read the newspaper or grade student papers. While he says the homeless issue is "impossible not to notice" at Fletcher Free — citing the parked shopping carts out front and the bags and belongings carried by some patrons — he's not fazed by it.
Peter Burns, a Winooski resident who leads discussion groups at the library, agrees. He doesn't think the homeless population has scared away children or families from the library.
That's not to say there aren't awkward moments. Olsen had a run-in with a woman he described as "a little creepy" — she brought him a book and claimed God told her to give it to him. Burns admits the men's washroom can be a bit of a mess, especially when some patrons use the sinks for rinsing out their laundry. But it's not enough to keep either man away.
"Quite frankly, most of them are just reading newspapers and visiting with people, and it's not an issue," says Olsen. "The bottom line is, it's a public library, and residents of Burlington and the public are welcome to go in."