James Buck
Alec Robinson, maintenance coordinator at GMT
Getting a cancer diagnosis is scary. Losing your job because of it is even scarier. When Alec Robinson found out he had cancer in 2018, he worried that missing work while getting treatment would cost him his job as a parts and maintenance clerk for Green Mountain Transit.
That's not what happened. In fact, he said, his employer responded in the best possible way.
His supervisor reassured Robinson that he should take as much time as necessary, even after exhausting the paid leave he got from short-term disability insurance. When Robinson was ready to work, his job would be waiting for him, the supervisor promised. "He cared about my health a lot and took a pretty big interest in making sure I could do whatever I needed to do," Robinson recalled.
So did GMT's human resources team. They sat down with Robinson to explain his health benefits and helped him figure out a way for his insurance to cover out-of-town care, he said. As a result, he was able to go to Memorial Sloan Kettering Cancer Center in New York for lymph node surgery with one of the top specialists in the field, and to Dana-Farber Cancer Institute in Boston for a consultation with an oncologist.
For almost two years, Robinson worked on and off between surgeries, bouts of chemotherapy and recovery. In fall 2019, he underwent a special stem cell treatment with high-dose chemo. Now, at age 28, he's in remission and back at GMT, where he's been promoted to maintenance coordinator.
"The company was very supportive of me, very willing to have me spend a lot of time not in the office, not having the full capability to do my job, for the greater outcome of me finally beating this thing," Robinson said. "They never made it feel like there was anything to worry about."
People who ride a GMT bus to get to a job, medical appointment or grocery store know that the regional transportation operator provides a valuable service to the community. They might not realize, though, that behind those rides is an employer that prioritizes taking care of its workers. GMT prides itself on providing a flexible work environment, generous benefits package and opportunities for advancement, as well as strongly supporting diversity and inclusion in its hiring and promotion.
Pay, Benefits and Training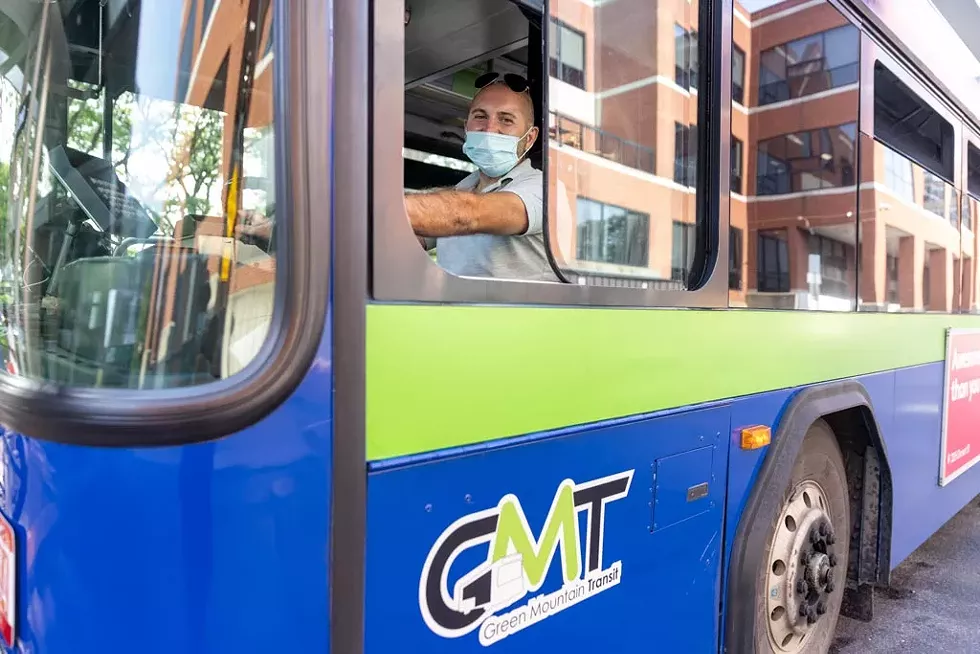 James Buck
A GMT driver in Burlington
Great employees always are in demand at GMT. Right now, the agency's biggest need is for drivers, maintenance positions for its day and night crews, and custodians in Berlin and Burlington locations, said Hakeem Nuru, human resources coordinator.
During the COVID-19 pandemic, GMT dropped some of its commuter runs — between Burlington and Montpelier, for example — while more people worked remotely and telecommuted. Those drivers shifted to local service when GMT had to limit capacity on its city buses for social distancing; GMT increased the number of buses on the road to handle the passenger traffic. With the commuter service coming back, GMT needs new drivers to make those trips, said Jamie Smith, GMT's director of marketing and planning.
Want to join the Green Mountain Transit team?
Find information about current job openings on its website.
Pay for full-time GMT drivers starts at $18.50 per hour for the first year and goes up to $25 an hour in year two. Custodians earn $15 per hour, or $16 if they have a commercial driver's license. Right now, GMT is offering a $500 signing bonus for custodians, as well as for drivers who have a commercial license.
GMT also offers a very attractive benefits package: The company picks up 100 percent of employee premiums for health insurance, as well as dental, vision and prescription coverage; short-term disability; and life insurance. After 10 years, employees are eligible for long-term disability coverage.
Robinson confirmed that, in his experience, GMT has "fairly great" health insurance. "I would absolutely plug the benefits. It's very close to home for me."
GMT employees earn up to two days of time off for every two weeks they work, and they earn more than one day of time off for every two weeks worked, to start. The time is theirs to take for any reason they choose.
James Buck
Jamie Smith, GMT's director of marketing and planning, and her dog
"Everybody has incredible flexibility in how they use it," Smith said. "And I would say we have some perks that maybe other places don't have, like we get to bring our dogs to work, which is really fun."
Another perk: free ski passes for drivers who provide winter-season service to Stowe and Sugarbush resorts. Soon, GMT will gear up to hire for those positions, which often attract college students.
GMT welcomes candidates who don't yet have their commercial driver's license, or CDL; they can drive a van or provide another specialty service for limited routes.
For those who want to pursue their CDL, GMT offers instruction, something that can cost as much $5,000, said Jon Moore, GMT's general manager. "That's a major benefit, getting a CDL fully trained," Moore said. "And we provide the vehicle to do the road test and the training."
All maintenance staff and drivers in Burlington and full-time drivers based in Berlin and St. Albans belong to the Teamsters Local 597 union, which is currently negotiating a new contract with GMT.
GMT bases driving shifts on seniority through a bidding system. "Say, a senior employee with 30 years of experience, he's been driving with us for a while," Nuru said. "They have their first pick to go in and say, 'I want to drive within these time periods while making my 40 hours.' That increased flexibility with your tenure is something that a lot of folks really enjoy."
Chances to Advance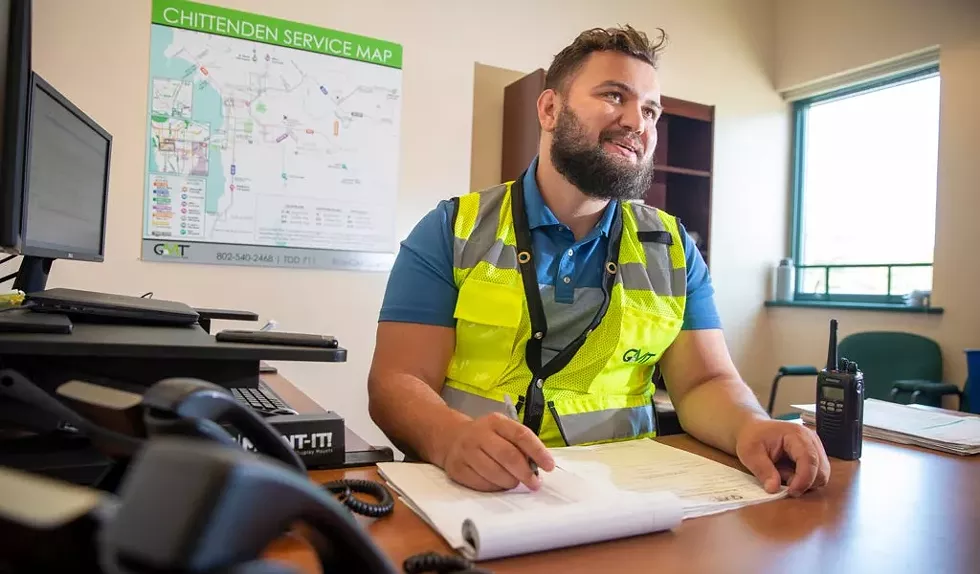 James Buck
Mevludin "Mev" Bahonjic, operations manager at GMT
GMT employees who want to stick with the agency find that the culture there gives them a boost up the career ladder.
In 2014, Mevludin Bahonjic, was 23 and a first-time father looking for a second-shift gig to supplement his day job. GMT hired him as a custodian on a three-man crew that washed the buses when they came in at night.
Bahonjic, who goes by Mev, got to know the drivers and learned a bit about the business. A year later, when a supervisor position opened, Bahonjic applied.
He didn't get promoted then, but his manager encouraged him, told him to try the next time and assured him that his persistence would pay off. As an immigrant in an entry-level job, without a college degree, Bahonjic appreciated the vote of confidence. "That interest in me, it motivated me to want to even do better at this job that I was doing at that time," he said.
Within less than a year, Bahonjic got the next open supervisor position. The following year brought another promotion, to his current position of operations manager. A Bosnian native who came to this country at age 9, Bahonjic now oversees almost 70 GMT bus drivers.
Want to join the Green Mountain Transit team?
Find information about current job openings on its website.
"You always think of the United States as being a land of opportunity," he said. As for GMT, "For me, personally, this place has been a career with an opportunity to grow."
Any employees "with that fire in their belly to want to move up" will find an equally open environment to do so at GMT, he said. Now, as a manager who hires others, he furthers the same philosophy that he found when he arrived in the transit garage.
"We've always looked from within first and grow our own people into these positions that they seek," Bahonjic said. "I think it gives people, like it did me, something to strive for. It gives them something to look forward to, to know that they have this opportunity to grow within the company, grow their careers."
Many New Americans like Bahonjic have found opportunities at GMT. The transit agency has a history of hiring from the Nepali, West African, East African and Bosnian communities. There are more New Americans in GMT's workforce, percentage-wise, than there are in Burlington as a whole, Nuru added.
"The reality is just that we have an inclusive workforce," said Nuru. Once a few New American workers started at GMT, they recruited others through word of mouth. "They kept bringing more and more people in. We fostered this with an employee referral bonus."
Proud to Serve the Community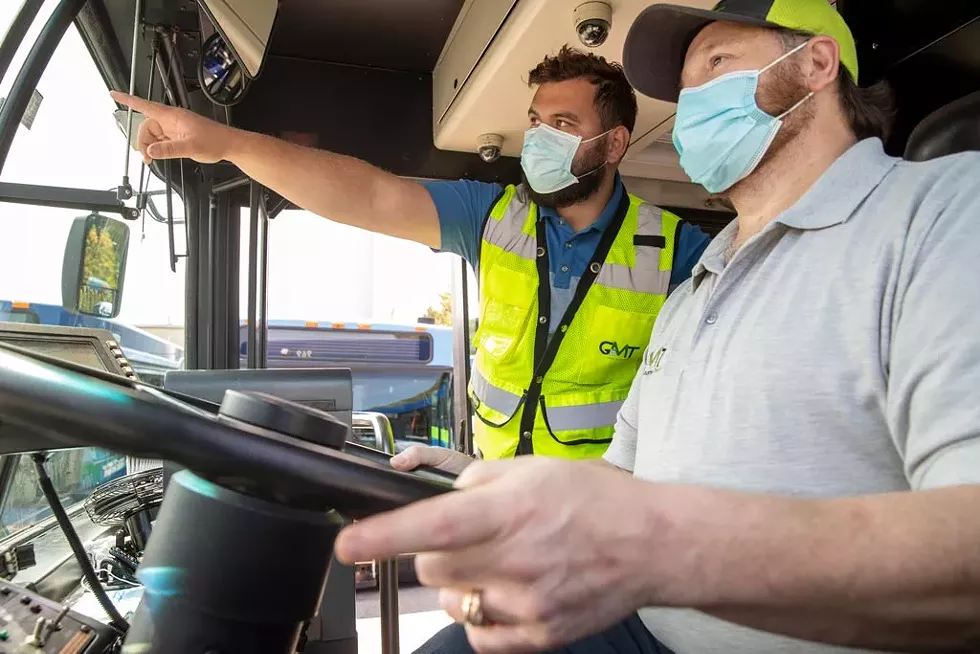 James Buck
Mev Bahonjic directing a driver
GMT actually operates two transportation systems. Its rural system serves Franklin and Grand Isle counties and central Vermont through a contract with the Vermont Agency of Transportation. For city bus service and Burlington and Chittenden County, GMT receives funds directly from the Federal Transit Administration.
While other businesses had to scale back their activities during the pandemic, GMT kept moving forward. It launched a mobile app called MyRide in and around Montpelier, allowing people to electronically hail a bus ride — like Uber, but for public transportation.
That innovation helped ensure that passengers had easy access to bus service, particularly the essential workers who rely on it. Smith described GMT drivers as "unsung heroes" who stepped up, even at personal risk, to be essential workers themselves.
"We have so many passengers who rely so heavily on us for transportation that just being able to keep that service on the street for them, I think, made everybody feel super proud," she said.
In addition to their salary and benefits, GMT employees also gain the satisfaction that comes with knowing they're needed.
As operations manager, Bahonjic takes that role to heart.
"I am the one responsible for people being at work, runs being covered and buses being routed," he said. "We do provide a great service for the community, and I like to think that I'm a part of that."
Want to join the Green Mountain Transit team?
Find information about current job openings on its website.
This article was commissioned and paid for by Green Mountain Transit.