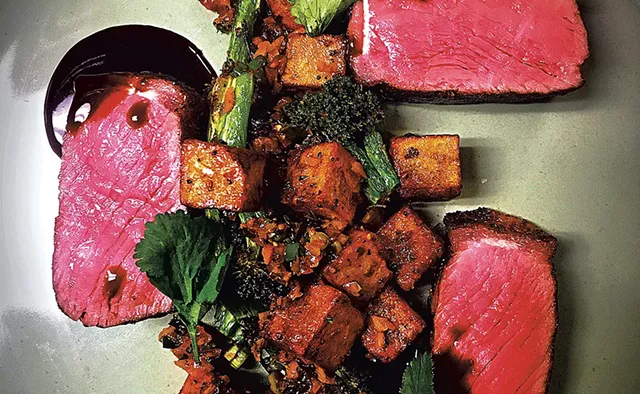 New York strip with potatoes and kimchi at ArtsRiot
Last winter, ArtsRiot chef George Lambertson debuted a new menu concept, the eatery's third in as many years. And lately, Burlington's food community has been positively abuzz about it. The bill of fare changes nightly and features dishes such as spicy beef salad — made with raw sirloin, shiitake mushrooms and avocado dressed in tangy, chile-soaked dressing — and Sichuan brisket with bone marrow and escargot ragú.
It's challenging food but fresh and well sourced, and Lambertson keeps a few regular standbys on the menu, such as popcorn chicken and a burger. ArtsRiot now has booth-style seating and table service, too.
Several months into the changes, Lambertson says the new freedom brings some challenges, such as keeping servers abreast of the menu and providing a consistent guest experience. "We are working hard on informing and disarming and comforting our guests," he says. "Like, 'Yeah the menu is different than it was last night. But it's all coming from the same place.'"
Now comes news of a more mobile variety: As ArtsRiot's Friday night Truck Stop enters its fourth year, the art-driven business will put its own wheels on the pavement. Starting May 1, Lambertson will serve lunches Tuesday through Friday from a 1985 panel truck in front of ArtsRiot. The opening menu will offer "funky interpretations of Asian street foods," the chef tells Seven Days, such as ramen and rice bowls, and the bill of fare will evolve throughout the summer.
The eatery will also appear at Truck Stops in Burlington (Friday nights starting May 20) and Winooski: After a successful run last summer, the food-truck gathering will return to the Onion City for several Saturdays starting in July (dates TBD).
To support these endeavors, ArtsRiot has brought on Jean-Luc Matecat — formerly of the Inn at Weathersfield and Burlington's late, great Pistou, among others — as a kitchen consigliere. Lambertson and Matecat connected when the latter teamed with Alice & the Magician to host a sold-out scent dinner back in January. The chef will be cooking, collaborating and helping to fill in the gaps while Lambertson gets the food truck on the road.
Lambertson seems excited to have another forward-thinking chef on board. "I talk to so many cooks," he says, "but we don't actually work together. To see if you jive with someone's work and their approach to management and cleanliness and everything else — that's where professional friendships can truly be birthed."