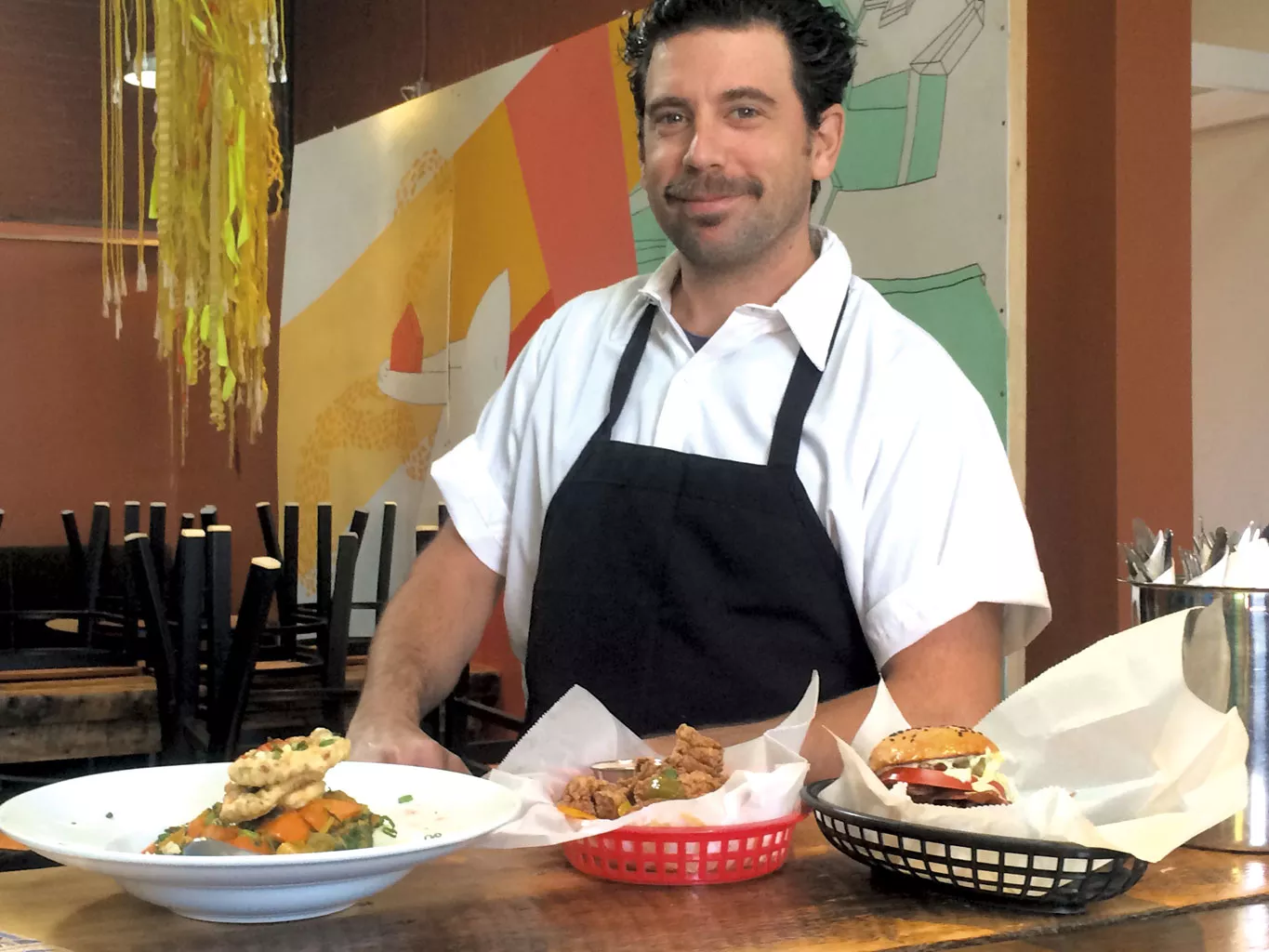 Alice Levitt
George Lambertson
"You can guess at what a community needs, but there's never been anything like this before. It's hard to put your finger on something that didn't exist before," says PJ McHenry, co-owner of Burlington's ArtsRiot with Felix Wai.
He's explaining why, after a year in business, the Pine Street event facility is entering version 3.0 of its restaurant model. Early last month, the five chefs who were part of ArtsRiot's Kitchen Collective cooked their final meals in the space. The following week, George Lambertson, who served pop-up pub food on Friday nights as 400 Pine, took over the kitchen full-time for a series of soft-opening dinners.
McHenry says that while the Kitchen Collective was a "charismatic idea," he and Wai couldn't execute it reliably while the concerts, art shows and other events in the warehouse space also demanded their attention. Now their goal is efficiency: No matter who's playing or showing in the gallery, the kitchen will serve the same menu Tuesday through Saturday from 4:30 to 10 p.m. Occasional pop-up meals, such as the monthly Authentic Ethiopian Night, may interrupt the flow, but most will be scheduled for Sunday or Monday.
Service is now standardized, too: Diners order at the right side of the bar and fetch their own water, though employees bus tables.
McHenry says that Lambertson, a lifelong South Ender, was the first person he asked to cook at ArtsRiot two years ago, before the space opened. A veteran of the Burlington area's fine-dining scene, the chef is putting aside his upscale aesthetic for ArtsRiot — at least for now. "I look at this place as a bar first," Lambertson explains. "I want this to be a neighborhood spot. Being from the South End, there aren't a lot of places to have a good dinner."
Alice Levitt
Pork belly sandwich on homemade bun
Lambertson has designed his concise opening menu to pair well with the beer served at the bar, which includes offerings from the breweries based on or near Pine Street. The loose concept behind the menu, Lambertson says, is ethically, effectively prepared dishes based on fast-food flavors. He's been working on his signature burger for a year. Modeled on the Big Mac, the house-ground patty comes on the chef's homemade bun, a recipe descended from a Parker House roll.
Childhood trips to Montréal inspired Lambertson's smoked-meat sandwich, which includes yellow deli mustard and meltingly tender smoked meat crafted in-house. The pickles served with the sandwich are among the 10 or so different choices on what Lambertson calls his "pickle program."
The chef hopes diners will get a taste for his signature dishes and return for them, but once he gets his footing with regular service, he plans to expand the offerings. An off-menu steak special has been a hit and may find itself on the regular menu. Lambertson also hopes to show off his technique by preparing more composed dishes, such as house ravioli, and ethnic offerings such as banh mi.
For many Burlingtonians, the question is whether ArtsRiot's second kitchen overhaul will stick. McHenry says he's still open to change, but not a full-on revamp. "The changes [in the future] are going to be more intentional and be less drastic," he promises.
The original print version of this article was headlined "South End Shift"