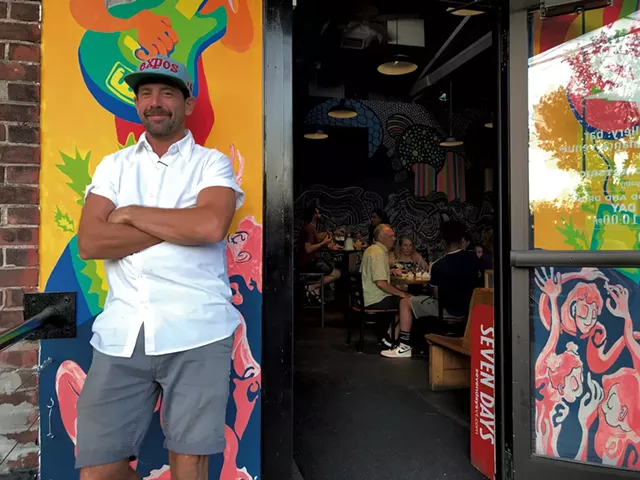 George Lambertson at ArtsRiot
George Lambertson, chef and co-owner of ArtsRiot at 400 Pine Street in Burlington, will leave his position as chef in the first week of October, he told Seven Days. Lambertson, 39, will remain an owner of the business.
Lambertson has been chef at ArtsRiot for five years, having taken charge of the kitchen in September 2014; before that, the restaurant operated with a rotation of chefs. Under Lambertson, ArtsRiot was a key player in Pine Street's transformation into a dining and nightlife destination. The business includes a music club and hosts the seasonal Friday night ArtsRiot Truck Stop. (The last one of 2019 takes place on Friday, August 30.)
"It was a hard decision," Lambertson said. "And, after weighing the situation, I felt like it was time to step out."
Lambertson was talking by telephone late last week from a vacation in Austin, Texas, where he was eating local food and making picks for his team in a fantasy football league. (For the first pick in the draft, Lambertson chose Panthers running back Christian McCaffrey.)
A 1998 graduate of Burlington High School, Lambertson has worked in restaurants for 23 years, starting as a dishwasher at Vermont Pub & Brewery. At ArtsRiot, he created an eclectic menu that plays with pub fare, rice bowls, Asian curries and bao, and pickle plates. His 400 Burger, named for the restaurant's address, is Lambertson's take on the Big Mac, complete with American cheese and "special sauce."
After he leaves ArtsRiot, Lambertson will embark on a road trip in his motor home. Beyond that, his plans are open-ended — including a possible return to the restaurant, he said.
"I'm going to take some time to figure out what I want to do," Lambertson said. "And I'm going to go taste and see America."
A kitchen manager will be hired to fill in for Lambertson during his absence, he said.