Before the South End Art Hop started up 16 years ago, you would have been hard pressed to find anyone who viewed the city's industrial quarter as "desirable." Along the Pine Street corridor and its east-west offshoot, Flynn Avenue, rusted hulks of old factories sat waiting for someone to breathe new life into them. The South End wasn't a place most people frequented unless they needed to pick up a print job or get their car repaired.
It was precisely the neighborhood's grittiness and industrial past that made it attractive to the Art Hop's parent organization, the South End Arts and Business Association, says board member and Art Hop chair Mark Waskow. The neighborhood already hid a number of "guerrilla spaces" — nontraditional art venues in vacant buildings. In 1993, Waskow estimates, there were at least 10 such spaces where participants in the first Art Hop could display their work.
In a way, Waskow says, the South End is like Brooklyn, a region with an industrial history that has attracted artists and culture watchers. And, like Brooklyn, the South End has become less gritty and more gentrified. Thanks in part to the attention Art Hop has brought to it, the area has become increasingly attractive to contemporary, white-collar companies. The artists are still there, working in studios throughout the neighborhood, but many of the buildings that housed "guerrilla" galleries have been either sold or adapted for some sort of reuse. "I guess we did too good of a job marketing the South End," Waskow quips. "I'm guessing as soon as this Art Hop is over, many of these other buildings will be leased."
For all the rehabilitation of the South End, it still retains vestiges of its industrial history. Many of the buildings that participate in Art Hop played a role in the city's early commercial development. Steve Conant, owner of the complex at 266 Pine Street — recently renamed the Soda Plant after the buildings' first tenant — says he believes in recognizing the past while keeping your eyes trained on the future. The Art Hop's juried show will be held in the Soda Plant's common space, where employees of the old M. & F. C. Dorn bottling company used to take breaks.
While written history of Burlington's South End is hard to find, surviving documents of the neighborhood and its residents are enough to make today's Art Hoppers see it with fresh eyes. Here's a look at what it was and what it has become.
Before: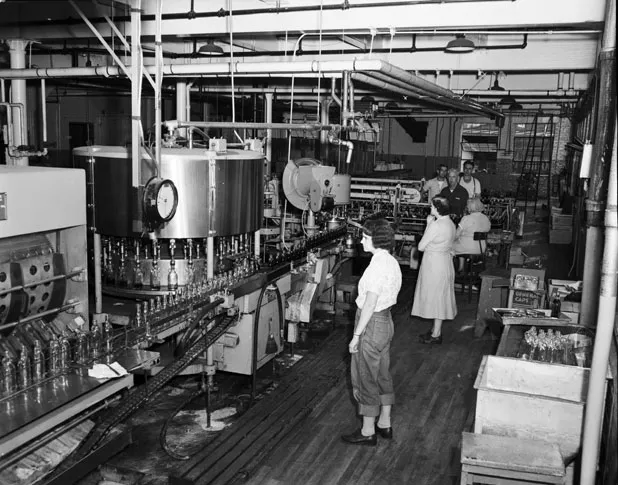 After: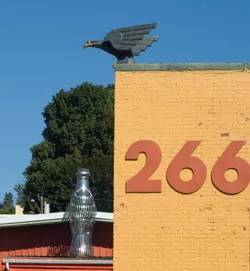 Soda Plant, 266 Pine St. In 1925, M. & F. C. Dorn Company built a bottling facility for its Venetian Ginger Ale on Pine Street. The company's founder, Michael C. Dorn, a Swiss native, had arrived in Burlington in 1898 and immediately opened a restaurant. Seventeen years later, Dorn sold his restaurant in town and opened another at Fort Ethan Allen. Shortly after, in 1917, he started the bottling company to sell his famous ginger ale. Dorn's product became popular all over New England; in 1938, he built an addition to his original factory.
Twenty years ago, the seven buildings that make up the Soda Plant were converted from an old bottling factory to a small-business incubator. At that time, lighting restorer and artist Steve Conant was a tenant in the 47,000-square-foot complex. In 2000, Conant bought the bottling plant from Phil George to "secure tenancy," but also to provide a space where creativity could be fostered, he says. Today, the bright orange, blue and yellow building houses Conant Metal & Light, ReCycle North, Salsalina, Brandthropology, Zoë Ink and a dozen other tenants, including the Soda Plant Artist Collective Environment, or S.P.A.C.E., which provides studio space to local artists.
Before: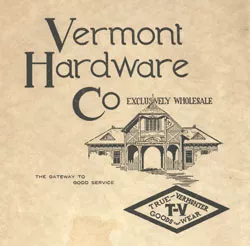 After:
Vermont Hardware Co. Complex, 180 Flynn Ave. At the turn of the last century, the Champlain Valley Association was known for producing extravagant fairs at its site in Howard Park off what was then called Park Avenue, but is now known as Flynn Avenue. For 15 years, the organization played host to local and state fairs, but in 1897 the association went under, and the property was sold. Four years later, a new factory rose on the site. This temperature- and light-controlled plant housed the Lumière North American Company, the US division of a French photo-processing business run by Antoine Lumière.
Lumière's son Louis, who helmed the Burlington office, is credited in France for inventing the motion picture. At Lumière North American Co., this early film pioneer worked on the development of color film, which was first produced in Burlington in 1907.
By 1911, the company had closed up shop and sold all its buildings at auction. Those structures became the Vermont Hardware Company, which remained a Burlington institution for years. Today, the complex houses everything from an appliance retailer to a sign-making workshop. SEABA's offices are tucked in a corner of one of the old photo-processing buildings, as are many artists' studios, including those of Rachel Trooper and Lisa Lillibridge of Fire Escape Studios and Bruce McDonald of BRM Design.
FlynnDog Complex, 208 Flynn Ave. Long before Lake Champlain Chocolates tempted us with truffles on Pine Street, the Vermont Milk Chocolate Company occupied what is now the Flynndog complex in the city's South End. The company started in 1917 — it was the only building to be constructed in Burlington during the war — and made chocolate for soldiers overseas. Shortly after opening, it received a $1 million order for the starving Belgian population. In 1919, the company's peak year, Vermont Milk Chocolate did $6 million in business. Three years later, it declared bankruptcy.
The complex, made up of four buildings, went on to house a maple-sugar-candy manufacturer, a broom-handle company and a wholesale electric supply store. When couple Bren Alvarez and David Farrington bought the site in 1999, it had last served as a warehouse for paper rolls and was a "dog of a building." Hence the name Flynndog. Today, it is home to large creative enterprises such as Propeller Media Works and Select Design, as well as public-access television stations VCAM and RETN, a few photo studios and the Burlington Taiko Drummers, among others. Alvarez, who is an architect, has transformed the building's lobby facing Flynn Avenue into an informal art gallery and regularly hosts artists' exhibitions in the space.
Before:
After: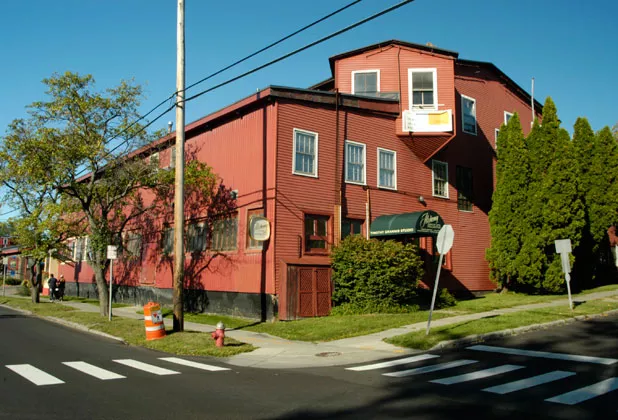 Howard Space, 400-424 Pine St. and 1-18 Howard St. At the corner of Pine and Howard streets sits one of the more unusual industrial complexes in Burlington. In 1891, E.B. Whiting and his son, A.C., moved their brush company, which processed natural fibers and sold them to brush and broom manufacturers, from a nearby site to this bigger location. Over the next 25 years, the company added other buildings for drying, packing and storing fibers. In 1920, A.C. Whiting sold the company, though the factory remained open and continued making natural fiber brushes until 1965, when it abandoned wild fiber processing in favor of synthetics.
Whiting Co. sold its buildings on the north side of Howard Street and built a new structure opposite its old plant. Brushes were made there until 1991. Today, the building at the southeast corner of Pine and Howard streets houses Dealer.com and Lake Champlain Chocolates — both local companies have carried out remarkable renovations on it. The Howard Space facility across the street teems with creatives of all stripes, from jewelry designer Timothy Grannis to furniture maker Timothy Waite to glass artist Terry Zigmund of Burlington Community Glass Studio. The old brush company complex is easily one of the most densely populated studio spaces in the city.
Before:
After:
Maltex Building, 431 Pine St. This Romanesque factory was built in 1900 by William J. Van Patten, president of the Malted Cereal Company. As the name suggests, Van Patten was in the cereal business, and in its heyday, his company produced 300 cases of cereal a day. Despite the prodigious output, employees of the company, which changed its name to Maltex in 1907, were treated uncharacteristically well for that era. They had access to affordable hot lunches on site and other benefits rarely granted to turn-of-the-century employees.
While the business was an encouraging presence on Pine Street, a black cloud hung over the factory during the Great Depression. After making an unwise investment, Van Patten's son, Charles, shot himself in the basement of the Maltex Building.
In 1950, Maltex developed a popular maple-flavored oat cereal called Maypo, and shortly thereafter, Connecticut-based Heublein, Inc. acquired the company. In 1984, a federal grant helped transform the factory into a small business haven. It now houses 18 businesses, including Cedarwood Chiropractic, Hanson Investment Management, Vermont Solar Engineering and Mobius, the Mentoring Movement. Burlington City Arts hangs local art in the public spaces on four floors.