You turn into the alleyway and find the entrance to the club. You show security your ID and get an orange wristband or, if you're under 18, a fat black X in Sharpie. You clomp down the stairs to the lower level, where you're handed a "menu" and offered bite-size candy by a friendly, fresh-faced young man in glasses. Maybe you put a few bucks in the donation bin, which is inexplicably decorated with a picture of French fries and gummy worms.
A DJ spins in a far corner, and artwork covers the walls — lots of artwork, by 19 artists. Your menu tells you the titles, the artists' names and the prices, which range from $10 to just shy of $500.
This describes the fourth Steak Frites gathering, held at Signal Kitchen in Burlington last Saturday. A bimonthly event series that has emerged from a loose collective of young visual artists who rally around a DIY ethos, it typically features work inspired by the irreverent aesthetics of skate, snowboard and street culture. Signal Kitchen bills these pop-up shows as "anything but a typical gallery opening." Already, this series rooted in underground social gatherings seems to be coming of age, attracting both new and larger audiences, as well as new artists.
Born of informal combinations of art show and private party, Steak Frites is in the process of going "legit" — complete with a club venue, call sheets, a corporate sponsor and even an online shop. Among its primary movers and shakers are Nick Dagostino, Will Gebhard, John "Jack" Moore and Dave Mullin, who are connected through Burlington businesses Sticky Brand and Wild Life Shop. Alex Lalli and Matt Palmieri of Signal Kitchen round out the core group.
Matthew Thorsen
Top to bottom: Nick Dagostino, Dave Mullin, Will Gebhard, Jack Moore
"They started out pretty much as private events," says Dagostino of the shows. "Artists could just sell stuff off the walls." Artists are still selling work off the walls, but now patrons must pick up purchased works at Wild Life a few days after the event.
Gebhard says the central idea behind Steak Frites is to "coax people into not only doing more art but going more public with it." It seems to be working.
While most of the exhibiting artists still have some connection to the organizers, Steak Frites is broadening its reach as it gains word-of-mouth momentum. One new participant from outside the Burlington scene is Michelle Jaruni Rice of Windsor, who submitted her work to last week's show after seeing the call to artists on Signal Kitchen's website. At the event, the 29-year-old painter showed four large portraits of male subjects, in acrylic, pastel and charcoal. She says her work incorporates her "opinion about what it might be like to be a man within the spectrum of masculinity."
Rice's work stands out stylistically for its muted palette and hints of formalism, yet it was compatible with the show's overarching street-style theme — perhaps because of a shared attraction to what Rice calls the "swagger" of certain black masculine identities. Scottie Raymond of Burlington's Anthill Collective said about Rice's "Three Different Men": "That's a $10,000 painting, is what that is."
A few Steak Frites artists have hailed from even farther away than Rice does, demonstrating that 802 residency is not a requirement for participation. The recent inclusion of big-city artists has added a touch of cosmopolitanism to a body of local work already influenced by urbanism.
For example, tattoo artist Ryan Mettz, whom Moore calls his "personal homie," is based in both Brooklyn and Massachusetts. Mettz showed his tattoo flash art drawings at Steak Frites III in January. He could not be reached for comment about Steak Frites IV because he was tattooing in the Philippines. Toronto-based Mike Chmil contributed a collection of small colored-pencil drawings to the show after Moore reached out to him online.
Like the artists, Steak Frites attendees are on the young side, most of them millennials. Everyone interviewed last Saturday said they'd found out about the show "from a friend." Most were students at or recent graduates from the University of Vermont or Champlain College.
Vermont DJs Loupo, aka Luie La Hart, and Crusty Cuts, aka Liam O'Neil, provided ambience. Delicate septum rings seemed to be de rigueur for the women. By 11 p.m., Signal Kitchen had reached its 230-person capacity, with a line snaking out the door.
And people inside were still looking at art.
Beginnings
"We weren't expecting it to be this big at all," says Mullin, 29. The Steak Frites co-organizer is also co-owner of Sticky Brand, a branding and marketing company located in an upstairs office on Main Street in Burlington. Dagostino, 36, founded the company in 2006 after working for about a decade at Burton Snowboards. Mullin joined Sticky Brand in 2011 and became a "50/50 partner," he says, in 2013 — the same year he and Dagostino opened the Wild Life Shop, a retail operation selling clothing and accessories in a space adjacent to their office.
Steak Frites curator Moore, 24, linked up with Sticky Brand as an intern in 2012. The West Hartford, Conn., native came to Burlington to study political science at the University of Vermont. After graduating, he worked for six months with a skateboard distribution company in Shanghai, where he painted a mural at Vice Media's headquarters. Now back in Burlington, Moore works as an after-school teacher at a local elementary school.
Gebhard, also 24, interned with Sticky Brand in 2014 while completing his degree in graphic design at Champlain College. After graduating, he joined the company full time. Of his transition, he says, "Instead of classes and homework, it was work and painting."
According to Dagostino, Steak Frites has been "four to five years in the making." Before pairing up with Signal Kitchen, the group of friends hosted several informal art exhibits. Moore and artist Dell Fontaine recall one they titled "A Non-Basic-Ass Art Show." The only publicity was via social media and word of mouth.
"I used to do [art shows] in my apartment when we first opened the shop," recalls Mullin, who says he would hang work in the living room of his upper-story Church Street unit. Artists included Russian-born, Philadelphia-based Street Grapes, aka Stanislav Chertenkov; and Coolvader, aka Winooski artist Matt Morris.*
In February 2015, after a packed-to-the-gills, borderline-chaotic show in the Wild Life space, billed as "Three's Company," the Steak Frites crew realized their events were going to have to grow up, or at least out. That particular event, which had been promoted only via Snapchat, got crowded fast. Many guests were left out in the cold. "We didn't even make posters because we were afraid of too many people coming up here," remembers Moore.
"These guys have a shit-ton of friends," says Mullin.
In March, the group approached Lalli at Signal Kitchen to propose a collaboration, and the venue hosted Steak Frites I on July 24, 2015. "The first one was like a trial," Lalli says, "just to see what would happen in the room. And then it went off, total capacity. Everybody seemed to really love it."
For Lalli, one of the most exciting things about Steak Frites so far is witnessing "200 people [who] don't go out on a Friday night to talk about art, talking about art." And then, he adds, "the party ensues." As Mullin puts it, "We've gotten a lot more dial."
The name "Steak Frites" — pronounced freets, like the French bistro staple — is Moore's brainchild. How did he choose it? Moore pauses and then says with faux fierceness, "Nobody can take it from me — it's mine." He adds that he liked the way the name sounds, and "it's only two syllables."
Mullin semi-jokes that the name "was available on Instagram" — though the group's handle, @steakfrites_, indicates otherwise. (A private account appears to have grabbed @steakfrites first.)
As Steak Frites' events have grown, Moore's curatorial process has had to evolve, too. Artists might be denied participation if their commitment to their work is judged too tenuous or casual, or if they expect Steak Frites to do a disproportionate amount of legwork. "A lot of people are putting a lot of work into this," says Moore. "I spend at least 40 hours a week doing art."
And technical skill is of far less concern than what Moore dubs "hustle." He remembers being turned off by academic studio art that he saw as focusing too much on "how well you can shade a fruit" or "how accurately you can draw a hallway." Disparaging his own drawing abilities, Moore says, "I can't resonate with being naturally gifted." What matters more to him than innate ability, for drawing or anything else, is commitment. "If your heart isn't in it, I'm not into it," Moore says.
Gebhard sums it up: "If someone's going for it, then we fuck with it. To put it simply."
Influences
Al Larsen, the program coordinator of Champlain College's creative media BFA program, likens the Steak Frites approach to that of the so-called Beautiful Losers of the 1990s. That group of young artists first became acquainted through Aaron Rose's storefront-cum-gallery, Alleged, on New York City's Lower East Side. It included the likes of Shepard Fairey, Margaret Kilgallen, Harmony Korine, Mike Mills and Ed Templeton. The group's primary bond was more social and philosophical than stylistic.
Larsen is right on. "I've been exposed to [Templeton] longer than any other artist, just through [his] skateboard company Toy Machine," says Moore. He also names Beautiful Loser Geoff McFetridge and "obviously, [Jean-Michel] Basquiat," as well as Henri Matisse and Mark Gonzales. Moore's color-blocked smiley- and frowny-faced blobs bear a striking resemblance to many characters created by "the Gonz," a skateboarder and artist from California. Local artist Clark Derbes is another source of inspiration, Moore says.
"If I never started skating, I probably would've never gotten into art," said Tristan Nguyen, 21, at the Sticky Brand office on the Wednesday before the show. His comment mirrored a sentiment shared by many artists featured in Aaron Rose's 2008 documentary Beautiful Losers. Nguyen, who grew up in Brookfield, Vt., and is now a junior in graphic design at Champlain, began his venture into analog photography by documenting skateboarding.
Many other artists who participate in Steak Frites, including Fontaine, Matt Carol, Charlie Hudson and Henry Murphy, are avid skateboarders, snowboarders or both.
Murphy refers to a couple of female Steak Frites artists as "lady shredders" — fellow snowboarders. Only Ashley Rosemeyer, 26, also skateboards. Based in Waterbury, Rosemeyer is a professional photographer who documents both sports, and whose images have been used by Snowboarder magazine, Burton and others.
#art802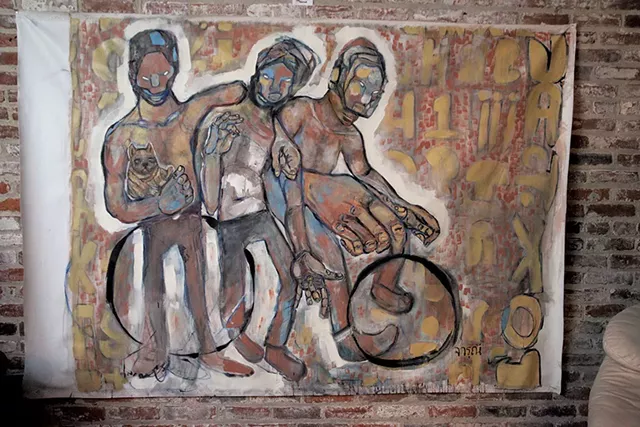 Outside observers may find it incongruous to see an art collective with an urban edge blowing up in Burlington, an island of a city in a rural state. But Steak Frites has precedents here. Champlain College and former BCA Center curator Chris Thompson traces the local design trend back to the early days of design firm Jager Di Paola Kemp, or JDK, which he describes as "much more like an artist collective than a studio."
JDK cofounder Michael Jager doesn't find Steak Frites at odds with Vermont's bucolic image, either. "The idea of Vermont is about freedom of thought," he says, citing local business heavyweights such as Magic Hat Brewing, Seventh Generation, Phish and Ben & Jerry's. "[Ben Cohen and Jerry Greenfield] were fucking punk rebels," says Jager, who suggests that the ice cream entrepreneurs took their cue from political radicals Bread and Puppet Theater.
What the business and the theater collective have in common with each other, and with 21st-century Steak Frites, is twofold: origins in countercultural appeal and a blurring of the lines between functional design and fine art. Both made savvy use of iconic designs, be they Bread and Puppet's kerchiefed peasants or the cows showcased on Ben & Jerry's pints. The latter were the work of Middlebury artist Woody Jackson, who received his fine art training at Yale University.
While Ben & Jerry's skyrocketed to international success — with Jackson's cow-centric work plastered on cards, mugs and T-shirts as well as pints of ice cream — Bread and Puppet has continued to do its funny/serious thing in the Northeast Kingdom. The group quietly perpetuates a "cheap art" movement, defiantly not monetizing its prints and broadsides.
Which side does Steak Frites stand on? Perhaps it's not that simple. From his position enmeshed in design and branding, Jager challenges the distinctions often used to separate fine art, design and commerce. "It's more a debate about how you perpetuate cultural creativity," he says, asserting that this is done by "colliding things together." Of Steak Frites' laissez-faire approach to the traditional definitions of art, design and graffiti, Jager says, "It's brilliant to see it happening here."
And if there's one thing millennials are good at, it's blurring boundaries among life, art and money. Two words: brand ambassador.
The widespread use of social media among millennials and digital natives often serves to exaggerate generational divides and lends itself to heightened suspicions about "what the kids are doing these days." But what if "what the kids are doing these days" is making, showing and selling art? Dagostino attributes Steak Frites' packed shows to a "void that we need to fill." As Mullin puts it, "There isn't really any other platform for the younger artists in Burlington."
In this raison d'être, too, Steak Frites has a local precedent: Mullin's comment recalls the thinking that went into the creation of Burlington's teen center, 242 Main, some 30 years ago. While 242 is largely a venue for young bands and their fans, Steak Frites may be an answer for youth more inclined toward visual art.
Except that Signal Kitchen is a bar. To safely and legally accommodate people under 21 — as well as less nightlife-oriented patrons — Steak Frites and Signal Kitchen have instated a "21-plus after 9 p.m." policy. Mullin deems it a successful innovation and says he was pleased to witness two high schoolers telling the bouncer last Saturday that they didn't want to drink, they just wanted to see the artwork.
"Without this," says Murphy, 20, "I wouldn't have any opportunity to be shown anywhere — except for the internet." At Steak Frites IV, he exhibited an array of works, including a mixed-media diorama sharing its name with the Talking Heads song "This Must Be the Place" and a small scratchboard drawing of a lumpy, tripped-out figure holding a mushroom, titled "Bart PsiloSimpson." Murphy also proudly promoted his friend Manning Coe's $5 comic zine, declaring that Coe "is a little Robert Crumb."
"These shows are a really good way for people to commit to creating and sharing," says artist Mary Lacy. "It allows for experimentation."
Lacy, 25, is already well- known for her large-scale geometric murals, which have been commissioned for public and semi-public spaces such as the interior of the Moran Plant and Dealer.com's exterior silos. At Steak Frites IV, however, Lacy showed a different side, displaying a large-scale realist portrait of her grandmother titled "Claire White." Prior to the show, she told Seven Days, "This time I'm sharing work that has absolutely nothing to do with the animal or geometric Mary Lacy that people think of. I'm really excited for that."
While the gatherings may embody the spirit of "art for art's sake," work sells there, too. At Steak Frites III in January, Lacy sold one of three Brendan McInerney photographs of her Moran Plant paintings. Steak Frites IV artist Olivia Neumann, picked up Michelle Jaruni Rice's paired portraits "King Twin Left Son" and "Kong Twin Right Son."
Early at last Saturday's show, Kate Brewer, mother of exhibiting artists Michael and Will Brewer, bought UVM junior Sarah Ingraham's ornate triptych. Brewer commented that she thinks it's great for "local artists who are virtually unknown to have a place to show the fruits of their creative effort." She added, "Maybe somebody will buy my kids' work."
What sets these sales apart from the model of the professional art world is the typical price. Like Bread and Puppet, Steak Frites has made activating and enlivening creative thought, rather than money, its central concern. Stickers and zines have the lowest price point, at $3 each; there are $10 drawings, and plenty of pieces priced between $30 and $75. The highest listed price at Saturday's event was $475 for a painting by Rice. Olivia Burritt, aka DRTY GRTY, 22, noted that she tries to offer "super-realistic prices because my demographic is kids my age."
According to Gebhard, 15 pieces of artwork sold at Steak Frites IV.
Gender gap
A browse through Steak Frites' Instagram archive makes it quickly apparent that the majority of artists at earlier exhibits have been male. (Admittedly, the event posters' addendum "and friends" makes it tricky to get the full scope.) Asked about the gender disparity, Moore says, "I didn't see a lot of girls around here making art. I'm not saying it doesn't happen; I just didn't see it in my daily life."
Of course, the skate and snowboard cultures aren't particularly known for their inclusion of women, either.
Moore identifies Burritt as a notable exception. "She hustles. I take notice of people who hustle — it has nothing to do with gender," he insists. "She makes it known that she makes art."
Burritt agrees, adding that she's "a little more sensitive to showing my work" — meaning that she puts it out there. Burritt keeps a studio in the South End's S.P.A.C.E. Gallery, where she produces pastiche compositions of abstract color blocks, paint drips and roses; and graphic, cartoonlike renderings of figures with big, iris-less eyes. Generally speaking, Burritt uses a lot of pink. At the Steak Frites show, she donned a pink Playboy bunny hat. She claims to espouse a "super-feminist vibe" and says she believes her work "definitely helps stir the pot a little bit in here."
Ingraham, 21, participated as an artist in Steak Frites for the first time last week. While attending the previous event, she said, "I just kind of realized, why not?" Pointing to her textile-esque painting "Opulence Triptych," Ingraham said, "I'm all about female empowerment." Indicating particular shapes, she added, "I love vaginas." Mostly, though, Ingraham said she was "just really glad to be part of a creative event, because a lot of them are really exclusive."
Lacy suggests that perhaps "men in general are more comfortable with self-promotion" and notes that the public nature of her work has helped her leap that hurdle. The women participating in Steak Frites now seem to agree that earlier shows were a reflection of the founders' male-dominated group of friends. Gaining more women — eight of last Saturday's 19 artists — is "telling of the progression of the art show," says Mullin.
Beta and better
So, what does success look like for Steak Frites? It turns out that money is an object, in the sense of financial sustainability. Moore hopes that Sticky Brand and Signal Kitchen will both be rewarded "for believing in us and footing the bill."
For Steak Frites IV, Signal Kitchen's Lalli secured beer brand Sierra Nevada as an event sponsor, which covered some expenses. Donation bins were introduced for the first time. But expanding the events will not mean charging admission, according to Mullin. "I hate paying covers," he says. "I don't want to make anyone ever pay a cover — we're hoping that people donate."
Steak Frites recently launched an online shop through Big Cartel, which makes artists' unsold work available after an event. At the same time, brick-and-mortar Wild Life is undergoing a transition from emphasizing national brands to showing off work by local designers, including Blacksand Supply, Sidesurfers and Cheng's Laundry.
Nobody from Steak Frites seems particularly concerned about overcommercializing. Perhaps that's because an aptitude for design and branding is already ingrained in the DNA of Sticky Brand — and in the millennial identity, which embraces social-media promotion. As Moore astutely notes, "Instagram [is] such a big part of art right now. It's a constantly updating portfolio."
Echoing Jager's mantra to "love beta" and "always be in beta" — referring to the preliminary testing stage of software — Mullin says, "It's kind of our motto here to roll with it. Have your idea, but be willing to speed it up or slow it down."
About Steak Frites, Mullin adds, "The show's only getting better."
*Correction, March 25, 2016: An earlier version of this story misstated Stanislav Chertenkov's relationship with Philadelphia. He is, in fact, based there.