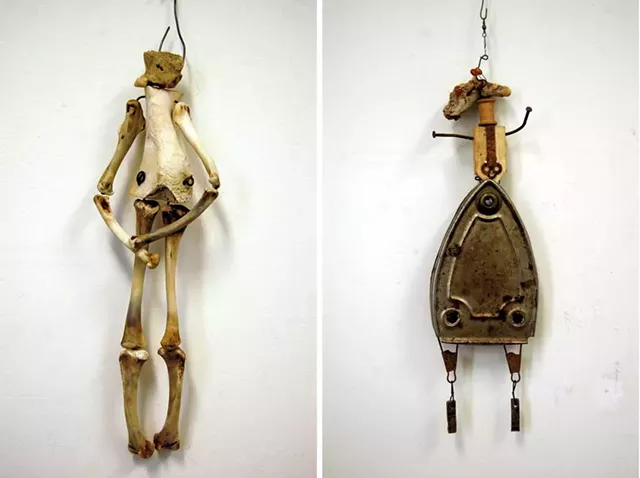 Courtesy Of Vermont Arts Council
"Puppets" by Janet Van Fleet
In Vermont's state capital, art must be pursued in bits: the upstairs hallway that constitutes the T.W. Wood Gallery; the narrow cooperative gallery winkingly called the Front; the Governor's Gallery, set among state offices; the busy lobby of the supreme court.
And then there is the Vermont Arts Council's Spotlight Gallery, another afterthought of a space, consisting of a back room and hallway in a converted Montpelier house. Yet there is nothing minor about its current show. "Artists to Watch 2018: Part I" features single works by 11 artists from around the state. Rarely do local exhibits bring together such a wide range of contemporary Vermont talent.
Ric Kasini Kadour organized the show. He's a promoter of Vermont art and artists even though he's based in Montréal. With his partner, Christopher Byrne, Kadour writes and publishes Vermont Art Guide, a quarterly review magazine with a detailed index of every art venue in the state, and produces the free monthly pamphlet Art Map Burlington that lists the city's exhibitions.
Lately, Kadour has been looking for alternative ways to explore the state's artistic riches. In an issue of VAG last year, he asked artists to name other artists to whom they felt connected in some way. Jessica Scriver selected Gail Salzman, who named Carol MacDonald, and so on, leading to a map of connections that Kadour traced in spreads on each artist. The story culminated in an exhibit last summer at the Spotlight Gallery, called — like the print version — "Connection: The Art of Coming Together."
For "Artists to Watch," Kadour took a different approach. He and the invited curators of five art venues around the state each named up to five artists whose work they thought merited watching. (The show is not about artists on the verge of making it big, as the title might suggest.) Concomitantly, Kadour put out a call to artists to apply for consideration as an "artist to watch." From the combined pool, the curatorial group selected 25 artists to highlight in two print issues of VAG and two exhibits at the Spotlight. ("Part II" of the show will open on May 4.)
The current selection does not indicate which curators proposed which artists. The curators were Danny Lichtenfeld, director of the Brattleboro Museum & Art Center; Sophie Pickens and Justine Jackson of Northern Daughters gallery in Vergennes; Stephanie Walker of Walker Contemporary in Waitsfield; Kelly Holt, curator and creative director at Edgewater Gallery in Stowe; the East Montpelier-based marketing consultant and artist Mary Admasian; and Kadour himself.
The show demonstrates the benefits of relinquishing a single curatorial vision. It includes well-known artists, such as found-wood sculptor Janet Van Fleet (Cabot) and landscape painter Bonnie Baird (Chittenden). They appear alongside relatively unheralded talents such as Sherri Rigby (Ferrisburgh), who cuts and weaves concentric strips of painted canvas; Montpelier artist Jason Galligan Baldwin, who makes memory-exploring collages; and the self-taught painter Pamela Smith (Bristol).
Van Fleet's wall-hung "Puppets" demonstrates the experienced artist's ability to turn every natural curve of driftwood, bone, shell or scrap metal to account. She derived the relaxed stance of the central skirted figure — a long-armed puppeteer, or perhaps mother figure — using literal stick legs. Each arm supports three dangling puppets, all made from deftly connected found materials.
Beside that engrossing assemblage, Smith's flat, densely patterned "Three Girls With Three Pots" seems resonant, its skirted figures equally free of spatial context. Smith — the mother of Northern Daughters cofounder Pickens — has painted folk-art figures, pots and oversize flowers against a dark-blue background.
Courtesy Of Vermont Arts Council
"Flood" by Paul Bowen
One particular pleasure is a watercolor by Welsh-born Paul Bowen. Now in his early nineties, the Williamsville artist is better known for his abstract, scavenged-wood sculptures. "Flood," on view here, depicts a jumble of manmade objects — much like the abandoned building materials Bowen uses in sculpture — passing under a bridge. These are rendered in monotone outlines, while sky and water are evoked in long, partly dry-brush strokes of blue, creating a spare, Japanese-like composition.
Two artists declare in statements that they aim to keep "subject" and "imagery" out of their work. Julia Jensen's "Entanglement" — positioned in the hallway three feet from a desk that hinders proper viewing — straddles landscape painting and complete abstraction with brilliant smears of orange on a vaguely rendered hillside. Stephanie Kossmann has greater reason to avoid imagery: The black-and-white monolith on a yellow background in "Unburdened View [of Myself]" was born of her "experiences of anguish and healing."
Baird's expertly rendered "Line Dance," with its waterlogged field and J.M.W. Turner-esque cloudscape in muted tones, comes closest to fulfilling expectations that Vermont painting capture its beautiful scenery.
Other landscapes interrupt that presumption. Glover artist Elizabeth Nelson plants a blue parallelogram among realistically rendered tree trunks at a pond's edge in her wood-panel painting. The trunks' reflections shimmer in the water; the slanted stripe's does not. Could the painting's title, "Oppression," be a comment on that expectation?
Hope Burgoyne (Waterbury), meanwhile, chooses to depict landscapes that could be anywhere. "Unpredictable" is a meditation on the horizon and a last glimmer of sunset. Sculptor Chris Curtis of Stowe positions humankind within the milliennia-old natural world with "Message From the Future," a roughly hewn quartzite slab punctured by a perfect circle. (The exhibit includes a photo of the sculpture at its permanent site in California.)
The Vermont Arts Council funded the printing of 100 copies of the VAG issues in which "Artists to Watch 2018" appears. They will be mailed to curators and gallerists across the U.S. and Canada, according to VAC communications manager Kira Bacon. The idea is to share Vermont's artistic bounty — varied and unpredictable as this exhibit reveals it to be — with the outside world.
Now, if only someone would help the VAC acquire a proper exhibition space.