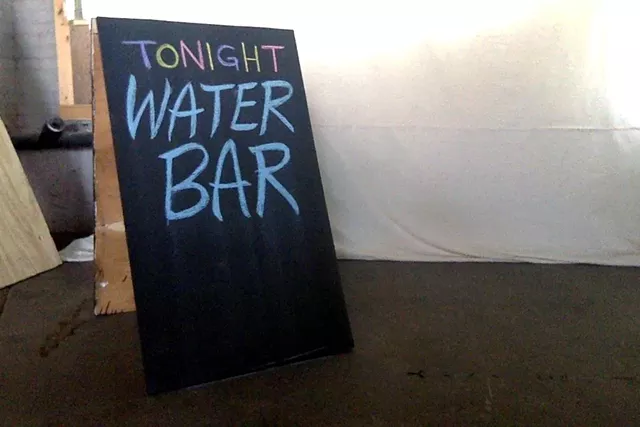 Water: You drink it, but have you tasted it? You touch it, but have you felt it? You look at it, but have you really seen it? These are questions posed by Vermont artists Sean Clute and Al Larsen in anticipation of their "Water Bar" event this Friday, August 5, at Burlington's Pine Street Studios.
The Water Bar will begin just as the city's monthly First Friday Art walk wraps up. Attendees can sample a selection of six Vermont waters, free of charge — from Burlington's municipal tap water to the water used by Stowe's von Trapp Brewing. Consider it an interactive public art event at the intersection of conservationist inquiry, artisan culture and social practice.
The unconventional tasting serves as a prelude to a collaborative installation by Clute and Larsen that will debut in September as part of Burlington City Arts and Shelburne Farm's "Of Land and Local" initiative. Now in its fourth year, the multivenue and multimedia project asks artists to address environmental and ecological themes with site-specific works. This year's theme, "Watershed," is particularly poignant, as August 2016 marks the fifth anniversary of Tropical Storm Irene.
Clute and Larsen were only acquaintances until last February, when former BCA curator DJ Hellerman encouraged them to work together. Both are college instructors: Clute is a composer and an assistant professor in the fine arts department at Johnson State College, focusing on digital media; Larsen is an assistant professor in Champlain College's Division of Communication and Creative Media. Arising from their shared involvement in media and electronic art, their forthcoming installation will transform data about Lake Champlain into digital visualizations. The two are gathering statistics from the office of the National Oceanic and Atmospheric Administration.
"In order for us to drink the water, it's tested and it's treated," Larsen said in a recent phone conversation. "It becomes seen through a lens of data — that's a big theme we're working on for the installation."
For him and Clute, Water Bar is a social, experiential component of their larger inquiry, which Larsen describes as questioning "the limitations of seeing the world as a set of data points." Each artist is interested in how we perceive water scientifically versus more spiritually — i.e., not as a resource to be measured and analyzed but as a mysterious, life-giving entity. As Larsen put it, "I think our feelings about water always kind of exceed what we can know about it factually."
In the early phase of their collaboration, Clute said, news of the public drinking water crisis in Flint, Mich., dominated headlines. He remembers thinking, Gosh, we're so lucky to be living in a state where that's not really an issue. "The funny thing is," he continued, "as we looked at it a little more closely, we realized it's an issue everywhere and not just Flint."
At about the same time, the Bennington area's PFOA (perfluorooctanoic acid) contamination came to light.
Water bars have popped up around the country precisely to challenge the idea that clean drinking water is a relevant issue only "somewhere else," or in "problem areas" such as the economically depressed Flint. Earlier this year, Water Bar & Public Studio opened its doors in Minneapolis, becoming the country's first established water bar. According to its website, the project "began in 2014 as a public art pop-up, a bar that serves local tap waters and is staffed by water researchers, sustainability educators, activists, artists and other community residents."
Water at the Studio is free, too. This is a crucial distinction between those who run water bars as a public art and service and highly criticized water entrepreneurs such as those who opened New York's Molecule in 2012, offering filtered tap water for $2.50 a pop.
Besides water, this Friday's Water Bar in Burlington will feature H2O-related artworks by Vermont artists Casey Engels, Rebecca Schwarz and Otto Muller. Engels will have on view large, hand-drawn "data maps" that reflect her personal experiences with water. Schwarz will show "LandEscape Drop," an illuminated sculpture that uses upcycled plastic to mimic the shapes of plankton.
"We're not serving any bottled water, by design," said Larsen. "[Schwarz's] piece represents the commodified, consumer side of the drinking-water experience."
The event will be set to George Brecht's "Drip Music (1962)," as performed by Muller, a composer and Goddard College faculty member. Brecht was a significant member of the avant-garde Fluxus movement of the 1960s and '70s, and his "Drip Music" presents the sounds of water as musical compositions.
With tastings, sculpture and performance, the evening promises to be a well-rounded representation of local artists' approach to a critical natural resource — though, as Larsen said, "Mostly we're going to be drinking water."