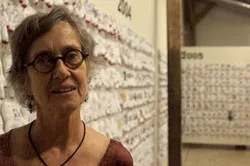 On the very first day of the Iraq War, artist Cecelia Kane sketched a cartoonish but recognizable face in black marker on a white cotton glove. Below the face she wrote, in all caps: SADDAM — DEAD OR ALIVE? And on the glove's five fingers she recorded the date: 3/20/03. It was a simple acknowledgment of a pivotal moment, but it became a ritual that she — and, later, nearly 200 contributing artists — would practice six days a week for the war's next seven years.
The cumulative 2000-plus gloves, each representing a headline culled from the news of the day, are currently hanging in the Chaffee Art Center in Rutland. Kane calls it the "Hand to Hand Project."
The visual impact is stunning, in part because of the venue: The Chaffee is housed in an 1896 Queen Anne Victorian with creaking floors, a grand staircase and the kind of maze-like floor plan that recalls an M.C. Escher print. The gloves are displayed chronologically, with each room holding a different year.
A thorough viewer might spot the glove from May 2, 2003, pinned to the wall of the first room. On it is a depiction of George W. Bush grinning and flashing a peace sign: BUSH DECLARES VICTORY. ALMOST. There are six more rooms to go.
Kane, an Atlanta artist with a Vermont connection — she's an alum of Rutland's Mount St. Joseph Academy and the University of Vermont — says she wanted simply to "witness this war." She bore witness on white archivist gloves, she says, because we use our hands to hold and hit, and we use our fingers to count. The little hands connected her to the human side of war.
When her mother died in 1997, Kane kept finding pairs of kid gloves tucked away in the purses she'd left behind. "Some of them still had the shape of her hand: her knuckles, her wrinkles," Kane says. "They were kind of like my mom. And I realized for some reason in the back of my mind that these gloves could be like little bodies, little stand-ins for humanity."
After a show in Georgia that exhibited the first three years of gloves at the end of 2005, Kane nearly gave up. She just couldn't do it anymore, she says. But the war was still going, and Kane's artist friends insisted the project couldn't end before it did. So they pitched in, each artist signing up for a week at a time.
The project now includes 196 artists from nine countries and 18 states, including six from Vermont: Casey Blanchard, Fran Bull, Mary Crowley, Christine Holzschuh, Delia Robinson and Dayle Ann Stratton. Kane's guidelines were loose: Pick one war-related headline for each day and incorporate it into a glove. If nothing was reported that day, make a glove to reflect that. Kane pulled her headlines exclusively from the Atlanta Journal-Constitution, following the Georgia National Guard's 48th Brigade. But other artists looked to Internet sources, Al Jazeera English, National Public Radio and the New York Times.
Kane made an effort to stay objective, including both good and bad news. One glove, for example, notes that U.S. soldiers helped Iraqis inoculate their sheep. Another acknowledges the Iraqi children flown to America for surgeries they couldn't get at home.
Still, most days, Kane admits, the news was beheadings and bombings.
"I am just deeply paying attention," she says of the project. "It's kind of a meditation, in some ways. I call it a rosary bead of witnessing each day."
Raised Catholic, Kane has always been interested in ritual. Her mother taught her to count and pray, she says, practicing novenas, a series of nine prayers said for nine days, and walking the 14 Stations of the Cross during Lent.
"There's something in Catholicism about holding an intention and a prayer and then doing it repetitively to get an answer," Kane says. She hoped the repetition of her daily glove making — from which she abstained every Sunday — would offer an answer to the question on her mind: What is war?
That answer may be crammed onto the walls of the Chaffee, but Kane's not entirely convinced.
"Somebody asked me, Well, what did you learn?" she says. "Well, I learned I could trust artists to do some good work, and that things are not black and white."
When the U.S. combat operations in Iraq officially ended in September, Kane was relieved — for reasons as personal as they were political. After seven years of counting days on those white glove fingers, she's exhausted. "I'm ready to end it," Kane says.