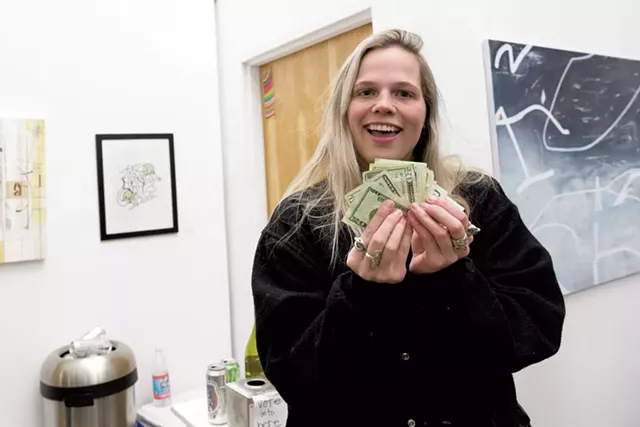 COURTESY OF TOMMY DELITTO
Maggie Kniffin and with her winnings from "The Art Show IV"
Shortly after the birth of Wylie Sofia Garcia's son in 2008, her washing machine broke. At the time, she and her husband, Clark Derbes — both working artists — lived in an apartment in Burlington's South End. For new parents with plenty of dirty diapers to wash, the appliance was essential — but there was no money for a new one.
Instead of schlepping to the laundromat or reaching for the plastic, the couple opted for a less conventional solution that presented itself: Nathan Suter, who was then executive director of Stowe's Helen Day Art Center, offered to trade his extra washing machine for one of Garcia's paintings.
Though such trades may not always be an available or desirable option, the exchange highlights the perennial need for artists to establish creative economies of their own. That's particularly true in a place like Vermont, which has a sparser share of traditional institutional resources for artists, such as grants and teaching positions.
"There's some money here to support Vermont artists," Garcia said, "but we're such a small state that it's really hard to have more than a handful of grant sources."
She noted that "Vermont is very community focused," and many of the state's grants require a strong community-engagement component.
"There are not a lot of open-ended grants for artists to create new work or be supported," Garcia said.
It's not news that making a living as an artist can be really, really hard. For the Money & Retirement Issue, Seven Days looked at three ways local artists use their creative skills to make it work.
Make Your Own (Mini-)Grant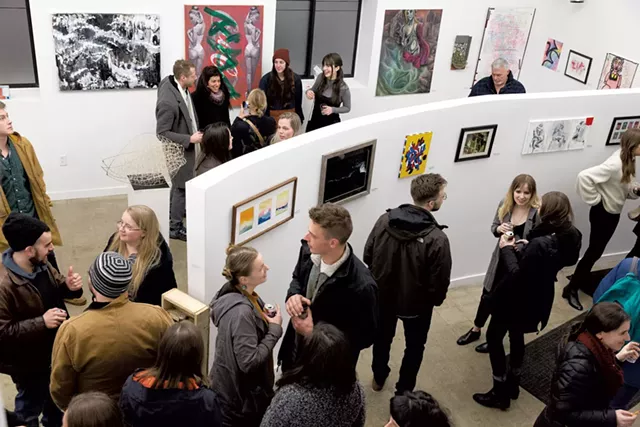 COURTESY OF TOMMY DELITTO
Crowd at "The Art Show IV"
Last November, in the spirit of building community and helping local artists hustle a bit of extra cash, Derbes and Rick Levinson, owner of RLPhoto Studio, revived — and reinvented — a Burlington tradition. Called simply "The Art Show," this incarnation of the pair's "Creative Competition" of recent years comes with a sweet incentive: the People's Choice Mini-Grant.
Every first Friday of the month, for an entry fee of $10, artists and community members are invited to show (or perform) one work in any medium at RLPhoto's South End gallery space. Guests at the opening vote on their favorite work and, at the end of the night, the artist (or artists, if there's a tie) with the most votes walks away with half the pot.
"It's a super-easy way to exhibit your work," Derbes said. "You walk in with your 10 bucks, and that's it."
For him, the most exciting part of "The Art Show" has been seeing the range of works that show up and the community that has formed around the event.
"It really seems like people are more engaged in the dialogue about the art than at other openings," Derbes remarked.
In March, "The Art Show IV" attracted 53 entries, ranging from Paul McMillan's cheeky realist oil painting "The Alchemist" to ceramicist Taylar Main's grotesque "Grab Them by the Pussy" vessel to a minimalist print by Cathlene Irish. Maggie Kniffin of Burlington took home $270 for her small-scale fiber installation titled "Lament."
"The energy was amazing," Derbes said of last month's show. "It's really something special — the mini-grant is a bonus."
"The Art Show V" will take place this Friday, April 6. See Seven Days' New This Week art listings for details.
Help the Community Help You
COURTESY OF STEVE BUDINGTON
CSA print from Steve Budington's "Transplant" series
For the past two years, Burlington artist Noah Lagle has taken inspiration from a funding model familiar to many Vermonters: community-supported agriculture. Lagle is a printmaker who pieces together his income by working as an assistant at the University of Vermont's print, wood and welding shops and by taking odd jobs that include teaching art. As a former farmer and longtime member of the Intervale Center, he knew the CSA structure well.
In the fall of 2016, Lagle began advertising his art CSA, whose subscribers would receive 12 original prints by local artists in the mail. That first year, he recruited 10 members at $360 per subscription. For the 2017 subscription year, Lagle revised his model to offer works on a quarterly basis at $240 per full share and $150 per half-share. That boosted subscription to 25 members.
"Most of the [income] went into the production of the actual pieces," Lagle said. Working from Pine Street Studios, he produced the limited-edition prints himself using processes including silk screen, intaglio, woodblock and photographic printing.
Though Lagle didn't turn a sizable profit, the CSA made it possible to create new works and garner exposure for himself and other artists without operating at a loss.
"I was able to pay myself sometimes," he said, noting that his hourly breakdown would likely not reach minimum wage. Participating artists, who include Derbes, Jabari Jones, Lydia Kern, Jasmine Parsia and Monika Rivard, received prints by their fellow artists in exchange.
Facilitate, Facilitate, Facilitate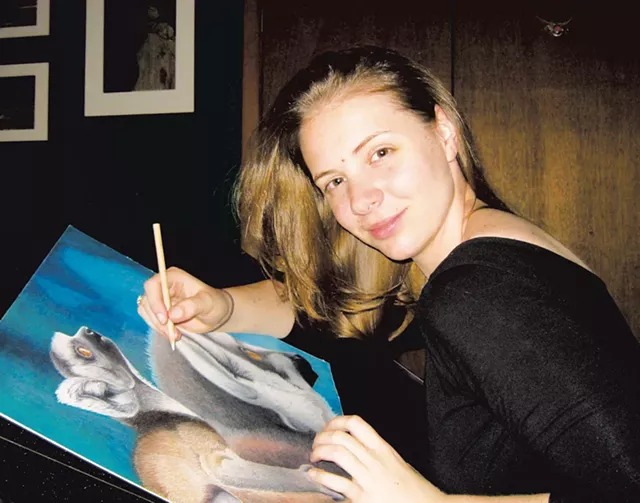 COURTESY OF CORRINA THURSTON
Corrina Thurston
Like many professionals, artists can derive income from giving their colleagues a hand up — which, in this case, may involve teaching them how to market themselves. For Barre's Corrina Thurston, a chronic illness that began in 2008 led to the launch of a commercial art career centered on her colored pencil drawings of animals. Using her experiences of marketing her own work, Thurston has since begun helping others take ownership of their creative practice as a business.
"I always tell artists that, even if they've only sold one piece — even just a greeting card of their work — they're a professional artist," said Thurston. In general, she recommends spending half of one's time on marketing and business and the other half on creating.
"This is really hard for a lot of artists," she acknowledged.
While Thurston notes on her website that she often gives free advice, she encourages those looking to get into the nitty-gritty to hire her as a consultant for $35 per hour (or $28 per hour by phone). Among her areas of expertise are goal setting, social media and email marketing, copywriting, and web content and grant writing. She also makes herself available as a public speaker on the topics of art business and the transformation of negative circumstances, for rates ranging between $100 and $1,200, depending on the venue.
Last summer, Thurston self-published her ebook How to Build Your Art Business With Limited Time or Energy ($5.99 on Amazon), of which she has sold more than 350 downloads. Lately, she's been offering small, free workshops on self-promotion for artists, sponsored by venues. Her next engagement is a social media workshop this Saturday, April 7, at Frog Hollow Vermont Craft Gallery in Burlington.
Later this year, Thurston plans to release her second ebook, How to Communicate Effectively: For Artists & Creatives.