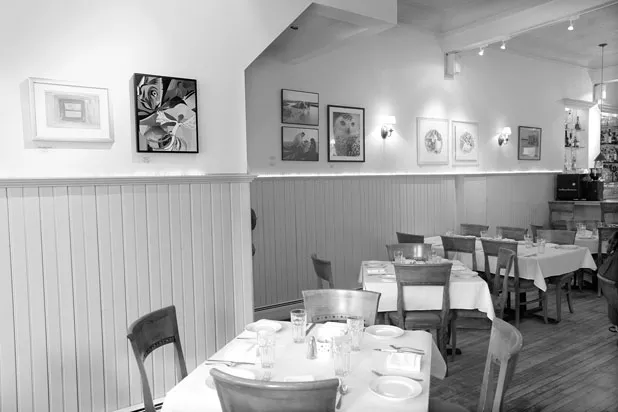 You know a restaurant's in trouble when artists come to its rescue with a fundraiser. Most artists struggle to sell enough work to support themselves. But if Annie Tiberio Cameron's sales expectations are met, a current benefit art exhibit at Montpelier's Restaurant Phoebe could bring in a solid $2000. In these tough economic times (TTET), that's nothing to sneeze at.
Tiberio Cameron, a professional photographer and the curator of the restaurant/gallery space, organized the show to support the popular State Street restaurant's recent transition to a community-supported eatery. Billed as an "Art Stimulus Package," the exhibit features works in multiple media by 24 artists, including Tiberio Cameron herself, Ethan Hubbard, Andrew Kline, Jane Pincus, Frank Woods and Jack Sabon. "I asked a lot of my colleagues at an Art Resource Association meeting to make donations, and nearly everyone said yes," Tiberio Cameron says. "It's become a favorite eatery of so many people, and there was an outpouring of support."
The most prominent artist in the show is J.H. Aronson, whose works are held by the Metropolitan Museum, the Uffizi Gallery in Florence and the New York Public Library. Aronson, who is currently working on a series of bird's-eye-view images, has donated two detailed etchings of compressed Italian townscapes to Restaurant Phoebe, along with several aerial photographs of the Hudson River Valley.
The 32 artworks range in price from bargain basement ($15) to high end ($1500). Tiberio Cameron, who has curated shows at Phoebe since 2006, says 100 percent of sales will go to support the restaurant, which was recently on the verge of closing. About two months ago, chef-owner Aaron Millon and his wife and co-owner, Debbie, emailed a plea to their customers for donations to keep the restaurant going. A combination of factors had sent Phoebe into a tailspin, including high food prices, employee problems (the eatery lost $2000 to embezzlement, according to the Times Argus), a drop in midweek clientele and a softening in orders for bigger-ticket items.
In a last-ditch effort, the Millons decided to appeal to the community for help, following the example of The Bee's Knees in Morrisville and Claire's in Hardwick: They solicited $1000 loans from benefactors and asked their clientele to prepurchase meals. In addition, the 43-seat restaurant is offering a "Friend of Phoebe" membership option ($100-$300) that gives patrons discounts on cooking classes and special dinners.
So far, benefactors have ponied up $3200, and FOP has attracted about 30 members, Aaron Millon says. Yet Restaurant Phoebe is still far from the $50,000 it needs to regain a firm footing.
Millon, who hails from Washington, D.C., where he went to the renowned Sidwell Friends School, says he wants Phoebe to become the first small nonprofit restaurant in the country. "I'm confident it's going to work," he says. "The reason I can say we will stay open is because … I have no illusions of grandeur. I don't want to become rich; I don't want to become a famous chef."
Millon, who sports a beard, bead necklace and baseball cap, seems to live up to that unpretentious credo. The former owner of the Richmond Corner Store and executive chef at The Windjammer Restaurant in South Burlington likes to call himself a "professional cook," and he's passionate about food in its most elemental form: raw, fresh and in season. Millon adds that he's "ingredient-obsessed," and it's this attention to seasonal, local foods, more than anything else, that drives Phoebe's menu prices. High-end à la carte meals go for $27; a burger costs $12. "I like to use the best of the best, and one of the reasons I love Vermont is because it's all here," he says.
It would appear that the community is all here, too, and doing what it can to help out — even in TTET. Artists and foodies have united in a common cause: to keep their favorite Montpelier gourmet purveyor in lettuce.