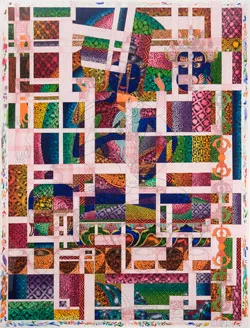 "Fusion Tantra" by Tenzing Rigdol
The crosscurrents of history have swept across Tibet for more than a thousand years, and in the modern world, the land continues to be impacted by outside forces. In "Tradition Transformed: Tibetan Artists Respond," now on view at Dartmouth College's Hood Museum of Art, eight contemporary Tibetan artists, all of them living outside Tibet, reflect on the evolving state of their native culture through art and metaphor. The dynamic exhibition demonstrates the inevitable hybridization of traditional and modern, as well as the resilience of Tibet's aesthetic concepts.
"My Identity" by Gonkar Gyatso literally describes the fractured identity of a 21st-century Tibetan artist. The quartet of large, photographic self-portraits presents Gyatso as a traditional Buddhist artist creating a thangka; a red guard of Mao's Cultural Revolution in China; a contemporary Buddhist artist in exile; and a contemporary, international artist working in London. Gyatso is seated in front of an easel in each, looking directly at the viewer with a blank stare. The images are brightly colored, and the environments in each of the four pieces are carefully composed.
A thangka painting, traditionally done on silk, presents Bodhisattvas and deities in delicate lines and vibrant hues. But the images aren't just decorative; they've been used as teaching aids and devotional objects. Gyatso's "L.A. Confidential" presents an image of the Buddha rendered in a flurry of colorful stickers. Cartoon characters, flags, jet planes, logos and helicopters gaudily fill the central figure, suggesting consumerism and pop culture have taken the place of sublime forms. Gyatso was born in Lhasa, Tibet, in 1961 but is now a "transnational artist" in New York and London, according to his website.
Tenzing Rigdol studied traditional thangka art and sand painting in Kathmandu, Nepal, and later received a BFA from the University of Colorado. His large pastel "Fusion Tantra" presents a central Buddha image described in a welter of patterning. Rigdol juxtaposes both Eastern and Western — especially Victorian-era — motifs in the flat picture plane. His colors are basic, and a matrix of negative-space lines in a pale rose color divides sections of the painting.
Penba Wangdu also uses patterning in the painting "Links of Organization" — complex, flat blue and black shapes appear behind his life-size depiction of a sleeping, presumably female figure. Within the figure are a thangka-style landscape of hills and clouds, peopled by Lilliputian characters making love, giving birth, drinking, sitting in a boat and engaged in other activities. They may be scenes from the woman's life, or representations of humanity. Either way, it's a rich painting that blends popular and traditional narrative characters.
After China invaded Tibet in 1959, the Dalai Lama and other refugees fled to Dharamsala, India. That's where Kesang Lamdark was born in 1963. Today he lives and works in Switzerland. Lamdark's "O Mandala Tantric" is a 48-inch, neon-illuminated black disk crowded with small figures and objects. It presents sexual scenes — including some copulating elephants — as well as death, skulls and demons.
Light is again the medium in a series of four light-tube beer cans by Lamdark. Holes punched into one end of each can form a picture that can be seen by looking in the other end. One of them, "Temple Dancer," presents an intricate series of points of light that create the image of the titular performer. Lamdark notes in an artist's statement, "As the lotus flower grows out of mud as a symbol of enlightenment, I try to transform the useless can into a piece of art."
That combination of the sacred and the profane is a common, and highly effective, theme among all the artists in this exhibit.