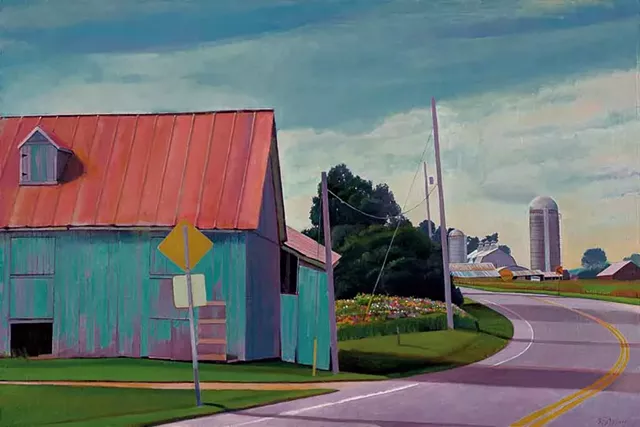 "Blue Barn, Summer Afternoon"
Burlington City Arts curates exhibits in three areas of the airport: the Skyway, the area above the escalator and the walls facing security for Gates 1 through 8. Whether you've arrived early for a flight or are waiting to pick up passengers, do take the time to look around!
From October through January, the Gates feature plein air and studio-painted landscapes by Susan Abbott. Her imagery of old farms and farmhouses, barns and back fields is unmistakably inspired by Vermont. In "Blue Barn, Summer Afternoon," the off-kilter roofline and peeling paint of a turquoise barn hint at its gradual decline, even as wildflowers behind it burst with color and life. In "Small Town Intersection, Evening," golden sun and slanting shadows fall across a red stoplight — likely the only traffic signal in town.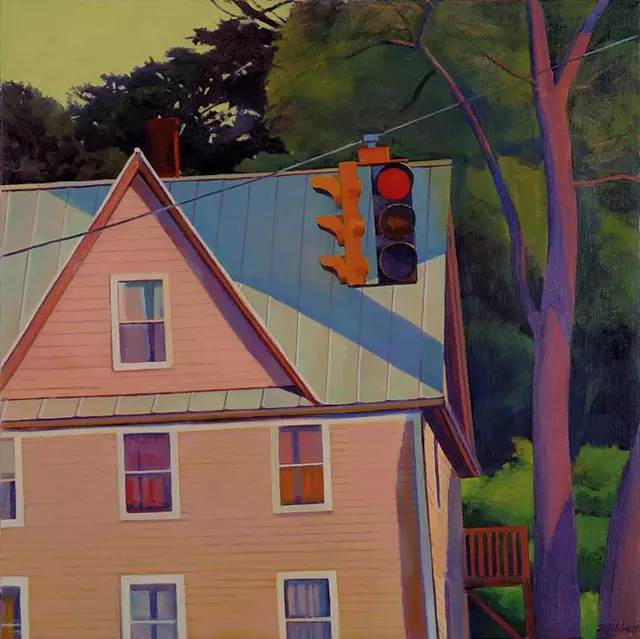 "Small Town Intersection, Evening"
A Maryland native, Abbott has been drawing and painting since she was a teenager. She studied at the Maryland Institute College of Art and the University of Iowa and has exhibited widely, including at Washington, D.C.'s National Museum of Women in the Arts.
She relocated to Vermont in 1994 "for the most impractical of reasons, love at first sight," Abbott writes in her artist statement. She recalls driving through a small town in the early morning, spotting a stream behind an aging clapboard cape: "The Vermont I saw from a car window looked like a memory of home, and I was hooked."
All these years later, that captivation with Vermont's weathered working landscape still shapes her paintings. "The Japanese concept of 'wabi-sabi' has helped me understand why I find these old, ordinary and sometimes broken-down places so beautiful," she writes. "Wabi-sabi embraces the aged, the imperfect, the modest, the subjective, the natural, the seasonal, the private, the mysterious ... In my painting, I find beauty in the ordinary."
Learn more about Abbott at susanabbott.com, and find more information about Burlington City Arts and its downtown gallery and programs at burlingtoncityarts.org.
---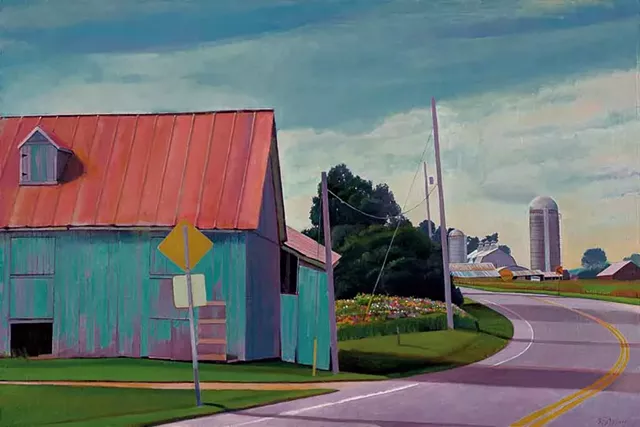 "Blue Barn, Summer Afternoon"
Burlington City Arts organise des expositions à trois endroits dans l'aéroport : dans le Skyway, au-dessus de l'escalier mécanique et sur les murs qui font face à la sécurité pour les portes 1 à 8. Que vous soyez arrivé à l'avance pour votre vol ou que vous attendiez des passagers, prenez le temps de regarder autour de vous!
D'octobre à janvier, près du secteur des portes, on peut admirer les paysages peints en plein air et en studio par l'artiste Susan Abbott. Les vieilles fermes, les maisons de campagne, les granges et les champs de ses tableaux sont incontestablement inspirés du Vermont. Dans « Blue Barn, Summer Afternoon », le toit légèrement croche d'une grange et ses murs turquoise écaillés évoquent sa graduelle décrépitude, alors que les fleurs sauvages en arrière-plan apportent une touche de vie et de couleur. Dans « Small Town Intersection, Evening », le soleil doré et l'ombre enveloppent un feu rouge... probablement le seul du village.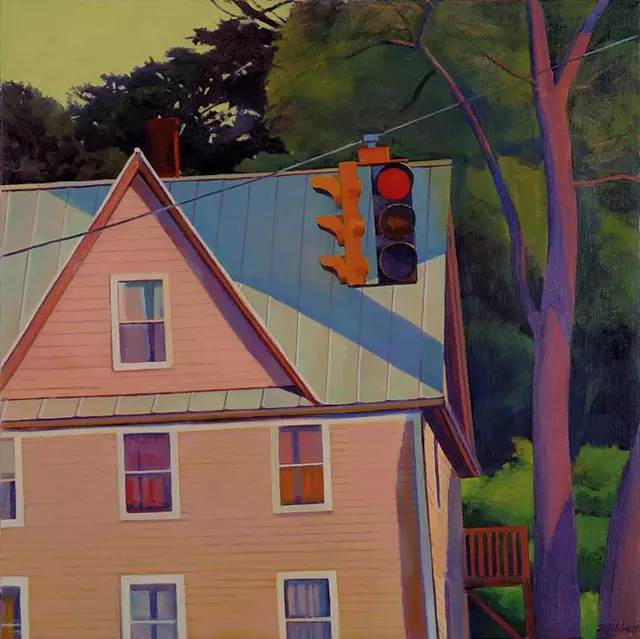 "Small Town Intersection, Evening"
Née au Maryland, Susan Abbott dessine et peint depuis son adolescence. Elle a étudié au Maryland Institute College of Art et à l'Université de l'Iowa, et a exposé ses œuvres un peu partout, notamment au National Museum of Women in the Arts à Washington.
Elle s'est installée au Vermont en 1994 « pour la raison la plus insensée qui soit : un coup de foudre », écrit-elle dans sa démarche artistique. Elle se rappelle avoir traversé une petite ville tôt un matin et avoir aperçu un ruisseau derrière une vieille maison de style Cape Cod : « Le Vermont que j'ai vu par la fenêtre de la voiture m'a rappelé le quartier où j'ai grandi. J'ai été conquise. »
Les années se sont écoulées, mais cette fascination pour les paysages agricoles surannés du Vermont caractérise toujours ses tableaux. « Le concept japonais du wabi-sabi m'a aidé à comprendre pourquoi je trouve si beaux ces lieux vieillots, ordinaires et parfois délabrés, écrit-elle. Le wabi-sabi valorise ce qui est vieux, imparfait, modeste, subjectif, naturel, saisonnier, privé, mystérieux... Et dans mes tableaux, je vois de la beauté dans l'ordinaire. »
Apprenez-en davantage sur cette artiste à susanabbott.com, et obtenez de plus amples renseignements sur Burlington City Arts ainsi que ses programmes et sa galerie du centre-ville à burlingtoncityarts.org.