Luke Awtry Photography
Scott André Campbell
If you've seen the bright green King Street Center bus rolling through Burlington, you're already familiar with Scott André Campbell's work. He used digital technology to design the commissioned, map-like work that was then printed onto vinyl and applied to the vehicle's exterior.
Now, a different window into Campell's creative life is on display at the Karma Bird House Gallery. The exhibit "Deliveries" includes six mixed-media works, two of which form a diptych, that play with architectural concepts in two dimensions.
Campbell, 45, whose mother is French and father is American, grew up in Portland, Ore. At age 27, he moved to Burlington and, though Vermont is his chosen home, he's wont to travel.
After four years in France, he moved back to the Queen City last October and dove straight into the creation of "Deliveries." The new pieces are so titled because they are "the kind of work I want to deliver to the public," says Campbell.
These works explore processes of addition and subtraction, both numerically and through Campbell's artistic method. He began with silkscreens that he developed in a class with the Iskra Print Collective, just downstairs from the gallery. He then mounted the prints on wood panels and collaged, painted and drew on them.
The pieces in "Deliveries" employ precise lines and angles, as well as typography and numerals, evoking architectural drawings or schematics. The works look controlled and precise while describing things that are wholly imagined. No specific building or structure is evident. Instead, the proliferation and overlap of lines and shapes evoke the idea of something that exists beyond — or within — the canvas.
Campbell's work will be on view at the gallery through the end of the month.
Seven Days met with the artist in his South End studio to talk about names, his past as a designer for hire and how redaction informs his creative process.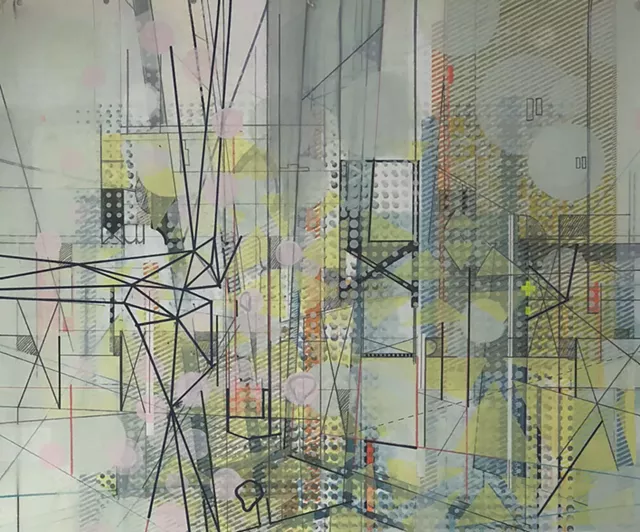 Courtesy Of Scott Campbell
Detail of "Sudo Science – L'arche Extemporain" by Scott Campbell
SEVEN DAYS: Why do you go by your initials? SAC?
SCOTT ANDRÉ CAMPBELL: Because I feel like it would be disingenuous to come up with a pen name. It's too much drama for me.
SD: So the name of your website isn't a pen name — Luminome?
SAC: Luminome is the name I came up with in 2000 for the sort of ID, or brand mark, that would be a container for the [contract] work I was doing digitally. I used to work way too much in that realm. [The word] "luminome" is nice because it's a biome, but it's full of light. What I go by [when deciding names] is a factor of some kind of laziness. I came up with that name, it worked, I got the domain, and we're good. The naming of things [can be] a great source of suffering.
SD: Your website says you're currently living in Vermont. Do you consider yourself a nomad?
SAC: It's the question of where you're based versus where you live. I grew up with one parent that was French and one that was from New York. I've always had friends and family in both places. And it makes it hard to go for more than a year or a year and a half without going back to check in, say hi and regain that familiarity.
SD: How did you support yourself while you were in France?
SAC: I was doing IT work. And I was still taking on some production jobs. Good examples are the mural in the foyer of the King Street Center or the bus that the King Street Center has. There were a couple of jobs in there that I felt weren't so far away from the creative output. They offered the same thing I've needed from any type of design client, which is basically complete and total license.
SD: So they really wanted you for your distinct aesthetic?
SAC: Yeah. The reason I messed with design for as long as I did was because a couple of my clients were not only repeat clients, but they really wanted me to do what seemed natural, what seemed intuitive. I worked in music for some time, so I did a bunch of stuff for Phish, a bunch of stuff for Higher Ground. And toward the end of that arc, I was working with [the band] Medeski Martin & Wood. These people that were basically like, "We see what you do, we appreciate what you do."
SD: The new works seem to follow architectural lines — linear structures or ideas of structures. What else connects the works? Are there recurring themes?
SAC: The idea of a schematic — of using physical tools to describe in two-dimensional space a thing, or a group of things, that will eventually exist in three dimensions — and some way to communicate that a space is traversable, or has a Z axis, even. That stuff, for me, is vitally important. I would say that what I'm after is how to evoke a traversable and navigable space in two dimensions, not for a physical sense of space but for the imagination. The work I gravitate toward, that lights me up, is work where your "idea self" can just drop in and go explore. I have this math-logic brain and then this dreamy, float brain that wants to go swim in [the work].
SD: You also frequently use numbers in your works. What's that about?
SAC: It's because I spent a good amount of time close to the tools of graphic clarity. It's in some ways the hyper mundane — a love for the hyper mundane.
SD: Last night, you redacted words from one paragraph of the wall text to make a new sentence. What was that about?
SAC: One word answer: Exactly.
SD: Can you elaborate?
SAC: The main [reason] is that a lot of what I do in the studio is, I have this layered process. It's additive, this stacking over time, but there's a boatload of redaction within the work itself — the kind of imposition of shapes, the obfuscation of other ones. That, for me, is endemic [to my process]. You build up all of this stuff, all of these different marks and expressions. Then you say, I'm going to drop something on top of whatever information was there before, which is now nonessential, and then we've changed the conversation. That little bit that was blacked out was a way to speak to process, and it's a concrete poem.