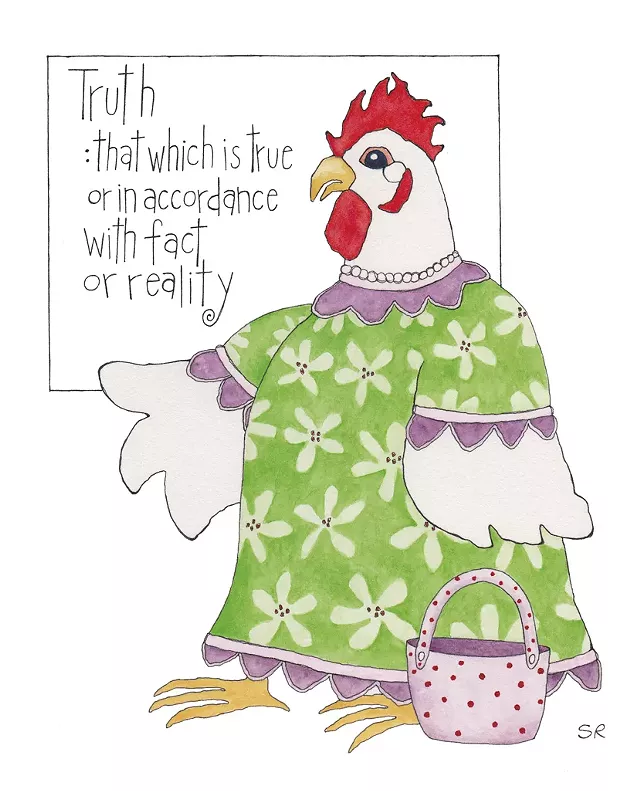 Courtesy of Sarah Rosedahl
"Agnes Lecture Series Part 1: Truth" by Sarah Rosedahl
Sarah Rosedahl calls herself a recovering engineer. "I don't say I'm retired, because I'm not totally confident I won't have to do that again," she says. Still, Rosedahl has been on leave from her former career since she moved to Vermont five years ago. Since then, she has established an alternate occupation that could hardly be more different: painting cartoons of chickens and other farm animals.
Rosedahl's whimsical illustrations have appeared in intricate adult coloring books, including Difficult Sheep & Friends and Difficult Chickens. She has a licensing deal with Sloggers: Her cow and chicken illustrations appear on the company's shiny rain boots.
And, beginning July 13, a new collection of Rosedahl's illustrations will appear in an exhibition at the annual Convention Days in Seneca Falls, N.Y.
That event commemorates America's first women's rights convention, which took place in Seneca Falls in 1848. In 1980, a national park was established there to recognize the town's place in American history. For the past three years, Rosedahl has been one of two Vermont artists — the other is Meta Strick — to exhibit work in the visitor center of the Women's Rights National Historical Park.
Rosedahl's inclusion in the show is a stroke of luck more than anything else. The artist says an invitation came from park superintendent Ami Ghazala, whom she met while living in Louisiana between 2007 and 2012. "She was a ranger at a park outside of New Orleans," Rosedahl recalls. "I used to work in technology programs in the schools in Louisiana, and we did some programs together."
At past Convention Days, the artist showed paintings inspired by the poetry of Mary Oliver and excerpts from an illustrated book about chickens. "Those didn't really fit with the theme of women's rights, but my friend [Strick] and I, who did the show there — we're just women artists," she says.
This year, the works she'll show in Seneca Falls have a more political focus. "I haven't really made political work before," Rosedahl says. "I've done cartooning and illustration my whole life, but not really cartoons with a message."
Most of the new works feature chickens. One shows seven different-colored hens lined up to spell out the glyphic "coexist" slogan of bumper-sticker fame. Another — sans text — depicts a group of chickens pecking apart a concrete wall. Some cartoons simply feature definitions of words such as "empathy" and "tolerance." Others bear quotes by historical figures such as Frederick Douglass and Coco Chanel.
In her artist statement, Rosedahl says, "This year, I was inspired to give voice to my characters as a way to express my thoughts about politics and current events." Calling her illustrations "resistance art," she says that "the messages are not necessarily negative but created to resist what I think are bad ideas, including hate, intolerance, racism, misogyny, xenophobia, greed, alternative facts and disregard for the Constitution."
Rosedahl's chickens will be on display through the end of August on the second floor of the Seneca Falls Visitor Center. All of her illustrations are also viewable on her website.