"Self portrait" by Sabra Field
Tacked to the wall of Sabra Field's South Royalton printmaking studio is a small note that reads, "An artist is her own fault." The quote from John O'Hara (modified from "his" to "her") was given to Field by Vermont sculptor Kate Pond. The curious excerpt is a small, if sideways, gesture to the self-possession and fortitude that have helped Field, now 82, become not only a successful and multifaceted artist but a Vermont icon.
Born in Oklahoma and raised in New York, Field graduated from Middlebury College in 1957 as the institution's first-ever art major. This summer, her alma mater commemorates the milestone with its second retrospective of her work, "Sabra Field, Now and Then: A Retrospective," at the Middlebury College Museum of Art. The exhibition includes several of the printmaker's "greatest hits," scenes that distill Vermont's storied landscape and bucolic fantasies into visual archetypes. But it also offers a broad selection of work that fleshes out Field as a living, breathing, thinking and feeling artist. Exhibition text that she wrote in first person lends the show a rare intimacy.
"[This retrospective] was an opportunity to show that there's more than one side to my work," Field said recently by phone. "If you ask the average person, they say, 'Yeah, she does the mountains and the barns, doesn't she?' And I do, but that's not all I do."
Those interpretations of the mountains and the barns made Field a household name, affording her the freedom to be a full-time artist. Field divorced her first husband in 1969 and relocated permanently from Connecticut to Vermont with her two sons and printing press in tow. She made her family's home in the Tontine Building, a defunct 19th-century tavern. In her retrospective, this era of upheaval corresponds to the woodcut portrait "Therefore Choose Life," in which a young Field sits before a window, beyond which lies a green field of alfalfa.
In her thorough and thoughtful catalog essay, former Vermont Life editor Nancy Price Graff notes that Field "lived a life of surprising audacity" in those early days, and that "[her] career grew exponentially and quickly."
From the beginning, that growth was linked inextricably to Field's ability to depict the local landscape as Vermonters wanted it to be seen. In 1975, the Vermont Bicentennial Commission exhibited one of her posters in Washington, D.C. Shortly after, Vermont Life began selling prints from her "Mountain Suite" series. Field found fans in former governors Madeleine Kunin and Howard Dean. According to Graff, the postage stamp Field designed for the state's 1991 bicentennial became the most popular U.S. state stamp ever issued, at 60 million sold.
"Most of my work sells for sentimental reasons," Field said, "because it reminds people of home, wherever their home is."
In conversation, she described her work as a sort of inverse of that of another Vermont artist, Ivan Albright, who documented soldiers' wounds in graphic detail during World War I. "That's about as brutal as it gets," she said. "I don't care to go there."
Field has been roundly criticized for what some see as an aversion to depicting pain. In Bill Phillips' award-winning 2015 documentary Sabra: The Life & Work of Printmaker Sabra Field, Dartmouth College art history professor emeritus Robert L. McGrath declares, "That consoling pastoral image that Sabra Field offers is no doubt appealing to a great many people ... but I would rather deal with actuality than some kind of ideality."
"Flower Garden" by Jeanne Amato, Field's assistant
According to Phillips, reached by phone, Field was delighted to have that perspective included in the film. "Now we have a plot," he said she told him.
"A lot of what she does in her work is to remove things," Phillips said, citing telephone poles and busted cars as examples. In one of his film's most insightful moments, Field's son Paul explains how his mother's work succinctly captures the emotional truth of a place, if not all of its physical ones.
Field's retrospective exhibit at Middlebury gently challenges assumptions about her work's commercial limitations by revealing both a landscape of emotions and a heightened pursuit of spiritual themes. A cheerful announcement for her son Clay's birth hangs beside a print of a small, naked boy falling, or flying, through a field of stars; Clay was killed in a car accident when he was 10 years old. On the other side of the gallery is "Floating Woman," which Field considers a self-portrait. The large-scale spoon-printed work shows a naked woman beneath a white moon, apparently at the mercy of her blue landscape, which could be ocean, sky or both.
"She's experienced a number of tragedies," museum director Richard Saunders said of Field by phone. "She deals with those quite directly. She's a real Vermonter."
Recently, Field made prints to accompany a narrative poem by author and Middlebury College writer-in-residence Julia Alvarez for Where Do They Go?, a children's book that addresses death.
One concept that has been crucial to Field throughout her art practice is the "reflectaphor." The word, she said, "has a meaning which I think is very precise: that objects that are totally different in real life may have a visual comparison, or a visual twin."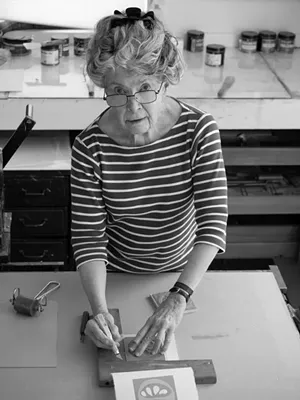 Jonathan Blake
Sabra Field
Her fixation on the concept is perhaps most pronounced in her "Cosmic Geometry" suite, which adorns the side of Middlebury College's Wright Memorial Theatre in mural form. The work draws comparisons among four sets of four patterns, each occurring in seemingly disparate places, among them the shell of late Galápagos tortoise Lonesome George and the interior of the Pantheon. "Patterns repeat throughout the universe," she noted, "like the spiral of your thumbprint to the structure of nebulae."
Field's penchant for making poetic connections is not limited to the purely visual. She made "Heron," for example, in collaboration with her late husband, Spencer. Field's exhibition text explains that the image of the elegant bird arose from a particular instance of synchronicity. One summer when Spencer was being treated for esophageal cancer, the couple befriended a heron with a broken wing, also wounded.
Field continues to work into her eighties. Currently, she is designing a suite of prints for the 200th anniversary of Norwich University. "The act of working is the most important thing to her," Phillips said. "It was really bracing to see someone who was that dedicated."
When asked if the trajectory of her career has surprised her, Field said, "I don't see [my career] as taking off so much as morphing from one phase into another. You have to remember that I look back on the bad old days when nobody cared and nobody came. There were a lot of them." Even at her level of success, she acknowledged, a "downward path" is possible. "I promise not to do pornography," she joked.
"What can one say about Sabra Field's work that has not already been said?" asks Saunders in the retrospective's introductory text. Maybe nothing. Either way, Field continues to come into view as that rare bird: a groundbreaking artist who has managed to create a harmonious relationship between commercial success and her own creative life.