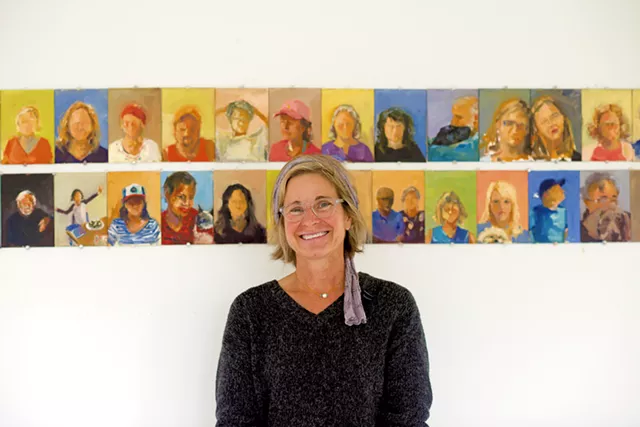 Caleb Kenna
Rebecca Kinkead
A front porch is never just a porch, perhaps especially in the music world. Loretta Lynn, Robert Earl Keen and LeAnn Rimes all have opined about theirs in song. Lyle Lovett compared his to, among other things, a Hereford bull and a plate of enchiladas. Elton John reminisced about the "ghosts of the old South" on a porch swing in Tupelo, Miss. Most songs about a porch are actually about family, homesickness, longing for some perceived good old days.
A front porch is also central to Cornwall artist Rebecca Kinkead's new project, "Neighbor," though how may not be immediately apparent. The widely exhibited painter is creating a series of head-and-shoulders impressionist oil portraits with simple, bright backdrops. An open studio day is planned for October 19, when the public will be able to view them. Otherwise, the paintings exist for Kinkead and her subjects — as a record of the people in her life and an experiment in using art to know them better.
The paintings are small, on 7-by-5-inch panels, with varying levels of detail. The general effect is of looking at someone you know through a smudgy lens or a rain-spattered window. Kinkead's technique distills a face to its most recognizable features — distinctive hair, a round chin, a brow shadowed by a signature baseball cap.
The subjects are Kinkead's neighbors, friends and fans. To sit for the portraits, they traveled up her winding driveway to a simple, lovely Scandinavian-style structure that's set like a dash of chalk in a meadow. It's easy to imagine those subjects peering out Kinkead's kitchen windows to see acres of conservation wilderness and even the Adirondacks on a clear day. Then they settle into low woven chairs on Kinkead's wide front porch. This is where she hosts and paints.
This year and this project mark a lot of firsts for Kinkead, 51. It's her first time painting from life and her first time living alone. She got divorced two years ago, and when she moved into her new home in April, she thought she wanted solitude.
"I kept thinking, I'm an artist; I need to be alone, I need to be alone," Kinkead said. "And now I'm here, I'm like, Fuck, I'm alone. My house feels better when people are here ... I'm much more of an extrovert than I thought I was."
So Kinkead started inviting people over, both personal acquaintances and the broader community that follows her art. That community is broad: Kinkead had a solo exhibition in July in Bozeman, Mont.; in the past she has sold paintings to Oprah Winfrey and Gayle King. Kinkead sent an invitation for portrait subjects to her mailing list and posted it on Instagram and Front Porch Forum.
She received more than 150 responses in the first 48 hours and painted 81 portraits in the first three weeks of August — three or four per day. Each takes Kinkead 15 to 45 minutes. She calls the act of painting them "an exercise in trusting your gut."
One couple drove up from Boston to sit for her; another woman will fly out in September. "I never expected that kind of response," Kinkead said.
She's offering friends and fans more than a social hour; it's an opportunity to watch her at work and to become her subject, to see and be seen.
Just as the porch is never just a porch, so these paintings are something besides artworks. For Kinkead, the project is about the conversations she's having with people who may never have seen themselves in art before. Her first painting in the series is of the contractor who built her house, a clean, beautiful depiction of his sloping shoulders and the beer in his hand.
"For me, it's like a record. I remember what I talked about with people. I remember sitting with that person and what happened," Kinkead said. "A lot of people have been really vulnerable and shared very personal stories with me ... I feel vulnerable because I'm painting, exposing myself. They feel vulnerable because they're being looked at. It creates kind of a moment, a very human moment."
Kinkead started making art while studying for a master's degree in education at Minnesota State University, Mankato. She took one ceramics class and that was it, she recalled. All at once, she couldn't sleep. She never wanted to leave the studio. She said she felt like her brain was on fire.
"It was such a radical shift," Kinkead said. "I'd never felt that way about anything in my life up to that point."
From then on, every decision she made was about her art. Later, while living in Watertown, Mass., Kinkead couldn't afford ceramic studio space, so she taught herself to paint. Today, she works mostly in oils and watercolor, painting animals and figures.
She's had commercial success, but that side of the art world can be isolating, she said. Painting wildlife was about forging a connection with nature, and painting portraits is about finding commonalities with everyone she meets. The "Neighbor" portraits aren't for sale, but Kinkead is funding this project by selling small pet portraits.
The response has been so good that she wants to take her one-woman portrait studio on the road. Kinkead just purchased a van, and she'd like to spruce it up and spend the next year living out of it, traveling the country, and meeting people and painting them. She hopes to leave in January and head south and west, she said, meeting some of the people who expressed interest in the project but couldn't make it to Vermont.
"This is making me braver," Kinkead said. She issued herself a challenge: Who's the scariest person she could paint? The answer is her own father, whom she hasn't spoken to in 26 years. He's somewhere in Florida, and she's pretty sure she can find him. After that, she'll probably be ready to paint just about anyone.