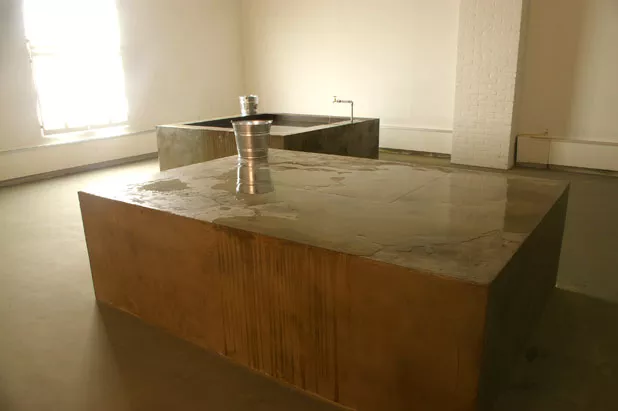 "Mghaisil (Morgue" by Wafaa Bilal
Empathy is a squishy concept. Most people like to think they have it, yet it's nearly impossible to understand what another person feels, particularly someone from a different culture. Still, sometimes art can deliver that vicarious experience on a deep level. And the artists who transport others to a state of genuine empathy are often called visionaries.
Wafaa Bilal has that rare gift, and he is not afraid of controversy. The Iraqi-American conceptual artist, an assistant arts professor at New York University, has incited responses ranging from gushing praise to outrage with his performance-, installation- and photography-based work that examines war, terrorism and the human condition. Some examples are currently on view in an exhibit called "Agent Intellect" at the Helen Day Art Center, curated by exhibitions director Odin Cathcart. It is arguably the most provocative exhibit the Stowe gallery has ever hosted.
Inside the transformed second-floor gallery in the white clapboard building, Bilal, 43, offers a window on the experience of being an Iraqi under the U.S. occupation. With some exceptions, he does so without alienating American viewers. In fact, it's difficult to see his show and not embrace, or at least grasp, his point of view. Bilal's conceptual pieces subtly facilitate an understanding of how it feels to live in a place under siege. Newsweek described his work as "breathtaking."
Bilal's large-format color photographs from his "Ashes" series hang in the main room of the gallery, set off by walls painted a deep midnight hue. Actually, these are "constructed" photographs based on the Iraq war — depicting a bombed-out mosque, a hospital room with a lone bed, a rubble-filled room in Saddam Hussein's palace where only one plush Louis XIV chair seems unscathed by the American invasion. Bilal created these scenes in miniature — spreading actual human ashes on the floors — and then photographed them. He inverts viewers' expectations by blowing up the tiny tableaux into 40-by-50-inch prints. It is impossible to guess their actual scale without reading the descriptions. The perspective is disconcerting, the effect surreal.
Bilal's installation "Mghaisil" is both chilling and elegiac. It is an Iraqi-style morgue, filling one entire room of the gallery, and serves as a memorial to Bilal's brother, Hadji, who died at age 28 in a 2004 drone missile strike. (His father fell into a deep depression and died several months later.)
A veneer of cement covers the floor of the room and two of the featured objects: a rectangular slab, where a body is washed before burial, and a vat of water. A spigot runs continuously, and the sound of the dripping liquid fills the austere space. Fluorescent light filters onto the scene through a faux window covered with a white shutter. Bilal created the vignette based on a shot taken by a Boston Globe photographer of a father mourning the death of his 16-year-old son in the Najaf morgue.
In 2007, Bilal did a web-based performance art project called "Domestic Tension." He sequestered himself in a room for 31 days under the eye of a webcam and invited online visitors to "shoot" at him; their clicks activated a yellow paintball gun. One section of the gallery recreates the setting of that piece. Another offers a functioning video game in which a suicide-bomber avatar can blow up buildings and people. In both pieces, Bilal makes himself an object of hatred — though, in the video game, a picture of former president George W. Bush is a potential target.
Called The Night of Bush Capturing: A Virtual Jihadi, the game was originally developed under the name Quest for Saddam by an American in 2003. Global Islamic Media "reskinned" it (changing characters' externals) and made Bush the object of the hunt. Bilal hacked that version to put his own more nuanced spin on the conflict.
A scheduled showing of this piece in 2008 at Rensselaer Polytechnic Institute in Troy, N.Y., was cancelled amid a furry of protests. A subsequent showing at a different venue was shut down by the city of Troy, ostensibly for building code violations. The Sanctuary for Independent Media produced a documentary about the censorship actions and ensuing protests, which screened last Friday night in Stowe along with a talk by Bilal about freedom of speech (see "State of the Arts," page 18). The ACLU is suing Troy for using code violations to censor free speech, according to the Helen Day website.
A U.S. resident since 1992, Bilal embraces and critiques both cultures. As an Iraqi expatriate, he has experienced the war as a distant observer — but one who lost his brother and father to the violence. What he delivers in "Agent Intellect" is a series of vignettes that evoke a state of mourning for the death and destruction his people have endured.
Bilal's artwork might be interpreted as an expression of survivor's guilt, but that would be an oversimplification. He has internalized the conflict and conveys it in a way that puts viewers figuratively inside the war zone. And in this case, a little "shock and awe" goes a long way.