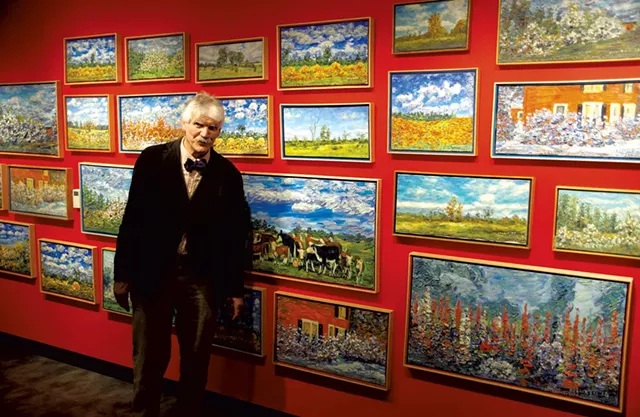 Swirling golden hay bales and textural blue skies pop against a cadmium-red wall at Champlain College. That color, in the small, second-floor art gallery, was chosen especially for Geebo Church's exhibition of impasto landscapes. In the middle of the room, a table holds sketchbooks filled with his meticulous notes.
Thematically, the paintings are repetitious experiments in color and texture. Church says he has probably painted the same image of hay bales more than 50 times. But the exhibit speaks to something more than the rural scenes it depicts. It suggests a fervid desire to create, to document the creation and to explore what makes a painting "good."
The exhibit is also a farewell. Church, who has taught art history and drawing at Champlain for 36 years, is now retiring at age 65. He says he plans to continue painting the landscapes around his Shelburne home, where he lives with his wife, Barbara, and their two beagles.
By all accounts, Church will be sorely missed at Champlain. Student Sabrina Parker, who curated his show, never had a chance to take a class with him, but says he's one of the "most beloved" teachers on campus.
Students seem to particularly appreciate Church's colorful speech. In 2012, one of them started a Twitter account — @ShitGeeboSays — to document some of his more interesting comments. Out of context, tweets such as "It's not easy being a sculpture, it's very problematic" may lack clear significance. Church himself calls the account "misdirected" and is disdainful of social media — in fact, he mistrusts all electronic communication. Nonetheless, for young students comfortable with the Twitterverse, the account reflects a shared admiration and affection for the teacher.
"People are always saying, 'You should take a class with Geebo. It'll change your life,'" Parker says.
Changing someone's life is a tall order — especially considering that Church teaches only introductory courses. Or, in his words, "the easy courses." Why?
It may seem a strange choice for such an accomplished painter, with a clear understanding of technique. But Church likes intro-level classes because of their flexibility. "You can bring almost anything into them; you can borrow ideas," he says. "Basic classes look at what is fundamental. They speculate on why certain things seem to operate the way they do."
That same emphasis on speculation, or examination, is apparent in Church's personal work. The notebooks displayed in the show are only a small sampling from the 80 such volumes Church guesses he has filled over the years. Each contains dense descriptions of various painting techniques, accomplishments or effects. Particularly good ideas are highlighted with "key discovery" or "key finding."
"They're like an alchemist's notebooks," says Chris Thompson, Champlain's curator-in-residence. "He's investigating the world through his senses, looking for visual transcendence, and it's his passion and drive to learn how to represent things — to see — that I think is really interesting."
Courtesy Of Stephen Mease
One of Church's notebooks
Church also makes shorthand notations at the bottoms of his paintings while they're still wet — mnemonic tools for recalling past techniques. A series of dots connotes "wells of color" applied to the canvas. The same dots paired with short, curved arrows means "wells of color, worked out."
"Like Hansel and Gretel leaving a trail of crumbs in the woods, by scratching a very brief amount of information at the bottom of the painting, I leave a clue as to how that particular effect was achieved," Church explains.
That dedication to learning, even in his own painting practice, may be what makes him such a good teacher. "He has this reputation," Thompson says, "for having these classes that offer some of the most memorable moments of college, that are all about opening people up to how you see and how you experience art."
It may seem surprising to find someone like Church at Champlain, long known as a business-focused school. It was founded in 1878 to "prepare young men for the business cares and responsibilities of life," according to the college website.
Of course, the place has changed a lot since then. Now Champlain offers majors such as game art and animation, graphic design and digital media, filmmaking, and other 21st-century career-oriented courses. A practical angle remains: Even the creative media major aims to "ground [students] in the business of interdisciplinary artistic endeavor[s]," according to the website.
"I think Geebo was as surprised as anyone by the transformation Champlain has made," Thompson reflects, "going from this accounting school to, a few years later, this unique combination of technology, art and design." Thompson even posits that Church was part of the reason Champlain achieved that mix.
"We've got this very strong insistence on creative arts and visual design," Thompson says, "and there was a moment when Geebo was the sole voice in the wilderness."
Paula Willoquet-Maricondi, dean of the Division of Communication and Creative Media, doesn't give Church all the credit for the transformation. But she does applaud him for continually promoting student artwork on campus.
"When I first came [to Champlain three years ago,] Geebo walked into my office and asked if I wanted student artwork displayed on my walls," Willoquet-Maricondi recalls. The answer was yes, and every month Church faithfully rotated in new student artworks.
While many of Champlain's arts courses reflect its focus on keeping up with technology, Church advocates a hands-on approach to art. "Sometimes," he says, "you necessarily need to use the hand, the body. Instead of using a virtual reality, it informs whatever you're doing to use [physical] materials. It's messy, but it informs the intelligence."
Of course, there are always exceptions. Church describes an old-school-meets-new-school incident in which he witnessed a female student drawing on an electronic notebook with a stylus. "It was terrific, gorgeous," he says, "and it's an image which is registered on an electronic screen but transcribed using the senses, the hand. I'm fascinated. So I asked her, 'How are you doing that?' She looks at me, almost with a sense of disbelief, and says, 'When I draw, I don't think.'"
"She understands art," Church says.