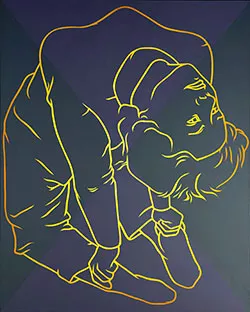 Nancy Dwyer wants your Styrofoam. But forget packing peanuts; we're talking about those stiff, molded shapes that come with electronic products and just about every other gizmo that supposedly needs protection during shipping. The stuff is "like the negative space around these valuable objects," Dwyer suggests.
The assistant art professor of sculpture at the University of Vermont is transforming Styrofoam into furniture for a show opening at the Firehouse Gallery on August 14 ("Human = Landscape"). "You see that stuff all over the world, in the landscape everywhere," she says. "Long after people forget what it was protecting, it will still be there."
Dwyer, 54, says she'll papier-mâché her constructions — created in collaboration with young local artist Caroline Byrne — but doesn't want to obscure their original shapes. And, while she's built up a pretty decent Styrofoam stash in her office at Williams Hall, she says she could use some more.
Dwyer is "all fired up" about making funky furniture, but not so long ago, she made artwork from words. Her free-standing or wall-hung sculptures incorporated the shapes of letters in a variety of media — see examples at nancydwyer.com.
Dwyer's conceptual sensibility and involvement in the 1970s New York art scene linked her with a close-knit group of artists that is currently the subject of an exhibit at the Metropolitan Museum of Art. "The Pictures Generation: 1974-1984" is named for a 1977 exhibit titled simply "Pictures" at the Artist's Space in SoHo. Dwyer's 26 custom-cut, laminated silk-screens in the Met show, from her 1980 series "Cardz," are minimal line drawings of human gestures. She recalls thinking of them as "almost a pictogram." "I realized that's what language is," she reflects. "I sort of started developing my own language; I thought of titles and then looked for images to go with them. Then I realized the images were vestigial."
Those headed to the Big Apple this summer can catch "The Pictures Generation" exhibit through August 2. More info at www.metmuseum.org.
Meanwhile, it's all about the Styrofoam. Got some to spare? Let Dwyer know at ndtoday@gmail.com.